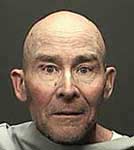 Big Fighting Dog Breeder Busted
Tucson, Arizona - Beginning in Chicago, with help provided by the Humane Society, a sizable dogfighting operation came to a halt today in Arizona. Deputies seized at least 150 dogs and made three arrests as they raided local dog breeders suspected of links to organized dogfighting. The arrests include, Mahlon Patrick, a man believed to be among the top three breeders of fighting dogs in the country.
Members of the Sheriff's Department S.W.A.T. unit made the arrest at a site near Orange Grove Road and Sandario Road, in the Picture Rocks area. In addition to more than 100 dogs at that location, at least 10 requiring medical attention, they also seized more than 50 weapons and a "rape stand," a device used for breeding female dogs. More arrests are expected.
The dogs are being held as evidence in the case, which began last March when Chicago police stopped a van carrying several fighting dogs. Their investigation developed information leading to Tucson. In addition to its initial involvement, two teams from the Humane Society of Southern Arizona are participating in the raids, assisting deputies and Pima Animal Care Center staff by cataloging information and removing an unknown number of fighting, breeding dogs.