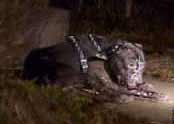 Pit Bull Attacks 9 Year Old Girl in Maryland
Update 1/15/08: Cierra Thompson is out of the hospital and back in her family's East Baltimore home. The pit bull, who showed clear signs of dog fighting, was euthanized by officials. A reward is being offered for information regarding dog fighting anywhere in the city. Let's hope someone speaks up on behalf of victimized children and abused dogs.
1/08/08 Baltimore - Cierra Thomason, her sister Brittany, and a cousin were walking home when a pit bull started to chase them. Brittany threw a cookie in hopes the dog would fetch it and they could continue on. Instead of going for the cookie, the pit bull went for Cierra, biting her in the arms and chest. Brittany ran to her grandmother's house for help.
Barbara Banks, Cierra's grandmother, says the dog has been a problem in the neighborhood. Cierra is in the hospital and the pit bull is in the custody of animal control. The condition of the dog is unknown.