Thursday, August 6, 2015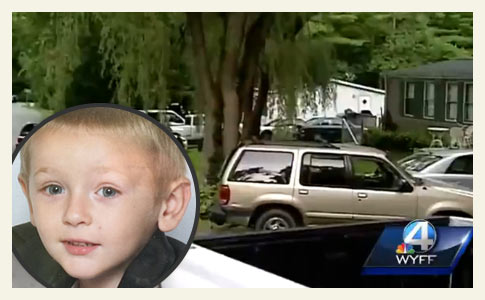 Joshua Phillip Strother, 6-years old, mauled to death by a recently adopted pit bull.
County Lifts Moratorium
UPDATE 08/06/15:
Buncombe County officials
completed its review
of the screening and transferring procedures by the Asheville Humane Society (AHS). The group contracts to operate the county's open admission shelter. On July 7, a 6-year old boy was savagely killed by a pit bull that was adopted out by AHS 3-weeks earlier. The dog came in as a stray. It was then screened for aggression, which it passed, then transferred to the Asheville Humane Adoption Center.
On July 16, county officials placed a
moratorium on all pit bull transfers
to an adoption agency while it reviewed procedures by AHS. Today the county lifted this moratorium, citing that AHS was doing the "industry standard, best practice model for an open admission shelter," said Jim Holland, who oversees the animal related contracts for the county. And THAT our dear readers is exactly the problem. Currently, there is
no way to reliably test
for unpredictable pit bull aggression.
The "state-of-the-art" temperament assessment test, SAFER, cannot measure unpredictable aggression nor can any current test. This is the risk every person accepts, knowingly or not, when adopting a pit bull.
The rest of the article by the Citizen-Times reads like a "circle the wagons" strategy to cover both parties against liability claims. Both parties also manage to passively blame the community, the dog's owners and the victim himself, 6-year old Joshua Strother, as the cause of this lethal attack. The newly rehomed pit bull
executed the killing bite
, attacking the boy's face and throat, right out of the blue. The pit bull was still so aggressive afterward that deputies had to shoot it to death.
Given the limitations of even the most "state-of-the-art" temperament assessment tests, only one conclusion can be drawn: More innocent children will be brutally attacked and even killed by shelter dogs who passed these tests. In the wake of this boy's tragic death, Buncombe County officials had a chance to reevaluate their pit bull adoption policy, hopefully by restricting it, but they did not. It's
all systems go again
with their fingers crossed. How is that for scientifically sound?
The Reliability of Temperament Tests
Aggressive Behavior in Adopted Dogs that Passed a Temperament Test by E'Lise Christensen, Janet Scarletta, Michael Campagnaa and Katherine Albro Houpt, Applied Animal Behaviour Science, Volume 106, Issues 1-3, August 2007.
Reliability, validity and feasibility of existing tests of canine behaviour, by Mornement et al., Anthrozoology Research Group, Animal Welfare Science Centre and Monash University, AIAM Annual Conference on urban animal management, 2009.
Lastly, what also needs to be addressed in the Citizen-Times article is the "pot calling the kettle black" statement by Tracy Elliott, the
executive director of AHS
starting in May. Elliott states that animals are not people and "attempts to compare them to people or anthropomorphize them are a mistake." On June 20, Asheville Humane launched an anthropomorphic adoption campaign for a
pit bull named Pearl
, bling included. "Classy girls wear pearls!" AHS gushes this very behavior.
"Animals are animals. They are not people and attempts to compare them to people or anthropomorphize them are a mistake. Any animal is capable of behavior we can't predict."

- Tracy Elliott, Executive Director, Asheville Humane Society
---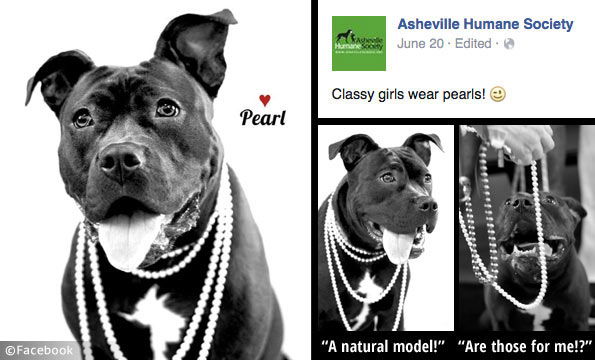 Anthropomorphic pit bull adoption campaign
screenshot 1
|
screenshot 2
|
screenshot 3
---
July 30 Deadline Arrives
UPDATE 07/30/15:
The deadline Buncombe County set for the Asheville Humane Society to deliver information
requested in their July 16 letter has arrived
. Today is July 30, two weeks after the letter was sent. On July 7, Joshua Strother, 6-years old, was brutally attacked and killed by a pit bull adopted out by Asheville Humane. Just after his death, Asheville Humane scrubbed their "
Project Pit Bull
" campaign from their website and refused "repeated calls" from the media.
The male neutered pit bull, about a year old, was adopted to Joshua's neighbor 3-weeks earlier. The dog came into the shelter as a stray.
The Asheville Humane Society (AHS) is under contract with Buncombe County to operate its open admission shelter. The July 16 letter placed an "immediate moratorium" on the transfer of all pit bulls from the county's open admission shelter to an adoption agency. The letter also requested detailed documentation about the temperament testing procedure conducted by AHS and the animal "transfer" process, including the specific individuals who perform and approve both.
Since the July 16 letter, mainly a wall of silence has fallen over Joshua's mauling death and the actions of Asheville Humane. Though an outstanding Letter to the Editor by Julie Wall was published in her own community on July 22, "
Difficulty in assessing level of aggression in pit bulls can lead to tragedy
." Wall states the obvious conclusion: Either AHS failed in their assessment of this pit bull, or they have to admit there currently is
no accurate way
to assess pit bull-type dogs.
Either the Asheville Humane Society absolutely failed at assessing the dogs in their shelter, or it has to admit there is currently no accurate way to assess pit-bull-type dogs. At any rate, shelters and rescues need to stop pushing pit bulls onto the naive public.
For those who say not all pit bulls will attack or kill, it's true. Not all will. But predicting which ones will is impossible. They pass shelter behavior tests, then go on to kill or maim people. They "never show any sign of aggression" then one day kill their owner, out of the blue. This is why they are so dangerous.

- Julie Wall
The editor of Animals24-7.org, Merritt Clifton, has been tracking serious and fatal attacks by shelter dogs for several decades. Joshua was the 38th fatality involving U.S. shelter dogs from 2010 to present -- a 5-year period. 30 of these deadly attacks involved rehomed pit bulls. Also, the Safety Before Pit Bulldogs blog is
tracking extreme and fatal attacks by pit bulls
that were either up for adoption or recently adopted out by a shelter. The 2015 severe attacks cited are numerous.
The following list shows the results of these misguided priorities and lack of mandated responsibility or accountability by these animal care "experts." Most of these articles are about recently adopted pit bulls that launched a serious attack, sometimes killing a person. Many of these pit bulls came with assurances that the pit bull was non-aggressive and/or had been temperament tested ... The list is not complete or comprehensive, but merely highlights the growing and seriously dangerous problem.

- Safety Before Pit Bulldogs
Notably, while reading Facebook comments on news articles after the county's July 16 letter, one local mother, who bears no ill will toward pit bulls, had a similar experience with Asheville Humane.
Less than 24 hours after adopting a pit bull from AHS
, the dog savagely attacked her 5-year old son, latching onto his head. His injuries required staples. This attack occurred in March, 4-months before Joshua was killed. The mother comments at least twice on the
WLOS Facebook thread
.
They should have started all of this when a pit we adopted this March that had passed all of their test attacked my son resulting in a ems ride and staples in his head. The dog wanted my son dead. Pit bulls are my favorite breed. Yes different breeds kill/bite. Yes it depends on how they are raised. But this is TWICE a dog from AHS has attacked a child within months of each other that we know of. Such a sad situation.

- Tera Brown, July 16, 2015


...Not even 24 hours after the adoption my son ask him to sit for a treat. The dog sit and my son handed out a treat and the dog snapped and turned vicious latching on to my sons head. The dog tried to drag my son back out of my arms without trying to bite me at all even with me kicking him in the face trying to get his focus on me instead of my son. He had locked in tunnel vision on my little boy. Thats all he wanted...

- Tera Brown, July 16, 2015
After the attack she writes, "while I was in the ems with my son the police picked up the dog from outside of my house. The dog came wagging tail and jumped right in the cop car for a treat like nothing had ever happened." Performing the ever so frequent unpredictable explosive aggression by pit bulls, followed by the, "like nothing ever happened" or "wagging their tail" scenario. This too is often displayed by pit bulls after a violent attack. They often
wag their tails while attacking
too.
All eyes are on the county now as they examine the materials delivered by Asheville Humane.
---
07/16/15: County Stops Pit Bull Transfers
After a pit bull adopted out by the Asheville Humane Society (AHS) killed a 6-year old boy, Buncombe County officials are reviewing the organization's adoption process for pit bulls. Recall that AHS is under contract with the county to operate its open admission shelter, where the stray pit bull originally came in and where (we presume) it was temperament tested. Then the pit bull was "transferred" to the Asheville Humane Adoption Center, a separate, but adjacent building.
In a July 16 letter to Asheville Humane, Buncombe County officials ordered AHS to place an "immediate moratorium" on the transfer of all pit bulls from the county's open admission shelter to an adoption agency. The letter also asks for specific details about temperament test procedures followed by AHS, including the "credentials" of their testing individuals, as well as a "detailed process used in the specific pit bull transfer" that resulted in the mauling death of a young child.
The five items requested by Buncombe County |
Read letter in full
An immediate moratorium on the transfer of any pit bull or pit bull-mix from the Shelter to an Adoption Agency.
A thorough documentation delivered to the County of the temperament testing procedures in place. This includes the specific steps involved, citation of the best-practice model used, the "individual(s)" employed by Asheville Humane conducting the testing, the credentials of the testing individual(s), and the individual(s) charged with approving the transfer of these specific animals.
A detailed process used in the specific pit bull transfer that resulted in the death of a child in Henderson County.
The definition that Asheville Humane uses for determining the health of an animal suitable for transfer to an adoption agency.
A summary of any related internal reviews Asheville Humane has conducted and the resulting process changes/system improvement.
It is noteworthy that county officials also requested the specific names of the individuals employed by Asheville Humane who perform these procedures along with their "credentials." Buncombe County officials requested that AHS provide the information to them no later than two weeks from the date of this letter, which is July 30. After examining these materials, the county then "will decide next steps as to the moratorium on transfer of pit bulls and pit bull-mixes," states the letter.
---
Humane Group Republishes Web Page
UPDATE 07/11/14:
In the aftermath of the sheriff's office naming the Asheville Humane Society (AHS) as the entity that adopted out a pit bull that attacked and killed a 6-year old boy, several developments have occurred. AHS released a "prepared" statement to the media, but still refuses to
answer "repeated calls" from reporters
and refuses
any type of TV interview
, according to WLOS. Also, at some point late Friday, AHS restored their Project Pit Bull page with revisions.
Part of the prepared statement by AHS includes a telling admission. The statement reads in part: "The dog involved was adopted out from Asheville Humane Society last month and did not exhibit any aggressive behavior while in our care. This dog
came in as a stray so we did not know his history
, only his behavior while he was with us, which gave no indication that he would have any issue of this type." AHS had the pit bull for 30-days before adopting it out to Joshua's neighbor.
The Asheville Humane Society, by their own admission, had no way of knowing they were sending someone home with a killer.
A person takes an extreme risk when adopting a pit bull with a known history, much less an unknown one, as was the case in Joshua's death. A powerful comment left by Jeff Borchardt just after we published our last update sums up the issue even more clearly. In March 2013, Jeff's 14-month old son was
brutally killed by his babysitter's two pit bulls
. Her pit bulls were 3-years old, well trained, sterilized, brought up in a loving home and had
never shown aggression before
.
"1-year-old pit bull had never shown signs of aggression. Up to date on all shots, neutered, had played with the dog before. No indication that anything was wrong.".....And THAT my friends is the problem with pit bulls.

- Jeff Borchardt, father of Daxton Borchardt
In a recent article by Merritt Clifton
, editor of Animals24-7.org, Clifton states that Joshua Strother marks the 38th fatality involving U.S. shelter dogs from 2010 to present -- a 5-year period. Dog breeds involved in these 38 deaths include 30 pit bulls, seven bullmastiffs, two rottweilers, a lab that may have been part pit bull and a husky, according to his data. Clifton's article also dives into the history of AHS, an agency that has seen four executive directors in the last three years.
Lies, Lies and More Lies
At some point late July 10 or in the early hours of July 11, AHS republished their Project Pit Bull page with revisions, apparently to cover their tracks. The new page has a reworded title, a new pit bull initiative ("while supplies last" type bargain), and they renamed Pit Crew, their breed-specific volunteer program for pit bulls, to "Pup Crew." The public should in no way think that "Pup" implies puppies or unspecified dog breeds. Pup Crew only involves breed-specific pit bull advocacy.
1
Also notably,
Pup Crew is a trademarked clothing brand
, apparently, mainly for smaller cute dogs,
like the ones pit bulls frequently eviscerate
. Why do we think the makers of Pup Crew do not want any association to a humane society that just adopted out a pit bull that fatally attacked a 6-year old boy? Moreover, why would Pup Crew want their clothing brand associated to breed-specific pit bull advocacy whose primary function is carrying out aggressive pit bull adoption campaigns?
New Pit Bull Initiative
In AHS's new breed-specific pit bull program, they offer to pay pit bull owners $20 dollars cash,
if only
they would bring their pit bull in for FREE spay or neuter services. It is not enough that the surgical procedure is FREE, a charity only for pit bulls, they have to add $20 cash on top of it and a "free collar, ID tag and microchip." Other changes on the web page include eliminating the first sentence of the main description:
"Pit bulls are often misunderstood and discriminated against."
The revised Project Pit Bull page does keep, "These dogs are grossly misunderstood." Like the pit bull handed out to Joshua's neighbor.
Lastly, the
WLOS video makes it clear
that the Asheville Humane Society would not agree to an interview. "Today the humane society declined a request for an interview." And added, "This week, the organization removed a web page linking you to their pit bull campaign, which is meant to raise awareness about the breed. Staff say it is a temporary move out of respect for the family." "Staff" is a
non-specific sell out
and AHS's alleged "respect" for the family
vanished
when they republished.
The only other message we have for readers is a reply to a Tweet we sent out earlier regarding the
aggressive and misleading 4th of July pit bull adoption
promotion by AHS.
HomeLifeSanctuary responded
: "@dogsbite I just can't believe this. I can't bear to look at the face of that poor little boy. Animal rescue has lost its soul." In the case of the AHS, we do not believe they had one to begin with. After adopting out a killer, they bounced right back with a cheery message about pit bulls.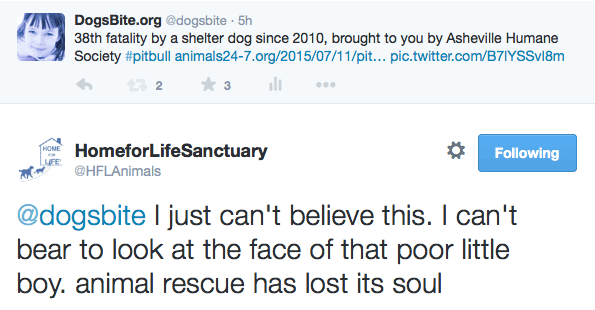 ---
07/09/15: Humane Society Named
Just after posting the below update, we received word that the Henderson County Sheriff's Office
issued an update to their Facebook page
naming the
Asheville Humane Society
as the entity who adopted out the killer pit bull. Now that readers know this, please see our whole July 9 update through these eyes. AHS adopted out the killer pit bull
AND
before being
publicly named
by the sheriff's office, they scrubbed their pit bull promotion programs from their corporate website!
Humane Society Removes Parts of Website
UPDATE 07/09/15:
After a little boy was brutally killed by a recently adopted pit bull, a nearby humane society removed portions of its website dedicated to promoting pit bulls. The Asheville Humane Society, which is located about 30 miles north of Hendersonville in Buncombe County, apparently removed two portions from their corporate website after the boy's mauling death: Project Pit Bull, an awareness campaign, and Want to Join Our Pit Crew?, a volunteer program.
Joshua Strother, 6-years old, was fatally attacked by his neighbor's pit bull on July 7 after he climbed over a fence into his neighbor's yard. The
male, neutered pit bull was about 1-year old
, according to police, and was adopted by Joshua's next door neighbor 3-weeks earlier. Joshua had played with the dog before, which had not shown any aggression since being adopted. Sheriff's officials still have not named the humane society that recently adopted out this child killing pit bull.
The Henderson County Sheriff's Office has only stated that the pit bull was adopted from a humane society in a nearby county 3-weeks ago.
The Asheville Humane Society (AHS) also operates the shelter for Buncombe County, though they are
two separate facilities according to their website
. "Since 1990 Asheville Humane Society animal care professionals have operated the Buncombe County Animal Shelter operations under contracts with Buncombe County and City of Asheville," states the website. AHS hopes to build a "
no-kill community
" in Asheville and has partnerships with
Best Friends
, the
ASPCA
and more.
Portions that Were Removed
The central question is: Why would AHS, located in an adjacent county to the fatal attack, remove parts of its website that promoted pit bulls just after this boy's mauling death? On June 19, AHS kicked off their Project Pit Bull, Awareness and Action Campaign with its
first
event, a community forum. The
forum focused on ending "breed discrimination"
and selling the public disinformation about pit bulls. The community forum was the
first
of the campaign's free services for pit bulls.
As pointed out by DogsBite commenter Littlebluetinkerbell last night, "awareness and action campaigns" usually last several months and possibly years. But the Asheville Humane Society pulled the entire Project Pit Bull awareness campaign from their corporate website less than one month into the campaign and, apparently, just after this boy's horrific mauling death. Again, authorities have not named the animal shelter that is responsible for adopting out this mauler.
The Asheville Humane Society's Project Pit Bull page is still in Google Cache (
please view here
).
2
Google last captured it on July 5. The actual URL leads to a broken web page because AHS removed this web page (
please view here
). If one looks at their current website, you'll notice that the left column is now missing "Project Pit Bull" in the navigation sidebar for Events and News. It does not end there either. AHS also removed their Pit Crew program from their website.
The Asheville Humane Society's Volunteer page is still in Google Cache (
please view here
).
3
Google last captured it on July 7, the day of the boy's death. If you scroll down about midway, you will see the, Want to Join Our Pit Crew? section. Between July 7 and July 8th, AHS removed this program from their corporate website. Go to their
volunteer page and see for yourself
. Now why would they do this? Because it's
a bad time
to be promoting pit bulls as "grossly misunderstood?"
This certainly could be the case. After their June 19 forum -- which tried to sell to Asheville homeowners, landlords, neighbors and "even the pit bull wary" that BSL does not keep people safe and that pit bulls are wonderful pets -- a little boy died in the jaws of a male, neutered recently adopted out pit bull. Henderson County Sheriff's Office Maj. Frank Stout said the boy "
died a very violent and quick death
." The pit bull attacked the boy's face and neck killing him, Stout said.
You be the judge of why AHS took down these parts of their website in the wake of a fatal pit bull attack. You be the judge of why a humane society, in this case partly supported by taxpayers in their role of operating the county's shelter, continues to delete posts from their Facebook page that mention this young boy. Commenter Wigan
wrote on our Facebook post just a few hours ago
: "Update: [Asheville Humane Society] is deleting posts that mention the boy..." You be the judge.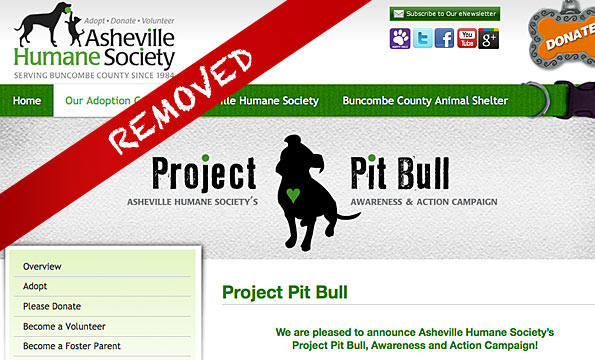 07/08/15: Adopted in a Nearby County
New information is being learned about the pit bull that killed a child. The Citizen-Times reports that Henderson County Sheriff's Office Maj. Frank Stout said the pit bull was a male and a little over a year old. Stout said the owners adopted the dog 3-weeks earlier in a nearby county, with all of the shots and paperwork. Stout declined to name the shelter. Because certainly the public should not be made aware of which agency adopted out a pit bull that in short order killed a child.
Stout did say that part of the investigation will focus on the dog's history. "We're trying to get as much history on this dog as possible," Stout said. "We're just trying to find out the entire chain of events even before the adoption of the dog." Stout also said that Joshua often played with the dog owner's 6-year old daughter, and that both had played with the dog since its arrival without any issues. "There had been nothing to indicate that this dog was aggressive in nature," Stout said.
Jerry Hayes, Josh's great-grandfather who lives at 163 Piney Ridge Drive, said that Joshua would have entered into the first grade at Mills River Elementary School in August. He said that his great-grandson was "smart as a whip" and could count up to 100 forward and backward. Regarding the pit bull, Hayes said, "
You just can't trust a pit bull. But that one seemed tame
. I petted it through the fence. I thought they had gotten a nice dog. But that one won't bother anyone else," he said.
07/07/15: Pit Bull Mauling Victim Identified
The young boy mauled to death by a recently adopted pit bull in Henderson County has been identified as Joshua Phillip Strother. The late night update from Blue Ridge Now communicates portions of the painful 911 call made by the little boy's mother who is 8-months pregnant, according to a neighbor. The news report also indicates the pit bull had only been with the
unnamed
dog's owner and next door neighbor for two weeks before fatally attacking a child.
4
"I went to the bathroom and my boy is dead," the 911 caller says, weeping. "There's blood all over his face."

The mother of Joshua Strother
In the frantic call, the mother tells the dispatcher that her 6-year old son is in the neighbor's fenced backyard at 183 Piney Ridge Drive and that she cannot get inside the fence. The neighbors are not home, she said. The mother tells the dispatcher, "I was in the house. I heard the back door shut, and I come running and I seen him laying in the neighbor's yard." The 911 dispatcher asks her to check whether the child is moving or breathing. "He's not breathing," the mother says.
Investigators suspect the boy climbed the nearly 5-foot tall chain-link fence to play with the pit bull. According to Joseph Strother, the victim's stepbrother, the neighbors got the dog two weeks ago and the dog was familiar with his little brother. "They said the dog's been here two weeks and he's been playing with the dog," Joseph said. The property owners of 183 Piney Ridge Drive were not home when Joshua climbed the fence and was fatally attacked by their recently adopted pit bull.
0707/15: Adopted Pit Bull Kills Child
Hendersonville, NC - In developing story, a pit bull terrier attacked and killed a 6-year old boy Tuesday afternoon, according to the Henderson County Sheriff's Office. Arriving deputies shot and killed the dog to get to the child, but it was too late to save his life. The fatal attack happened on the pit bull owner's property on Piney Ridge Drive, according to deputies. At the time of the deadly attack, the boy was visiting his grandparent's home next door to the dog owner's property.
The 911 call was made by the boy's mother. She said she went inside to use the bathroom for a few minutes and returned to find her son lying in the neighbor's yard. She said her son played with the dog and the dog was familiar with him. She told dispatchers that she did not believe her son was breathing, and that the neighbor's gate was locked, so she could not get into their yard. She said her son and other children often climbed the fence and that the homeowners were not home.
Fox Carolina also reported that they would not air the mother's 911 call and were told by people at the scene that the mother is pregnant.

5
The Citizen-Times reports
that deputies responded to a call at 163 Piney Ridge Drive near Mountain Home, a news release from Maj. Frank Stout states. When deputies and emergency responders arrived on scene they were unable to reach the boy due to the pit bull's continued aggression. Deputies shot and killed the pit bull, then deputies and emergency responders pushed down a fence to gain access to the child, who did not respond to medical treatment, Stout said.
Recently Adopted Pit Bull
News 13 reports that Henderson County Sheriff Charles McDonald does not believe
there is any evidence of criminal wrongdoing
at this time. Sheriff McDonald said the
recently adopted pit bull
was next door in a fenced-in backyard. Deputies continue to investigate how the child got into the area. Roger Burns lives nearby. He said that his own son, who is 10-years old, had intended to go play with the boy. Then his son told him, "I can't play with him. He's in the yard dead, daddy."

View the DogsBite.org Google Map:
North Carolina Fatal Pit Bull Maulings
.
---
Editorial note added July 10: Despite this boy's horrific mauling death by a pit bull adopted out by the Asheville Humane Society, the AHS Facebook page still has this July 4th promotional pit bull campaign in their photo album. The Facebook post was published on June 25. The boy was killed on July 7. This "custom designed" image, bearing the AHS website address, is 1296 x 1296, indicating that it is print resolution. In all likelihood, it was printed as fliers or was a poster hanging in AHS greeting potential adopters!
---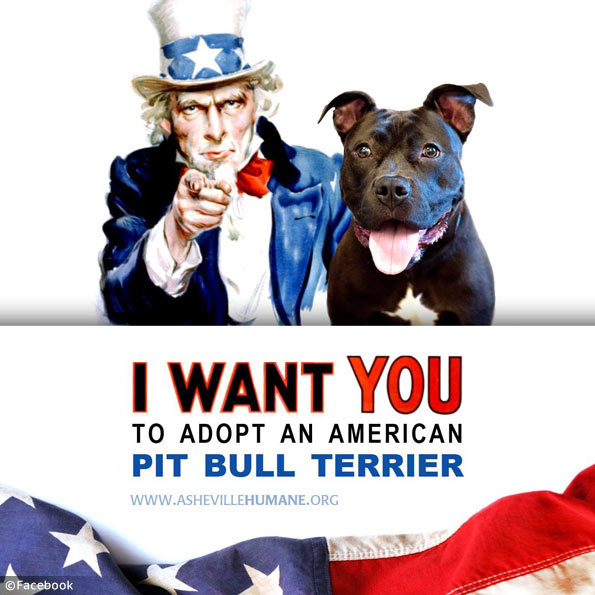 1
Pup Crew is completely disingenuous to what the program is. It's just another mask for breed-specific pit bull advocacy and a deliberate term designed to hoodwink the public. At least Pit Crew properly identified the program.
2, 3
Replaced with a screenshot of Google Cache taken on July 9. Because Asheville Humane republished their pages after getting caught, as well as how Google Cache operates (web cache is only temporary and has now cached the republished pages), a screenshot was our only option. This replacement was made July 17, 2015.
4
Some reports are saying three weeks. News 2 also states the dog came from a "North Carolina shelter."
5
In a late evening update by WYFF, neighbor Diane Henault said the victim's mother is 8-months pregnant. "My heart just goes out to the family, [she] is like 8-months pregnant," Henault said. She referred to the boy as "Josh." No information has so far been released about the agency or rescue that adopted out the fatally attacking pit bull.
Related articles:
08/31/15:
Who Can Identify a Pit Bull? A Dog Owner of 'Ordinary Intelligence'...
08/06/15:
Buncombe County - Animal Shelter Review Complete (News Release)
07/22/15:
Letter: Difficulty in Assessing Level of Aggression in Pit Bulls Can Lead to Tragedy
07/11/15:
Boyle Column: Stats Don't Lie About Dangers Of Pit Bulls - Citizen Times
05/05/09:
Alexandra Semyonova: Heritability of Behavior in the Abnormally Aggressive Dog
Labels: 2015 Dog Bite Fatality, Adopted Dog Kills, Asheville Humane Society, ASPCA, Best Friends Animal Society, Executes the Killing Bite, Fatal Pit Bull Attack, No-Kill Fanatics, North Carolina, Pit Bull Rescue, Rescue or Rehomed Dog Kills, Temperament Test

Please donate to support our work
DogsBite.org is a 501(c)(3) tax-exempt public charity organization. Learn more »
posted by
|
permalink
|
29 comments
|

email
|

blog rss
|

comment rss

29 comments:

truthbirdtoo | 7/07/2015 11:31 PM | Flag
North Carolina is one of the primary "breeding grounds" for fighting dogs. Many of the top breeders of fighting dogs (pit bulls) laid down stakes in this state decades ago. Why any normal family on EARTH would adopt a pit bull from this state or surrounding areas is severely uneducated about dogfighting. You literally could be getting a one-generation away fighting dog or even the same generation in this neck of the woods. The agency or "rescue" that adopted this pit bull out no doubt told the family a pack of lies, "It's all how they are raised" yadda, yadda… I would be mad as hell at this rescue group (or county shelter, or wherever the dog came from) if I was the "recent" owner of this child killer. Now this family has to live the rest of their lives knowing that buying into the "pit bull propaganda garbage" caused the life of an innocent child. They also bought into the garbage despite the simple act of typing Pit Bull Attack into Google. Shame on them!

Amy2 | 7/08/2015 4:38 AM | Flag
I completely agree!

Don Bauermeister | 7/08/2015 8:56 AM | Flag
Meanwhile, all I see on the national television news the last week or two is how the sharks off the coast of North Carolina are attacking people. I think I heard 10 separate attacks in the last report...zero fatalities.

And, now this. A LAND SHARK. A pit bull killing a young boy.

Come on now media. COVER THIS STORY!!

#CBS #NBC #ABC #CNN #FOXNEWS #MSNBC #ETC, ETC, ETC

B Cazz | 7/08/2015 9:57 AM | Flag
This is another "Death by Dog" where there won't be any charges. In addition, the family doesn't have any hope of a civil judgment against either the 'owner' or the 'seller' of this dog.

Why? Well, because reports say the boy was in the owner's yard when the attack occurred, and he was unsupervised.

It's all the mother's fault, you know. I'm betting the comments sections are already filled with that accusation.

Now, let's consider Don's Land Shark comment.

We all know that if you have a swimming pool in your yard that's not adequately fenced off and some kid gets in and drowns, you're liable.

Imagine if you had an inadequately fenced off swimming pool that you stocked with, say, sharks or piranhas or crocodiles. If a kid got in and was killed by your animal, you'd not only be liable, I'm guessing criminal charges would be filed, whether or not the child was supervised.



Your Quiet Neighbor | 7/08/2015 10:45 AM | Flag
We DEMAND to know the source of this dog. From where was it adopted? A shelter? Sue it into the ground! One of those so-called "rescue" groups? Sue 'em!

Your Quiet Neighbor | 7/08/2015 3:32 PM | Flag
Okay, so now we know that it was adopted from a shelter? Is that shelter supported by the taxpayers? If so, then its identity should be publicized NOW.

truthbirdtoo | 7/08/2015 3:57 PM | Flag
"The neighbors adopted the dog from a humane animal shelter about three weeks ago, Stout said. The sheriff's office is currently investigating the unnamed shelter and the dog's history to discover if the animal has ever been deemed dangerous." (ABC News) -- That is hardly the point with a pit bull, of course it was never deemed dangerous before. Pit bulls do not need to have a history of aggression to suddenly one day execute the killing bite. This is exactly what they were selectively bred to do! Alexandra Semyonova states it so beautifully here.

PutMeInCharge4OneDay | 7/08/2015 4:13 PM | Flag
B Cazz that is an outstanding point.

Why can't a pit bull be considered an "attractive nuisance" like the swimming pool?

I hope that the shelter or "rescue" is sued. The only way these people are going to ever reconsider pedaling these murderous creatures is if they feel it in their wallet.

I was talking to a veterinarian today about this very case and of Beau Ruttledge. She said you never know what triggers them and then their genetics kick in and its all over for the victim.

Poor little boy. I can not even contemplate what the mother is going through. How do you ever get through something like that?

Along the Land Shark theme........its Shark Week on Discovery Channel and I think its interesting that we have two people killed this last week by pit bulls and the media continues its silence.

littlebluetinkerbell | 7/08/2015 7:23 PM | Flag
A hypothetical entity is located 30 miles north in Buncombe County, Asheville Humane Society. The organization has heavy partnerships with the ASPCA and Best Friends. It is also under contract as the Buncombe County Animal Shelter. Interestingly, AHS also had a Project Pit Bull Event 3 weeks ago. And, AHS has SINCE removed the "Project Pit Bull" awareness and action campaign from their website. It is only in Google Cache now. How coincidental?

What happened to the Asheville Humane Society's Project Pit Bull? Last photo taken in Google Cache on July 5, 2015.

On the community description of the June 19 Project Pit Bull Asheville Community Forum event, it states that the forum is the "FIRST" of the "campaign's free services for pit bull owners, community resources, and other events." So, as with most "awareness and action campaigns" the Asheville Humane Society's Project Pit Bull, was going to be going on for months if not years. But it stopped suddenly and just within the last few days, and the entire campaign page was removed from the AHS corporate website.

Here's the text from the campaign webpage that only exists in Google Cache now.
---------------------
We are pleased to announce Asheville Humane Society's
Project Pit Bull, Awareness and Action Campaign!

Pit bulls are often misunderstood and discriminated against. Our goal is to bring awareness and action to our community and ensure Asheville is a welcoming community for all dogs. Asheville Humane Society's Pit bull Project, Awareness and Action Campaign will include our advocacy team the Pit Crew, free services to pit bull pet owners, educational forums, community resources and other events. It is our hope that in creating a conversation with citizens of all ages including homeowners, tenants, landlords, neighbors, pit bull enthusiasts, and even the pit bull wary, we can grow a compassionate, conscientious community that promotes responsible pet ownership and no longer discriminates against breeds.

Commonly, the label "pit bull" is used as a blanket term for breeds such as the American Pit Bull Terrier, Staffordshire Terrier, and Bull Terrier, to name a few. These dogs are grossly misunderstood, along with many other breeds that have found their way on to breed restriction lists over the years. Until recently, this did not pose an urgent problem. However, as the "shelter mutt" evolves into a hybrid with pit bull-type characteristics, and Asheville tries to evolve into a no-kill community, steps need to be taken to ensure that these dogs can find forever homes—and stay home.

We want Asheville to remain a dog-friendly city, yet in order to accomplish this its citizens need not only resources for proper training and care, but also places to live and happily coexist within the community with their beloved pets.

http://www.ashevillehumane.org/project-pit-bull.php

PutMeInCharge4OneDay | 7/09/2015 1:43 PM | Flag
Very interesting indeed Littlebluetinkerbell.

I would bet the farm that was the group that sold this killer dog.



Your Quiet Neighbor | 7/09/2015 2:43 PM | Flag
If I was a member of the plaintiffs' bar, I would be targeting the so-called humane movement. Why? Because it has deep pockets and its actions are endangering society.

truthbirdtoo | 7/09/2015 9:05 PM | Flag
Well, Littlebluetinkerbell was right. Notably, the Asheville Humane Society picked up the pit bull as a "stray" in dogfighting country one month earlier. That is just disgusting. This whole thing is just rotten to its core. Gotta wonder how AHS will proceed? Will they just keep all of their noxious pro-pit bull campaigns offline?

http://www.citizen-times.com/story/news/local/2015/07/09/charges-pit-bull-attack-killed-boy/29936339/

Your Quiet Neighbor | 7/09/2015 10:55 PM | Flag
The Asheville Humane Society has lost respect for the HUMAN society that funds it. And it has a lot of blood on its hands.

herzeleid | 7/09/2015 11:26 PM | Flag
in reading the rather Orwellian "project pit bull" blurb, it's difficult to imagine what this lot means by "dog-friendly city" - the mind boggles over the disconnect with reality: one the one hand, harmless dogs being mauled to death in their own yards by roaming pit bulls, doing what they were designed to do, and on the other hand, the representatives of the "ministry of truth" smiling serenely amidst the screams, the blood and the slaughter while touting the horrific "dog-friendly" environment they have created...

Truly, you can not make this stuff up!

joelande | 7/10/2015 12:31 AM | Flag
Best Friends Animal Society strikes again.

So many people do not realize that their local shelters and animal control departments have literally been bought by wealthy people pushing their selfish and deranged pit bull agenda from other states, like so much organized in New York City.

Organizations like Best Friends are the middlemen, the go betweens, that capture control of these local organizations and push them into supporting the pit bull agendas of those wealthy and selfish elites, and put communities in peril.

Communities need to take back control of their shelters and animal control departments from the wealthy outsiders and lobbyists who do not care how many local citizens die or get mauled. They only care about the financial interests of the pit bull lobby, which is a business interest.

joelande | 7/10/2015 12:36 AM | Flag
Humane societies like Asheville have become the champions of dog fighters and their interests.

Regarding that pit bull promotion event that was held when this dog was adopted, I know for a fact that Best Friends Animal Society employees and management play direct roles in organizing and running these events. The blame for this lies beyond Asheville too, and that is what really needs to be exposed as well.

But I will just bet that Asheville will get thrown under the bus by Best Friends. They do it every time and utterly refuse to take responsibility.

Your Quiet Neighbor | 7/10/2015 10:23 AM | Flag
If anyone reading this post has been donating to this humane society, stop. Likewise, Best Friends. Don't give them another dime. They are NOT our friends.

Your Quiet Neighbor | 7/11/2015 8:48 PM | Flag
Asheville Humane Society is attempting damage control. And it's not working.

I hope that the family of the deceased has a good personal injury lawyer. Because there's a HUGE wrongful death case here.

joelande | 7/12/2015 5:03 PM | Flag
The public should know the people responsible for letting Asheville Humane Society be taken over and used for the interests of outsiders and the pit bull industry.

The buck stops here when it comes to responsibility. The buck stops here when it comes to responsibility for that child's death.

These people have admitted their responsibility for how this shelter is run, its direction, and how it operates in public, to all.

What will the leaders of AHS do to attend to their responsibility for this child's death and to prevent future deaths? They have now acknowledged they are waranteeing killer dogs as safe and selling them to the public. What will they do now? Double down on the propaganda?

They've already announced plans to keep running this fraudulent project to sell killer dogs. THEY INTEND TO DO IT AGAIN. Not only to the citizens of Asheville, but through the state and perhaps into other states.

http://www.ashevillehumane.org/board-of-directors.php

Asheville Humane Society is governed by a volunteer Board of Directors of between 12-18 community representatives. These individuals donate their time, passion and professional expertise to steer the vision and future of our mission.

John Haas, Chair
Susan Barbour, Vice Chair
Ann Barron, Secretary
Joy Flora, Treasurer

Sue Barnett

Ken Blank

Darr Conradson

Kim Evans

Ron Gallaway

Matt Goetz

Kenan Hopkins

Joe Luna

Robin Ramsey

David Smith

Doug Tate

Sarah Hess, Interim President



Your Quiet Neighbor | 7/13/2015 9:56 AM | Flag
To the Pup Crew clothing company: The Asheville Humane Society is unlawfully using your trademark.

Your Quiet Neighbor | 7/16/2015 6:44 PM | Flag
Game changer? http://www.wlos.com/news/features/top-stories/stories/buncombe-co-requests-moratorium-pit-bull-adoptions-at-avl-humane-society-21954.shtml#.VahAHfnCY3O

Jensen Family | 7/18/2015 8:51 PM | Flag
Again I ask, won't these "behavior" tests just be useless? Especially with the Pitbull breed? I mean how many times do we hear "the dog was NEVER aggressive before the attack"? And we know aggression is often viewed differently depending on who you talk to because people think they know what their animals are thinking... "Oh he nips when he is playing", "she's just scared, but she doesn't bite" or my favorite "he was biting but not THAT hard, if he wanted to hurt/kill the dog, he would have" (GOOGLE: Petsmart pitbull attacks another dog and gets stabbed) ...etc.
My point Is, you could spend a lifetime observing a seemingly gentle pitbull only to find out later it attacked for no reason at all.
Don't government offices just love to spin their wheels at the expense of the taxpayer?

joelande | 7/19/2015 11:06 PM | Flag
"Again I ask, won't these "behavior" tests just be useless? "

Yes, they are.

There is no behavioral test on earth that can adequately give a conclusion on a pit bull or mixes with strong fighting breed genetic backgrounds.

Countless pit bulls have passed all kinds of behavioral tests or been granted certificates developed and given by "experts" and those dogs have then gone on to kill or attack.

The AKC Canine Good Citizen certificate (GKC) for example, is completely worthless when it comes to fighting and killing breeds.

That is the problem with breeds that have been created to attack and kill.

The whole thing is a game of let's pretend or the Emperor has no clothes

Buk Lao | 8/06/2015 4:59 PM | Flag
Petition to ban pit-bulls, if it only saves one child it is worth it! Thank you for your support and please share this!

https://www.change.org/p/barack-obama-harry-reid-petition-to-ban-pit-bulls-and-stop-them-from-maiming-and-terrorizing-your-loved-ones?just_created=true

joelande | 8/07/2015 8:38 AM | Flag
The outsider pit bull breeding community put pressure on government employee Jim Holland and he caved.
Now he'll get more Asheville people and pets killed and injured.

OUTSIDER financial interests interfered with local Asheville citizen's public safety.

None of the people running the pit bull selling program at Asheville Humane are even from the state, never mind Asheville. They are all outsiders preying on Asheville and propping up the pit breeder and dog fighter community.

I saw this quote in the article

"The county also hired local animal welfare consultant Sarah Hess to help with the review. Hess previously served as the interim executive director of the Asheville Humane Society."


Being perfectly clear here, Sarah Hess (who is from Ohio) runs a MARKETING BUSINESS that works for contracts with animal related agencies. She GETS PAID. SHE MAKES MONEY FROM THE PIT BULL DEALING, including this "consulting" paid job the county just gave her.

This is how she gets an income. This is her business.

It was a complete conflict of interest to involve her at all because she makes money from these pit bull campaigns.

"Sarah also has more than 20 years experience in various sales and marketing positions, and currently runs her own marketing business specializing in the humane field."

joelande | 8/07/2015 8:57 AM | Flag
You also realize that Asheville Humane Society is stating right out that they are throwing their adopters and foster care homes under the bus1

If you adopt a vicious pit bull from Asheville humane, or take it in as foster care, and that dog attacks, then you the adopter or foster care person will be blamed for it and you the adopter or foster care person will get sued and lose everything so that Asheville humane Society can keep on selling vicious dogs and earning large management salaries.

Asheville Humane Society doesn't even respect their adopters and foster care! Adopters and foster care are under 100 percent risk in any dealing with Asheville Humane Society. They are being treated like dirt by this organization.

Your Quiet Neighbor | 8/07/2015 11:35 AM | Flag
If the SAFER temperament test is the state-of-the-art, then I'd hate to see what a flawed test looks like.

Colleen Lynn | 8/07/2015 11:21 PM | Flag
Additions to the August 6th update have been made regarding the director's "anthropomorphic" statements. The pot calling the kettle black.

Jensen Family | 8/08/2015 4:26 PM | Flag
With so many organizations backing Pitbull adoptions it's hard to be properly informed about this breed's true nature.
When did it become so political and corrupt? I mean the last place I would expect to be tricked and lied to is when I go to adopt a dog for my family. It's really laughable and childish, the people who have bleeding hearts for these dangerous dogs. It's also very frustrating that those who peddle the pitbulls will actually try to convince you that Pitbulls are superior to all other breeds. Like: best for protection, smartest breed, sweetest, and we all know they are "nanny dogs"! Right?
It reminds me of a government program that no body EVER wants but we hear how good it is for us and we need it because we are too stupid to take care of ourselves.
I keep thinking about the mom of this little boy. How she must go on with her life in so much pain. She doesn't deserve this heartbreak! With these dogs around I guess you're just supposed to be a helicopter parent!?!
My boys are always making friends at school and playgrounds. Well, a few times I've made friends with the kids' parents and they invite us to play at their house. I've actually asked these kids' parents if they have pitbulls or rotweilers in their home before we can go there. Sometimes I feel like I'm being extreme but I have three boys under the age of 5 (the most common ages to be fatally attacked by dogs and also the most common situation to be fatally attacked in: visiting a pitbull owner's home).
I recently read " Misunderstood Nanny Dogs?" It is a short book but very informative and it gets the message across quickly that these breeds are a health and safety problem in modern society and should NOT be kept as pets. Along with Dogsbite.org I've been recommending this book to my family and friends this way they can read it on their own time and form their own opinion.
Educate ourselves and know our surroundings? It's all we can do right? We sure as hell can't count on the brilliant minds behind temperment testing for dogs. What a disaster and a quick way to piss away taxpayer money!
I appreciate you Colleen! Dogsbite is a true sanctuary for bully breed victims and for those of us who want to learn facts and statistics.