Thursday, May 8, 2014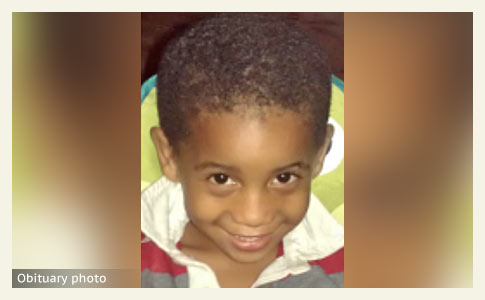 Family members mourn the loss of Kasii Haith, who was killed in a pit bull attack.
Family Mourns Death
archived
UPDATE 05/08/14:
Family member gathered at his mother's home in Camden to mourn the child's violent death. The child's maternal grandmother, Tara Haith Coates, said her daughter was visiting a longtime friend and had been outside with her son all day. She had gone inside for a brief trip to the bathroom when the attack occurred, according to Coates. She said her daughter needed 20 stitches from the bite injuries she received while trying to save her son.
"People have been saying awful things," she said. "All I want is respect. Just understand. She was a hell of a mother."

- Tara Haith Coates
According to neighbors, the dogs' owners had recently moved into the neighborhood. Just one day before fatally attacking the boy and attacking his mother, the three pit bulls were seen running loose in the area. Gary Bodine, 60, said the dogs went onto the porch of his brother-in-law's home on Tuesday then crossed into the yard of another relative. Bodine's immediate concern was for his 4-year old niece, Addy, who fortunately was safe. He warned his relatives about these dogs.
Cause of Death, Multiple Dog Bites
A
Dover Post article states
that the Office of the Chief Medical Examiner ruled the manner of death as being multiple dog bites to the head and neck. The dogs' owner, whose name has not been released, voluntarily surrendered the three pit bulls to Delaware Animal Care and Control (DAC). The dogs were put down Thursday morning, according to DAC Chief Animal Control Officer Capt. Sherri Warburton (The DAC is in charge of animal control throughout the state).
A fourth dog at the attack scene, an 8-week old puppy, was not involved in the attack and remains with its owner, Warburton said. She then stated on the record
again
that
possible
inbreeding or territorial factors brought on by one of the female dog's pregnancy led to the attack, despite the boy knowing the dogs well and had already spent hours with them prior to the attack. Warburton summed up her theory by essentially stating that mothers should
never go to the bathroom
.
The Causal Factor Creep
Multiple millions of dog owning mothers go to the bathroom, make lunch and get dressed in their own bedroom everyday (this list is exhausting). These mothers are "normally" away from their children for brief periods everyday. These family dogs -- spayed and neutered or not, pregnant or not -- are not severely mauling or killing their children. The Causal Factor Creep is used to explain pit bull fatalities as an anticipated response by all dogs when a mother steps away for a moment.
The Delaware State Police continue to investigate. It is too soon to know how long the mother truly was away (the validity of the bathroom story). Because similar stories of a momentary "normal" absence of a mother come up unfailingly in fatal pit bull attacks, and are use by 1.) Animal control and animal welfare groups to displace blame from the pit bull breed and 2.) Pit bull advocates to start vicious rumors about these mothers, we felt it was important to address this issue now.
Do not forget that two grown men with PVC piping and a desperate, adrenalin enhanced mother could not get these pit bulls to stop attacking her son. Thus, a fatality ensued.
05/08/14: Mauling Victims Identified
Delaware State Police have released the names of the young boy killed by three pit bulls on Wednesday and his pregnant mother, who was injured trying to save her son. Kasii Haith, 4-years old, was pronounced dead on scene by first responders. His mother, Kyeisha Haith, 24-years old, was transported to Kent General Hospital for her injuries and is still being treated. Delaware Animal Care and Control confiscated all three pit bulls. None of the dogs were spay or neutered.
Now readers, we are going to have the broken record homespun "pit bull breeding operation" discussion again.
In
possibly
a "desperate" attempt to
displace the blame from the number one killing dog breed
, Capt. Sherri Warburton, the director of Delaware Animal Care and Control, chimed in. By doing so, Warburton sheds light on the common practice of many homespun pit bull breeding operations -- "line breeding," also known as interbreeding (breeding mother to son, father to daughter or sibling to sibling, just like all historical and modern pit bull fighting bloodlines are built and maintained).
The two female dogs and one male were all related; none were spayed or neutered. Warburton explained that one of the females was pregnant and the other may have been in heat. That combination of factors could have led to a pack mentality among the dogs...
Warburton said the oldest female is believed to be the mother of the younger female and the male dog involved in the attack.
"I don't have confirmation, but with an intact adult male and a female that is able to come into heat, more than likely that was interbreeding that occurred there," Warburton said.

- Mark Eichmann, Newsworks, May 8, 2014
The
suggestion
that "interbreeding" or lack of spay and neuter were the root causes of this fatal attack or is unusual in pit bull breeding homes (or kennels) is false. Warburton is correct that these factors likely exacerbated and already "off the chart" dangerous scenario for a child
visiting
the home of a dog owner with
three pit bulls
, where potential pack mentality is already a given independent of these factors. Note also the many
mays, coulds
and
"I don't have confirmation."
1
05/08/14: Three Pit Bulls Kill Child
Felton, DE - Delaware State Police
2
say a 4-year old Camden boy was killed by three pit bulls on Wednesday. Police spokesman Master Cpl. Gary Fournier said the attack occurred while the child and his 24-year old mother were "visiting" a friend on Edwardsville Road in Felton. The mother, who is several months pregnant, and her friend were inside the home while her son was outside playing near her friend's three pit bulls. He had been around the dogs numerous times in the past.
The mother at some point looked out the window and saw her son being attacked by the dogs, according to Cpl. Fournier. She rushed outside to save her son and suffered numerous bite injuries to both arms while intervening. Two HVAC repairmen working at the house also tried to save the boy by beating off the animals with PVC piping and helping the mother defend herself against the attacking dogs. Responding EMS began first aid, but he was soon pronounced dead.
Authorities confiscated all three pit bulls; the young boy's name has not yet been released.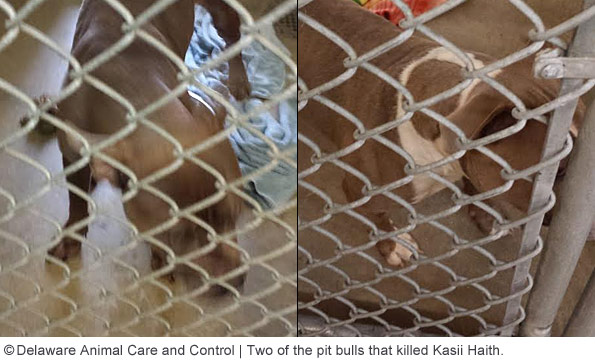 1
The maze of denial is being laid, despite the fact that the boy knew the dogs ("had been around the dogs many times before," according to police) and had been with them for hours that day already.
2
Delaware has had one recorded fatal dog attack since 2005, the 2012 death of letter carrier Robert Rochester.
Related articles:
02/19/14:
2014 Dog Bite Fatality: Texas Toddler Killed by Pit Bull Being 'Watched' by Her Family
03/10/13:
2013 Dog Bite Fatality: 7-Year Old 'Visiting' Galesburg Boy Killed by Pit Bull
11/30/12:
2012 Dog Bite Fatality: Postal Worker Dies Days After Vicious Dog Attack
Photos:
Delaware Animal Care and Control (DAC)
Labels: 2014 Dog Bite Fatality, Delaware, Fatal Pit Bull Attack, Visiting Child

Please donate to support our work
DogsBite.org is a 501(c)(3) tax-exempt public charity organization. Learn more »
posted by
|
permalink
|
9 comments
|

email
|

blog rss
|

comment rss

9 comments:

Kendra | 5/08/2014 12:02 PM | Flag
Of course the pit apologists are saying that you can't turn your back on any dog with a child or else this would happen. That is such an unrealistic rule, and it shows they know nothing about raising children. I go to the bathroom, put laundry in the machine, whatever and I'm not scared my yorkie would kill my family.

My neighbor's grandchildren like to play in the backyard with their bichon frise. It is possible my yorkie or the bichon would bite someone, but they most certainly will not maul someone to death, and it's absurd that the pit mongers don't see the difference.

I'm frustrated that people refuse to learn from others' mistakes and keep trusting pit bulls. They just assume it will never happen to them, and that's the same assumption this mother must have made when she allowed her son to play with the friend's pit bulls.

I don't care if people think I'm paranoid. There is no way I would ever visit, nor would I let my children visit a house with a pit bull. It's not worth the risk. My kids' safety is more important than some pit owner's delicate feelings. And if someone is more concerned about their pit than my kids, then they're no friend of mine anyway.

snack sized dog | 5/08/2014 6:50 PM | Flag
Don't know if this is a good sign or a bad sign, but fewer and fewer people will think you're paranoid for refusing to visit or allow your children visit a house with a pit bull.

Sputnik | 5/09/2014 2:04 AM | Flag
It's quite disturbing how quick not only the pit bull fanatics, but also so-called 'humane' societies are to malign all dogs and blatantly lie about them in order to normalize this behavior that is specifically typical of the gripping bulldog types.

So I'll reiterate the truth: The aggression shown by this pitbull-type of dog is both pathological and utterly abnormal in the domestic dog. It's a result of centuries of intensive selective breeding to perpetuate a rare set of mutations, making sure the fighting bulldog types carried this rare mutation throughout the whole class of bully type dogs.

The normal domestic dog is a conflict avoider. The normal domestic dog will bite only if it has no other way to escape from a frightening situation or to defend its physical integrity. Sometimes a normal dog will develop neuroses such as resource guarding (a result of human behavior) -- but even so, in all cases, the normal domestic dog will use only as much violence as is necessary to reach its goal. Then it will stop.

The behavior of the normal domestic dog is predictable based on its behavioral history. A dog that shows tolerance and friendliness throughout the months or years won't suddenly, out of the blue, attack life-upon-death. A dog that has always avoided conflict will not suddenly actively seek to kill you or your children -- not even if you go have a pee.

A peaceful behavioral history in the fighting / baiting types does not in any way predict what they'll do in future. It remains unpredictable when the switch will suddenly flip. No matter how wonderful they've seemed for all their life so far, there is always the risk that they'll suddenly go pit bull. Even if you don't go for a pee and are right there in the room.

The fighting / gripping bulldog types are so different from normal domestic dogs that there is actually justification to classify them in their own sub-species. Anyone -- from ACOs to academics -- who mouths the 'all dogs' meme is showing complete ignorance about the domestic dog as a species.



Kendra | 5/09/2014 10:06 AM | Flag
I think I'd call that a good sign, because it might mean more people are waking up to the dangers of those pit bulls.

I'm glad you mention this causal creep factor. I remember growing up in the 80's and kids played with dogs all the time without parents hovering over them with break sticks, tasers, and shotguns, always ready for a mauling attack. I walked to school by myself in 3rd grade and never feared the beagle down the street would kill me.

Now the new rule of kids and dogs is that you have to bring your children to the bathroom with you, you can't vacuum in one room while the kids nap in another, you can't let the dog sleep in the kids' room, and kids can't even play in their own yards without bodyguards. How sad that kids are treated like prison inmates while pit bulls get to run wild.

People with schnauzers, cocker spaniels, golden retreivers, shih tzus, dalmations, poodles, and collies don't have to hover over their children to prevent the dog from killing the children. Yet the pit apologists keep saying any dog could do this, as if they are all are as dangerous as pits.

Some child psychologists are now saying that the helicopter style of parenting is harmful to kids in the long run, because they don't grow up prepared to face challenges on their own. A big part of this shift in parenting styles is from stranger danger, but another big part of it is that people want to keep pit bulls as family pets. Since people are putting pit bulls in residential neighborhoods, parents have to become overprotective.

Staceyjwsolar | 5/09/2014 1:54 PM | Flag
Couldn't agree more Kendra. I am anti helicoptering, as all kids need time to play unsupervised, preferably outdoors. But it's hard to want to let your kid loose when there is an aggressive (any) pit 3 doors down.

Pits and their nutters ruin whole neighborhoods; they have more rights than everyone else when they are allowed to live in, and terrorize, residential areas. Just for basic bodily safety, WE have to build our lives around their whims, instead of just ridding our space of them.

Now it's *our* fault if mom peed, or ate, breathed, or cooked, and during this moment in time, our kid was killed/injured. Even in our own fenced YARDS! You visit a friend or a relative? You are really reviled.

Why? Because nowadays, no matter how good of a mom you are, if *anything* happens to for kid? Guess what? It's YOUR FAULT. No matter what you do, millions will come out to trash you for being a shitty parent, because "good" parents don't have kids that get killed.

"Good parents" hover 24/7, controlling everything with safety in mind. Sigh. It's exhausting. This feeds right into the nutter shtick about "bad owners, bad parents" instead of the obvious- dangerous animals!!! They use this attitude towards modern parents to blame everyone but the dog. This mindset allows parents to del safe, because they are "good", just like nutters are safe because they are "good" owners.

You leave the room for a minute and your kid gets killed? Not the dogs fault, not even the humans fault for owning such a beast, or visiting one. Nope, its MOMS fault for peeing! OR napping. Or chatting with friends. Or cooking. The list ins endless. It's an unrealistic standard, one that harms everyone.

AND IT LETS PITS AND NUTTERS KILL ALL THEY WANT WITH NO CONSEQUENCES.

AS long as there is a parent or owner to blame, they can maintain the lie that their dog isn't a killing machine.

Garnet | 5/09/2014 10:01 PM | Flag
It is very common for pit bull breeders (especially those producing fighting dogs) to inbreed so that they can maintain gameness in their lines.

However, plenty of show dog breeders also inbreed their dogs without producing killers. They may have dogs with odd genetic diseases, but you never hear of people being fatally mauled at dog shows. The problem with pit bulls is that the inbreeding is done specifically to maintain aggression and gameness (i.e. once the dog starts attacking, it won't stop).

It's disgusting that people are demonizing the parents here. They are already going through hell. People need to turn on the breeders of these dogs.

Farmer Jane | 5/10/2014 7:56 AM | Flag
The lies kill. Each time a person says the moronic, senseless phrase,"All dogs bite", or "It's how you raise them", they are enabling. They are essentially giving permission and saying it is ok to own a dog that may kill someone. When enough people say it, others view it as truth. I don't know if so many people are ignorant about dog breeding, or if they just get a kick out of feeling they are controlling the uncontrollable that they are happy to roll over and believe these inanities.
It doesn't help that pits have that Dr. Jeckyl/Mr, Hyde thing going on. It makes it easier for them to drink the kool aid and believe the lies.

snack sized dog | 5/10/2014 8:18 AM | Flag
Kendra, you're right of course, and thank you for your excellent observations.

Sputnik, that description about normal dogs has to be repeated over and over and over to fight the pit bull/all dogs are dangerous propaganda.

That's what they're really saying, isn't it, all dogs are as dangerous as fighting dogs. And they use the exceptions - because every biological creature has variation - they use the exceptions to the rule of safe conflict avoiding normal dog behavior - to "prove" all dogs are as dangerous as pit bulls.

Isn't the fact that in the 21st century there are still places that don't even have leash laws, let alone laws regulating dangerous and vicious dogs an indication that until very recently, dogs were overwhelmingly safe? And I say "overwhelmingly" and not "completely" safe because all animal populations will have individuals that behave outside of the norm.

Isn't the fact that so very many towns are prompted to enact leash laws and dangerous dog laws as a result of pit bull attacks an indication that the problem is pit bulls.

snack sized dog | 5/10/2014 8:49 AM | Flag
Staceyjwsolar - Thank you for these observations about parenting. I think the fact that we in the US for many years were striving to create safe communities allowed parents to allow their children to be independent, to socialize independently with other kids in the neighborhood, to be creative in play, to enjoy the outdoors and to view the world as an interesting place to explore and be a part of.

Now we support pit bulls ruining neighborhoods.