Tuesday, January 15, 2008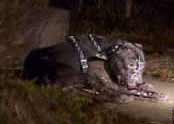 Pit Bull Attacks 9 Year Old Girl in Maryland
Update 1/15/08:
Cierra Thompson is out of the hospital and back in her family's East Baltimore home. The pit bull, who showed clear signs of dog fighting, was euthanized by officials. A reward is being offered for information regarding dog fighting anywhere in the city. Let's hope someone speaks up on behalf of victimized children and abused dogs.
1/08/08 Baltimore
- Cierra Thomason, her sister Brittany, and a cousin were walking home when a pit bull started to chase them. Brittany threw a cookie in hopes the dog would fetch it and they could continue on. Instead of going for the cookie, the pit bull went for Cierra, biting her in the arms and chest. Brittany ran to her grandmother's house for help.
Barbara Banks, Cierra's grandmother, says the dog has been a problem in the neighborhood. Cierra is in the hospital and the pit bull is in the custody of animal control. The condition of the dog is unknown.

Please donate to support our work
DogsBite.org is a 501(c)(3) tax-exempt public charity organization. Learn more »
posted by
|
permalink
|
3 comments
|

email
|

blog rss
|

comment rss

3 comments:

Anonymous | 1/10/2008 2:52 AM | Flag
If that wasn't a pit bull used for dog fighting, I don't know what is. That poor dog is COVERED in fight scars.

Dog-Lover | 1/16/2008 10:33 AM | Flag
The irony is, the so-called "pit bull lovers" won't do a damn thing to help end the cruelty of dog-fighting. They fight against mandatory spay and neuter programs that would reduce the number of pit bulls being killed in shelters, and make it easier for law enforcement officials and animal control to seize dogs suspected of being used in fighting; these animals are worthless to dog-fighters if they are spayed/neutered.

That's because a lot of the pro-pit propaganda is being backed by BYBers and dogfighters.

Anonymous | 1/17/2008 10:29 AM | Flag
The Pit Bull propagandists continually tell us that human agressive fighting dogs are culled...