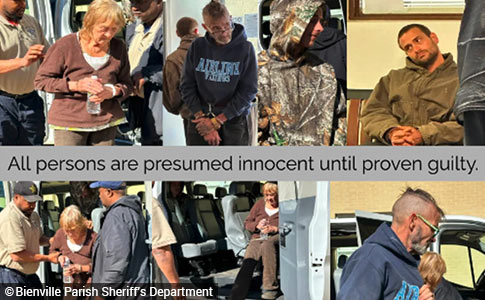 Four adults were arrested after a dog pack killed one man and injured another in Bienville Parish.
Human Remains Discovered
Ringgold, LA - Four adults were arrested in connection to the death of one man and another man who sustained severe injuries. On September 27, Davyta Gray, 30, was bitten over 130 times by a dog pack on Pine Street. He underwent five surgeries and nearly died. In late October, Bienville Parish Sheriff's investigators found human remains on Pine Street. Police later announced that one of two separate dog attacks one day apart resulted in the death of the first victim, Donovan Brooks, 40.
On October 31, police arrested four adults who live at the 2747 Pine Street property. Police believe the body of Brooks had been in a wooded area since September 26 after being moved from where he was killed by the dogs on Pine Street. Charlotte Hubbard, 77; Shawn Hubbard, 32; Gerald Miller, 51, were arrested on charges of negligent homicide and obstruction of justice. Cameron Kelly, 21, was arrested on a charge of accessory after the fact. All four people were booked into the Bienville Parish Jail.
26 dogs -- nine large dogs and 17 small, including four puppies -- were on the property when police arrived. Bienville Parish Sheriff John Ballance said deputies also found a black garbage bag in the woods containing the remains of a large dog. Brooks was last seen by his family on September 26. Brooks told a witness that day he had been bitten by the dogs a day earlier. He told the witness he was headed back to the house on Pine Street to, "'Take care of the dogs,' in his words, Ballance said.
A witness told deputies Brooks was seen that day at a store in Ringgold buying medication for wounds he said he suffered the day before from dog bites. He told the witness he was headed back to the house on Pine Street to, "'Take care of the dogs,' in his words," Ballance said.

Another witness said Brooks was seen on his bicycle going to Pine Street. He was dressed in clothing found with the human remains. Also recovered was a billfold with Brooks' information in it. - KTBS, October 31, 2023
One day later, the dogs brutally attacked Gray. Bienville Parish does not have an animal control department or a facility to house stray animals. The Louisiana Radio Network reports that Ballance confirmed the large dogs involved were part pit bull. "But there were I believe nine that were part Pit and larger dogs that could easily take a human being down," Ballance said. The social media pages of Hubbard and Miller show a lineage of past and existing pit bulls living and breeding in their home.
Multiple Double Fatalities
Two people killed by the same dogs in separate attacks is rare, but when it occurs, a dog pack is often to blame. In 2022, a pack of seven dogs attacked one day apart near Red Bay, Alabama. The first victim, Michele Sheeks, 44, died of complications weeks later. The second victim, an Alabama Public Health employee, who went to the dog owner's home to follow up, was killed during the attack. In 2014, the same pack of six pit bulls killed two men a few months apart in Lamar, Mississippi.
In 2021, the same dog pack is believed to have killed Tony Ahrens, 52, and Amber Miller, 29, a few months apart in Cocke County, Tennessee.
In 2016, a pack of five dogs killed Valente Aguirre, 58, in a dry canal in near Biola, California. After DNA testing on the five dogs proved inconclusive, the pack was returned to its owner. Three weeks later, the same pack was involved in the death of Robert Simonian, 74, who was found dead with dog bite injuries in the same canal -- at that time the canal was not dry. The cause of Simonian's death was drowning. In 2009, a pack of 16 dogs killed a senior couple hours apart in Lexington, Georgia.
In the most recent death, authorities did not learn about the first attack until after the second one (same as Mississippi case). Even if the parish did have animal control resources, the dogs could not have been seized prior to the second attack, which was not fatal. Most of the double fatality attacks that involve two separate attacks occur in the south in areas with an average population of 2,000. The inability to seize a vicious dog pack after the first fatal attack can lead to another human fatality.
View the DogsBite.org Google Map:
Louisiana Fatal Pit Bull Maulings
.
Related articles:
01/20/23: 2022 Dog Bite Fatality: Public Health Employee Killed by Pack of Dogs; Second...
07/22/21: 2021 Dog Bite Fatality: Woman Killed by Pack of Dogs in Cocke County; Second Fatal...
---
Baseline reporting requirements:
Law enforcement departments across the United States should release consistent "baseline" information to the media and the public after each fatal dog mauling,
including these items
.