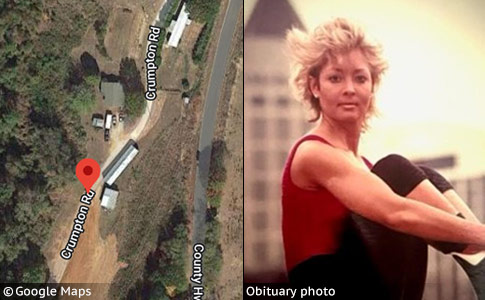 Jacqueline Beard, an Alabama public health employee, was killed by a pack of dogs.
More Details Released
UPDATE 05/08/22: On April 29, an Alabama public health employee went to a dog owner's home on Crumpton Road at about 10:00 am to investigate a dog attack that occurred a day earlier involving at least six dogs. She was mauled and killed by these same dogs, likely just after getting out of her vehicle. Authorities found Jacqueline Summer Beard's body after receiving reports of a suspicious vehicle at the home at 6:00 pm. Beard had been lying dead near her car for hours.
The owner of the dogs, Brandy Dowdy, 39, was arrested and charged with manslaughter and offenses under the state's dangerous dog law.
Franklin County Sheriff Shannon Oliver stated that a person living at the dog owner's residence is who called in the suspicious vehicle. "Around 6:00 pm we received a call from a person that lives in the house that there was a suspicious vehicle in the yard," Oliver said. "She was on the property of the people where the dogs belonged to," Sheriff Oliver said. "We're not able to confirm if they heard anything, the people at the house, or if they were even there [at the time]," Oliver said.
One day earlier, the same pack of dogs bolted off the Crumpton Road property and attacked a woman walking down nearby Highway 11 South. Michele Sheeks was airlifted to North Mississippi Medical Center in Tupelo for treatment and then transferred to University Medical Center in Jackson, Mississippi. WAAY-TV reports that Sheeks is still hospitalized and will be for some time. Her husband, Wesley Sheeks, said the dogs jumped her all at once then drug her off the road.
"She had no idea they were there until they were on top of her," Wesley said. "They didn't come at her one at a time and just sort of tag team. They all jumped on her at once. They took her down and basically drug her probably about ten yards off the road, through a fire patch and barbed wire fence down in the edge of the pasture," he said. A neighbor first came to her aid that day, Wesley said. If the neighbor had not acted quickly, his wife might not be alive today, Wesley said.
The Red Bay News (who has since placed this article behind a pay wall), reports that Sheriff Oliver said it is believed Beard arrived at the home on Crumpton Road that morning at 10:00 am. "She went there to talk to the owners about putting the dogs up because they didn't have their shots or signing them over to be euthanized," Sheriff Oliver said. Dowdy, who neighbors described as a "dog advocate" who "owned about 27 dogs," apparently was not home when Summer arrived.
After Sheeks was attacked by the dogs on April 28, Sheriff Oliver told The Red Bay News that when deputies and animal control went to the scene afterward, "the dogs that were there were friendly, and they petted them. There wasn't any problem." No information was provided about why the dogs remained on Dowdy's property after the first attack or what officials communicated to Dowdy, who not only possessed a pack of vicious dogs, but was potentially animal hoarding.
"ADPH investigates animal bites as part of its Environmental Health Program, due to potential risks for human rabies exposure. The safety of ADPH team members is paramount in day to day public health activities. Employees may, as part of their duties, carry out investigations or other visits individually. Employees may request and receive assistance with law enforcement, as needed." - Alabama Department of Public Health
Owner & Breeds Involved
Seven dogs believed to be involved in both attacks were euthanized, Sheriff Oliver said. The breeds of dogs involved have not been released. What is known is that Dowdy owns or has owned a pit bull in the past and that she is a pit bull advocate. In 2015, Dowdy and her then husband David acquired Rowdy, according to his Facebook page. The couple is no longer involved. It's unclear what became of Rowdy, or which partner took that dog after the two called it quits.
Dowdy's most recent public post about pit bulls was published on December 5, 2021, saying that pit bulls "have the biggest hearts and get treated the worst." On October 28, 2018 she posted a pit bull propaganda video by The Dodo -- "Pittie vs. very scary pineapple." On October 1, 2017, she posted a Pit Bull Awareness month meme. On May 19, 2017, Dowdy published a post, "If only people gave them a chance!! They are the most loving babies!! Stop breed discrimination!!"
---
04/30/22: Multiple Victims; One Dead
Franklin County, AL - On Thursday, April 28, 2022, a woman walking along Highway 11 South near Crumpton Road, close to the Mississippi border, was attacked by six dogs that bolted out of a nearby yard. She was transported to the North Mississippi Medical Center in Tupelo then transferred to the University Medical Center in Jackson. The following day, the same dogs killed a state public health employee who had been trying to follow up with the owner of the dogs.
The Franklin County Sheriff's Office is investigating the death of a woman after a pack of dangerous dogs attacked her earlier today. Alabama Department of Public Health employee was following up on the dog attack from earlier this week when she was attacked by the same pack of dogs. The employee, Jacqueline Summer Beard, was located after someone called about a suspicious vehicle on Crumpton Road outside of Red Bay. When deputies arrived, they were met by residents on Crumpton road. Several dogs started attacking the residents when deputies were there, and one person received minor injuries. Some of the dogs had to be euthanized immediately. When the deputies started investigating the suspicious vehicle, they located the body of Jacqueline Beard. Franklin County Coroner Charlie Adcox was summoned and pronounced Beard deceased. Beard was following up on an incident that had been reported to Franklin County Animal Control where a lady was attacked by a pack of dogs earlier this week. It is believed that Beard was attacked as she was attempting to contact the dog's owner when she was killed by the dogs. Investigators have arrested Brandy Dowdy for Manslaughter and Dangerous Dog law, (Emily's Law). - Franklin County Sheriff's Office
The investigation into the second victim's attack began after someone called in a suspicious vehicle on Crumpton Road south of Red Bay. Arriving deputies were met by residents. As they were gathered on the roadside, several dogs started attacking the residents. Multiple dogs were dispatched at the scene. When deputies began investigating the suspicious vehicle, they located the body of Jacqueline Summer Beard, 58, an Alabama Department of Public Health employee.
The owner of the dogs, Brandy Lee Dowdy, 39, was arrested and charged with manslaughter and violations of the state's Dangerous Dog law named after Emily Colvin. If a canine "attacks and causes serious physical injury or death to a person, and the owner of the dog had prior knowledge of the dangerous propensities of the dog, yet demonstrated a reckless disregard of the propensities under the circumstances, the owner of the dog shall be guilty of a Class C felony."
Franklin County Sheriff Shannon Oliver said the first victim, who has yet to be identified, remains hospitalized in Mississippi and was in "pretty serious condition." Seven dogs were involved in the attacks, according to Oliver, some were euthanized at the scene Friday. No dogs were seized by authorities after the first attack. No breed descriptions were released by authorities. Depending upon what investigators learn, Dowdy could be charged under Emily's Law for both victims.
---
---
April 10 to April 29
Since April 10, at least eight people in the U.S. have been killed by dogs. All of these victims were adults, 38-years and older. At least five of the attacks involved multiple dogs and six of the deaths, 75%, involved females 42-years and older. In most of the attacks, 5 of 8, breed data was not released by police because the attacks were unwitnessed and the data was likely unknown, or in the cases of the Kewanee and Wichita male deaths, the breed data was apparently just withheld.
Related articles:
04/05/18: 2017 Dog Bite Fatality: Pit Bulls Kill 24-Year Old Woman in Jackson County, Alabama
10/20/20: 2020 Dog Bite Fatality: Woman Killed by a Pack of Dogs in Walker County, Alabama
---
Baseline reporting requirements:
Law enforcement departments across the United States should release consistent "baseline" information to the media and the public after each fatal dog mauling,
including these items
.