"Person of Interest" Identified, Police Not Releasing Suspect's Name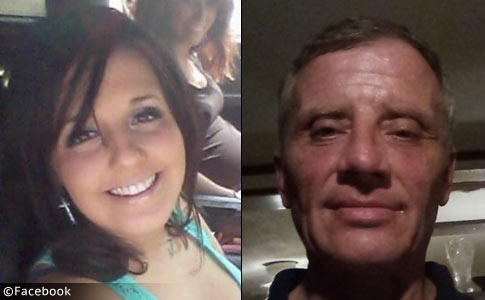 Amber Miller, 29 and Tony Ahrens, 52, were killed in the same manner 3.5 months apart.
Media Names Suspect
UPDATE 07/22/21: On Thursday, WBIR did the unthinkable. They looked into the owner of the property on Carnation Way where both fatal attacks occurred -- our nonprofit had done so on Monday. Charles Everett Owensby, who goes by "Charlie Dogman" on Facebook, has a history of assault arrests, according to Cocke County online court records. As recently as 2018, he was charged with "aggravated assault - domestic." That case remains "open," according to the site.
Notably, we already linked to Owensby once. He was named in an April 18 Citizen Tribune report after discovering the body of Tony Ahrens near his mailbox on April 1. WRIB examined a 2014 criminal charge that involved Owensby allegedly ordering one of his dogs to attack a man. At that time, police were serving a warrant at his home for possession of a weapon by a convicted felon, reckless endangerment with a weapon, aggravated assault and violating an order of protection.
The charges were the result of a 2014 "gas station brawl," in which Charles Olden told Newport Police that Owensby approached him with a gun, pointed it in his face and screamed "we're going to end this today." Olden then said Owensby struck him in the face with the hand gun, ordered his dog to attack Olden then tried to run over Olden. Most of those counts were dismissed, WRIB reports. Now, it appears that Owensby's dogs have killed two people 3.5 months apart.
Despite Owensby's criminal complaint history -- particularly how he ordered his dog to attack a person -- the Cocke County Sheriff's Office did not seize his dogs after the April 1 fatal attack or the July 12 fatal attack, both of which occurred near Owensby's home. Neighbors said earlier this week the dogs are no longer at Owensby's home. Who is surprised? The dogs are the central evidence and now that evidence has vanished. It's unclear if anyone witnessed either attack.
It is also critical to point out that the sheriff's office likely knew within 72 hours that the April 1 attack involved one or more canines. If the sheriff's office had initially suspected a "wild animal attack" they would have contacted the Tennessee Wildlife Resources Agency. That agency would have quickly ruled out wildlife and tossed the case right back at the sheriff's office (as we have seen occur in other states). TWRA does not handle domesticated animal issues, only wildlife.1
"Person of Interest"
Finally, on July 26, the sheriff's office confirmed they had identified a "person of interest" in the investigation of two separate deadly animal attacks. According to Cocke County Sheriff Armando Fontes, a search warrant has been executed, but officials are not releasing the identity of the person of interest to, "preserve the integrity of the investigation" (which has already been highly compromised). Fonts said that no dogs have been confiscated by law enforcement at this point.
---
07/20/21: Dogs Never Captured
WVLT provided clarifications today after receiving a redacted report from the Cocke County Sheriff's Office. Regarding the attack of Amber Miller, three large dogs (that a witness described as "big old bulldogs") were spotted near Miller '"licking the wounds" where she had been attacked. Witnesses transported Miller to a hospital, where medical staff described her injuries as severe. Her calf was "ripped off" and her arms were "barley attached to her body," the report said.
Most tellingly, the Cocke County Sheriff's Office issued a warning for those traveling on Jimtown Road, saying to "use caution until the investigation concludes." Since the first attack on April 1, when 52-year old Tony Ahrens was found dead at the intersection of Jimtown Road and Carnation Way, authorities have not seized or captured the suspected dogs -- that is a 3.5 month period. WVLT also spoke to neighbors who said the dogs are no longer at the owner's residence.
---
07/19/21: Woman Killed by Pack of Dogs
Cocke County, TN - A 29-year old woman died after being viciously attacked by a pack of dogs near the intersection of Jimtown Road and Carnation Way. This is the second fatal animal attack in the same area in four months. On April 1, Tony Allen Ahrens, 52-years old, was also found dead in the area. His body appeared to have been partially devoured by an animal, reported the Citizen Tribune. Police have since been sitting on that case. Now a young woman is also dead.
A comment in the Cocke County Life Facebook group, sums up the horrific scenario. "I'm sorry but had appropriate action been taken with the first incident there wouldn't be have been a need for the public to take action and speak out about what is going on! Everyone has the freedom of speech … Maybe these posts will save another life because I see NOTHING from authorities that states the public is safe and these dogs have been removed from this man or put down!"
Another commenter stated that the dogs' owner is a trainer. "He is a trainer it's obviously he trained them dogs that particular way this is the second time a person lost they life yes he is guilty because he knew what he was doing when he trained them dogs [sic]." A sheriff's office spokesperson declined to comment when asked if investigators believed the animals involved in the attacks belonged to anyone and if they planned to press charges, reports WATE-TV.
It took the family members of Amber Miller, who was attacked on July 12 and died six days later, speaking to the media in order for the public to learn more information about these two deaths. Miller had "so many wounds that they could not even count them," Miller's great aunt, Regina Jozefek said. Miller fought for her life at UT Medical Center and died on July 18. Meanwhile, the Cocke County Sheriff's Office said that both fatal attacks were under "strong investigation."
This is a law enforcement failure of epic proportions. Two adults killed by loose dogs in off-property attacks, likely belonging to the same owner, and police move at a snails pace, and make statements like, "The investigation on both attacks is under a strong investigation and long hours are worked each day. The more we put out to the public could devastate the case. We will release as much as we can when feasible but we will not release anything that could jeopardize this case."
Multi-Victim Fatal Attacks
When a dog pack kills a person, and the dogs are not seized and adjudicated, the pack will kill another person. We have seen this at least two other times -- once in Mississippi and California. The Tennessee Bureau of Investigation is now assisting the Cocke County Sheriff's Office in both investigations. That's useless, however, if law enforcement is protecting this dog owner. In 2014, a sheriff's office stonewalled the media after a former police K9 trainer's dog killed his step-child.
1
Several fatal dog attack cases in rural areas (Kentucky and Florida) involved Wildlife officials assisting police, specifically by tracking/locating the suspected dogs on Wildlife cameras.
Related articles:
03/12/19: Criminal Trial Ends for Former Officer Whose 'Retired' Dual-Certified Police K-9 Killed
03/08/18: 2014 Dog Bite Fatality: Man Attacked by Pack of Pit Bulls Dies; Second Victim of Dogs
11/19/14 : 2014 Dog Bite Fatality: 7-Year Old Boy Killed by Trained Protection Dog in Wisconsin
---
Baseline reporting requirements:
Law enforcement departments across the United States should release consistent "baseline" information to the media and the public after each fatal dog mauling,
including these items
.