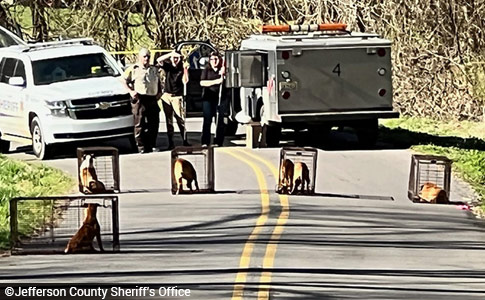 The coroner's office identified the victim as 74-year old Joe Cleveland Scott.1
Man Killed by Dogs
McDonald Chapel, AL - On Tuesday morning, just before 7:00 am, a man was discovered dead by a passerby in the 5700 block of Iceland Avenue with several dogs surrounding the body. Investigators said the dogs were hindering their investigation. Animal control came and trapped six dogs, as seen in the photo supplied by the Jefferson County Sheriff's Office, and took the dogs into custody. At that time, it was unclear if the dog pack was involved in the man's death.
Today, the Jefferson County Coroner's Office confirmed the man was fatally mauled by a pack of dogs and identified the victim as 74-year old Joe Cleveland Scott, who lived in the McDonald Chapel community, where the attack occurred. The attack is believed to have occurred at 6:49 am, according to Lt. Joni Money. When deputies arrived on scene, the man was unresponsive and surrounded by six large dogs. He was pronounced dead at 7:08 am, Lt. Joni Money said.
Before they could begin their investigation, animal control had to be called to trap the dogs. Trapping the dogs took over an hour, reports AL.com. "It is unusual for somebody to be attacked,'' Money said. "My understanding from these neighbors is these dogs have been in the area for a while and have not been aggressive." Douglas Peterson, a neighbor, told WTVM that he had seen a pack of dogs before. A few years ago, a dog pack came into his backyard and killed his cat.
Thus far, investigators believe the dogs are stray or ownerless with a "pack-type mentality." As most readers know, ownerless dogs are rarely involved in fatal dog attacks, even when these maulings occur on Indian reservations. From 2005 to 2020, we recorded 569 fatal dog maulings. The owners in 19 cases were unknown or unreleased by officials. Of the remaining 550 deaths, there were 3 deaths involving stray or ownerless dogs, comprising around 0.5% of all cases.
1
The victim was initially identified as being 65-years old. He obituary notice states he was 74-years old.
Related articles:
11/24/20: 2020 Dog Bite Fatality: Man Killed by Pack of Dogs in Rural Jackson County, Florida
08/13/20: 2020 Dog Bite Fatality: Teenager Killed by Dogs in Knott County, Kentucky
05/21/13: 2013 Dog Bite Fatality: Paralyzed Man Pulled from Wheelchair Dies After Dog Attack
---
Baseline reporting requirements:
Law enforcement departments across the United States should release consistent "baseline" information to the media and the public after each fatal dog mauling,
including these items
.