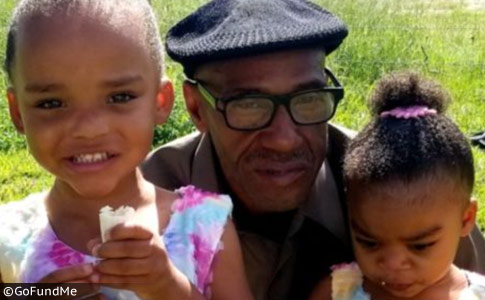 Donald Ray "Ducky" Allen, 65, was killed by a pack of dogs in rural Jackson County.
Suspected Culprits
UPDATE 11/24/20: Authorities captured photos of the dog pack suspected in the mauling death of 65-year old Donald Allen. No one is surprised the dog pack encompasses a number of pit bulls and American bulldogs -- in Florida, particularly, these two breeds are indistinguishable, as the southern American bulldog was built off the back of the American pit bull terrier. An owner allowed this pack of dogs to roam at large. We don't expect any criminal charges in the state of Florida.
---
11/19/20: Man Found Dead; Killed by Dogs
Bascom, FL - On Wednesday morning, a man was found dead on the pavement along Kirkland Road after being mauled by a pack of dogs. The Jackson County Sheriff's Office received a call at 7:48 am about a man lying next to the roadway in the 6500 block of Kirkland Road outside of Bascom in Jackson County. Deputies and troopers from the Florida Highway Patrol responded and confirmed the man was deceased. He was identified as Donald Ray Allen, 65, of Bascom.
"Upon completing a thorough investigation, it was determined that the subject had been walking in the roadway when he suffered life-threatening injuries from an animal attack," the Sheriff's Office said in a news release Thursday morning. "The injuries are believed to have been caused by a pack of stray dogs roaming in the area." Investigators have been in contact with Jackson County Animal Control and are placing traps in the area. No other information has been released.
Press Conference -- Jackson County Sheriff Louis Roberts III gave a press conference Thursday afternoon. In a somber tone, Roberts said that the attack occurred sometime after 10:00 pm Tuesday. The drone division has been activated and a nighttime flying unit. Sheriff Roberts asked the public if anyone has seen any aggressive dogs in the 6500 block of Kirkland Road. Authorities will be looking into the possibility of coyotes -- should be easy to clear up via a DNA database. Nothing is being ruled out at this point. The victim lived about 5 to 6 miles away from attack site. Last time someone spoke to the victim was about 10:00 pm when he was dropped off at his home. The autopsy determined his death was caused by the animal attack. Lab results will take time to determine. The dogs may be feral or owned. - Jackson County Sheriff Louis Roberts III
In March of this year -- just 35 miles away in Chipley, Florida -- Beverly Dove, 60-years old, was mauled to death by a pack of dogs on an adjoining property of Home Sweet Home, an assisted living facility in Washington County. "It was a pretty horrific scene," Sheriff Kevin Crews said at the time. "One like they had, in their careers, never been to." Five dogs were eventually removed from the scene. Breed information was never released by the Washington County Sheriff's Office.
Related articles:
03/07/20: 2020 Dog Bite Fatality: Pack of Dogs Kill Woman Living at 'Home Sweet Home'
07/05/19: 2019 Dog Bite Fatality: Man Found Dead, Believed to be Killed by a Pack of Dogs
---
Baseline reporting requirements:
Law enforcement departments across the United States should release consistent "baseline" information to the media and the public after each fatal dog mauling,
including these items
.