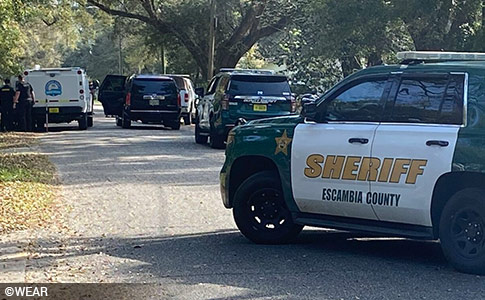 A 63-year old man was killed by three pit bulls in Escambia County, Florida.
Dog Owner Arrested
UPDATE 05/01/23: Earlier today, the Escambia County Sheriff's Office held a press conference announcing that Kathleen Taylor, 35, the owner of three pit bulls that killed a man in February, has been charged with negligent manslaughter, a second-degree felony in the state of Florida. Taylor faces up to 15 years in jail. The felony charge comes after a lengthy investigation showing that animal control had interacted with and warned Taylor about her dogs on multiple occasions.
Animal control had previously even taken dogs away from her. John Robinson, the manager of Escambia County Animal Services, spoke during the press conference. "We have removed animals from her before. A lot of times, she's just replaced them with new animals." Robinson also said that his office had no bite histories for any of Taylor's dogs. The investigation did uncover previous bites. Had they not been uncovered, this felony charge might not have been pursued.
As Sheriff Chip Simmons states, however, Taylor's reckless disregard for the victim wasn't just apparent before he was attacked and killed, she fled the scene with one of her dogs after the attack too. "It wasn't like a surprise to her," sheriff Simmons said. "They were cited, they were warned, they were fined, and still no action was taken. As if they didn't care." That is "why we are here now and why we ended up charging her with negligent manslaughter," Simmons said.
"We had multiple encounters with the owners of these animals. We have removed animals from her before. A lot of times, she's just replaced them with new animals. We've had multiple citations given to her. There's a lot of challenges for us ... We don't have a bite history that has been reported to animal control. So please, if you're out there, if you get bitten by an animal, we need those bite reports ... so that we can address that situation. We don't have any bite history of any of her animals in our system, which makes it very difficult for us to follow up with situations like that. We had a lot of roaming calls, nuisance calls, where the animals may have been chasing people. But having those bite reports is extremely important to us." - John Robinson, the manager of Escambia County Animal Services
Sheriff Provides Epilogue
To drive home Taylor's negligence, Simmons shared that while they were getting the warrants signed and working on getting it served, Taylor suddenly disappeared. She wasn't in hiding, she was arrested for drug possession on April 17. "So, in the meantime, she takes her dog and leaves the scene. Then, while were are doing the investigation, she's out there running around doing drugs. She went to jail and bonded back out, only to be picked up today," Simmons said.
WKRG reports details from the arrest affidavit, including the gruesome injuries, which are routine when a human being is attacked by three pit bulls. Deputies saw "the man lying on the ground with both ears detached, along with his nose and left eye detached," WKRG reports. A woman had been walking with the male victim at the time. As she screamed at the dogs to get off him, she saw Taylor, who allegedly screamed the dogs were not hers, then got into her car and took off.
---
02/25/23: Man Killed by Pit Bulls
Escambia County, FL - Just hours after a pair of pit bulls attacked four people, killing one, in San Antonio, Texas, a trio of pit bulls killed a man in the Florida Panhandle. Emergency units were dispatched to a home in the 400 block of Norris Avenue around 10:15 pm. Personnel attempted to resuscitate the victim, but were unable to. He was pronounced dead at 10:30 pm. A witness who lives at the home saw the end of the attack and was able to scare off the pit bulls and call 911.
One of the dispatchers can be heard on the audio dispatch log files at Broadcastify.com saying, "63-year old male … was attacked by some pit bulls. He's not breathing .. we've notified animal control." But animal control was unable to capture the dogs that night. Officials returned to the property the next morning and encountered one of the pit bulls, still aggressive, that a deputy shot. A second pit bull was captured in the afternoon. Deputies are working to locate the third pit bull.
The victim's name has not yet been released by the Escambia County Sheriff's Office. Earlier today, the agency released a media statement about the fatal pit bull attack on Norris Avenue.
Escambia County Sheriff's Office

***UPDATE***Escambia County Sheriff's Office

The second pit bull has been located and captured.

JUST THE FACTS

The Escambia County Sheriff's Office responded to a cardiac arrest last night (2/24/2023) at around 10:15pm, in the 400 block of Norris Ave. A witness observed a male being attacked by three pit bulls. The witness managed to scare the dogs away and immediately called 911. Unfortunately, due to the victim's injuries sustained in the attack, he later died. Escambia County Animal Control arrived at the scene, but the dogs were not located. At the request of Animal Control, deputies responded with them back to the area this morning at 8:00 am, attempting to locate the animals. One pit bull was observed and attempted to avoid capture. The animal was still very aggressive and was shot by a deputy. The animal was captured and is receiving medical treatment. Two of the pit bulls are still missing however, the Sheriff's Office is working with Animal Control to locate the animals.
---
Dog Owner in Hiding
As of Monday afternoon -- three days after a man in his 60s was killed by a group of dogs -- the Escambia County Sheriff's Office continues to look for the third dog involved in the attack and its owner. Sheriff Chip Simmons told media outlets on Monday that the third dog is likely with its owner. "First of all we gotta find the owner -- the owner is apparently hiding from us," Sheriff Simmons said. "We're still looking for the one dog and we believe the homeowner has that dog."
Footage from WEAR shows a large dog kennel on the property, as animal control and deputies search the grounds. Authorities believe the dogs' owner, who lives at the property on Norris Avenue, came to the scene long after police had gone in order to retrieve the dog and hide from deputies. "As the next couple of days unfold, hopefully we will be able to talk to the homeowner and determine whether the dogs had been found to be dangerous in the past," Simmons said.
The felony dog attack statute in Florida requires the dog to be previously classified as "dangerous." Thus, the dog needs a documented "first offense" that caused serious injuries, as well as a legal declaration. We've never seen a dog owner in Florida charged under this statute. However, we have seen a Florida dog owner hide a pair of pit bulls after a fatal attack and charged with lying to deputies and/or providing false information, a misdemeanor (Deanna Blitch, 2011).
WKRG reports that the sheriff's office believes the victim was visiting a friend who lives on the property when the dogs attacked at about 10:15 pm Friday night. The dogs' owner lives on the same property but was not home when the dogs attacked, according to deputies. The identity of the male victim still has not been released. Sheriff Chip Simmons described the man's injuries as "dog bites to his head and neck area." He was deceased when deputies arrived at the scene.
Dog Owner Located
On Tuesday, the Escambia County Sheriff's Office announced that the owner of the attacking dogs, Kathleen Ann Taylor, has been located. Taylor is wanted for questioning only. Taylor has a history in Escambia County, according to media reports from 2020. The third dog involved in the attack was also taken into custody. The sheriff's office continues to work with animal control and the state attorney's office to determine whether criminal charges will be filed against Taylor.
---
View the DogsBite.org Google Map:
Florida Fatal Pit Bull Maulings
.
Related articles:
08/23/22: 2022 Dog Bite Fatality: Holmes County Woman, 69, Killed by Dogs, Over 100 Bites...
01/07/21: 2020 Dog Bite Fatality: Unidentified Woman Dies After Pit Bull Attack in Tallahassee
11/24/20: 2020 Dog Bite Fatality: Man Killed by Pack of Dogs in Rural Jackson County, Florida
03/06/20: 2020 Dog Bite Fatality: Pack of Dogs Kill Woman Living at Assisted Living Facility
---
Baseline reporting requirements:
Law enforcement departments across the United States should release consistent "baseline" information to the media and the public after each fatal dog mauling,
including these items
.