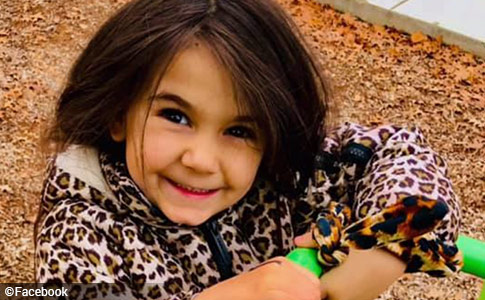 Sadie Davila, 7-years old, was mauled and killed by a neighbor's unleashed pit bull.
Child Killed by Dog
Baton Rouge, LA – The owner of a dog that killed a 7-year old girl faces a count of negligent homicide, the East Baton Rouge Sheriff's Office confirmed. Erick Lopez, 20, was taken into custody Saturday morning, according to EBRSO spokeswoman Casey Rayborn Hicks. On Friday, emergency responders were dispatched to a home in the 25000 block of Kendalwood Road near Hoo Shoo Too Road shortly after 6:30 pm in response to a child being attacked by a dog.
According to arrest documents, the child had been playing outside of a relative's home when a neighbor's dog, identified by authorities as a pit bull, attacked her. A relative tried to intervene by hitting the dog with a walking cane, but the dog continued attacking. She was rushed to a local hospital, where she later died. "This is an awful, heart-breaking tragedy," Sheriff Sid Gautreaux said in a statement. "My heart goes out to this family, and they will remain in my prayers."
On Saturday, the East Baton Rouge Parish School System identified the girl as Sadie Davila, a first-grader at Woodlawn Elementary School.
The Advocate reports that medical staff at the hospital who treated her injuries said she suffered from "numerous dog bites to her face and substantial damage to her skull." EBRSO deputies and East Baton Rouge Animal Control officers located and impounded the dog, which was observed to have blood around his face and mouth area, according to the arrest affidavit. A "substantial" amount of blood was also observed in the yard where the young child had been playing.
The property where the dog resided is about 150 yards away from where the animal attacked. Lopez told investigators he was not home when the attack occurred and that he routinely allowed his dog to roam freely in the neighborhood. The affidavit also states there is no fence of barrier between the two homes. Investigators determined that Lopez "failed to confine or restrain his dog" which unlawfully entered a neighboring property and attacked a child resulting in her death.
In 2009, after the mauling deaths of Luna McDaniel and Michael Blaise Landry, legislation proposed by Rep. Rickey Hardy, known as The "Luna McDaniel and Michael 'Blaise' Landry Act," would allow prosecutors to charge all dog owners with negligent homicide after a fatal attack -- a crime that carries a prison sentence of up to five years and a fine of up to $5,000. The Louisiana legislature passed the bill unanimously in both chambers. Lopez was booked into Parish Prison.
A statement from the East Baton Rouge Parish School System says in part, "Sadie's teacher, Grace Feucht remains heartbroken about the loss of a student who has made such an impact on her life. 'Sadie was fierce and spunky, but she was also tender hearted and kind,' Feucht reflected. 'She brought energy and joy into my class every single time she stepped in the door.'" Feucht expects "our classroom to feel considerably emptier Monday without her precious presence."
A statement from the family's attorney, Samuel 'Chuck' Ward, Jr., of Ward Law, says in part, "this particular canine had been reported to authorities on previous occasions." Ward added, "East Baton Rouge is no stranger to problems with pit bull proliferation. In 2006 the parish failed to pass breed specific regulation(s) of pit bull canines. The data shows that in 2007 56 pit bulls accounted for 61% of reported dangerous dog incidents, with the next highest being Rottweilers with 4."
---
Related articles:
07/19/21: 2021 Dog Bite Fatality: Man Killed by Relative's Pit Bull After Climbing Through...
05/11/21: 2021 Dog Bite Fatality: Man Dies of Injuries After Pit Bull Owner Plays 'Victimhood'...
---