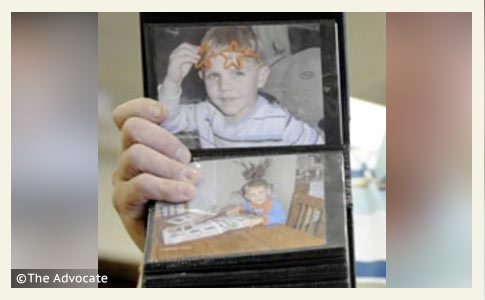 Michael Blaise Landry, 4-years old, was attacked and killed by three boxers.
Deputy Released Dogs
UPDATE 04/14/09: Authorities say it was an off-duty Pointe Coupee Parish sheriff's deputy who released three boxers out of their cages just moments before the dogs attacked and killed Michael Landry. 18th Judicial District Attorney Ricky Ward said his only option as a prosecutor would be to file a negligent homicide charge, which would require establishing that the child's death was the result of gross negligence -- defined as a "gross deviation of normal standards of care."
Ward said he has prepared Michael's family for the possibility that neither the off-duty deputy, Rob Roy of New Roads, or the dogs' owner and Roy's fiancée, Candace Wells, will be arrested in their son's death. "I don't see there being a criminal prosecution at this time," Ward said. Debra Patin, a cousin of Michael's mother, Tammy Landry, said that Michael's parents aren't thinking of a criminal prosecution at this time. "All we're worried about is a little boy we have to put in a grave," she said.
Sheriff Beauregard "Bud" Torres said Roy, a three-year veteran of the Sheriff's Office and a member of the office's K-9 division, has been placed on paid administrative leave pending the completion of the State Police investigation.

Torres described Roy as "a very caring, good guy" who is distraught over Michael's death.

Roy let the dogs loose Friday at the Morganza home of Todd Wells, who is Candace Wells' father, as Roy helped his fiancée clean the dogs' kennels, Torres said. - Koran Addo, The Advocate, April 14, 2009
100th U.S. Fatal Dog Attack (3.25 Year Period)
The death of Michael Landry is the 12th fatal attack DogsBite.org has recorded in 2009 and the 100th death since January 1, 2006. In the 3-year period of 2006 through 2008, canines inflicted 88 fatal attacks in the United States. Boxers accounted for just 2 of these deaths (3 if one includes the conflicting media reports of "bulldog-boxer mixes" involved in the death of John Matthew Davis). Boxers and their mixes account for 2.5% of the 100 fatal attacks in the 3.25 year period.
04/11/09: "Care Taker" Cleaning Kennel
New information about the death of Michael Landry has been released. Captain Steve Juge told reporters that a man "acting as caretaker" for one or more of the dogs was cleaning out the kennel at the time of the fatal mauling. The man tried to rescue the boy, and was also taken to a hospital because his blood pressure spiked. He was not bitten by the dogs. Authorities will not release his name until the investigation is complete. Three dogs were reportedly involved in the attack.
He said the caretaker was cleaning out the kennel next door, and went into a shed to fill the dogs' food bowls when the animals came into the yard where Michael was playing and his mother gardening nearby, Juge said.

A chain-link fence runs between the two houses but not behind either, Juge said, and barbed-wire fencing ran behind the kennel.

The child's father told deputies that the dogs had never gone into his yard before, Juge said. - Associated Press, April 11, 2009
04/11/09: Child Mauled to Death by Dogs
Morganza, LA - In a developing story, a 4-year old boy was killed by at least one dog as he played in his family's own yard in Morganza, Louisiana. "Somehow the dogs got out of a pen and the four-year-old was playing in the yard next door and the dogs attacked the child," said Captain Steve Juge of the Pointe Coupee Parish Sheriff's Department. Michael Blaise Landry was airlifted to Point Coupee General Hospital in New Roads. Authorities said he did not survive his injuries.
Captain Steve Juge added that the owners of the dogs -- who live in a home very close to the child's home -- are friends with Michael's family. The sheriff's department does not have a record of complaints on the dogs, described as boxers, or their owners. Further, Juge points out that it is clear these animals were family pets. "These dogs are pets. They were on concrete, very well-maintained animals." The dogs were loaded into vans and taken into away by animal control.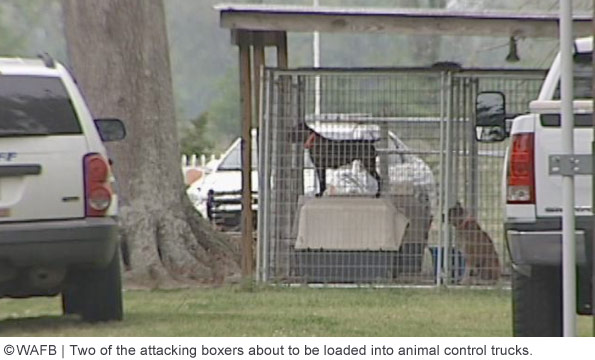 Related articles:
06/24/09: Louisiana State Dog Attack Law (HB 155) Wins Final Legislative Approval
09/04/08: 2008 Dog Bite Fatality: Luna McDaniel, 83-Years Old, Dies from Pit Bull Injury