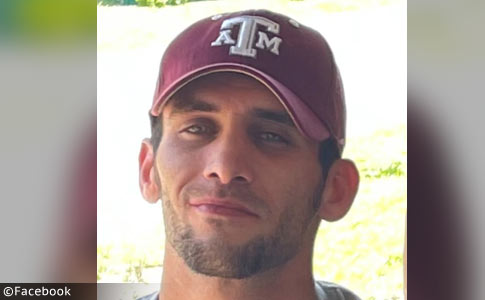 Dustin Vincent, 27-years old, died of his injuries after a violent pit bull attack on May 6.
Dustin Gained His Wings
UPDATE 05/11/21: According to a spokesperson for Dustin's family, he gained his wings at 3:20 pm today. Dustin Vincent, 27, was horribly mauled by a pack of pit bulls belonging to Brandi Cormier on May 6 while he visited her home. He suffered extreme injuries to his head and skull. He was airlifted to a Lafayette hospital in critical condition. Yesterday, the mother of his children said that Dustin had a Code Blue. A balloon release and vigil is planned for tonight at 7:00 pm.
Vigil attendees wore "Vincent Strong" tee-shirts and released balloons.
KPLC-TV attended the vigil. They spoke to Tonya Laughlin. "This isn't something like a normal dog bite," she said. "This was three animals tearing a piece of meat apart. This isn't the first time. This is the second time these dogs have attacked somebody." His mother, Michelle LeJeune, said he was looking for Brandon. When he realized he wasn't there, he started to leave. "That is when I heard the dogs attacked him," LeJeune said. They had bitten someone two days earlier, she said.
---
05/10/21: Code Blue - Pray for Dustin
Sulphur, LA - Last week, a devastating pit bull attack occurred in Louisiana. Dustin Vincent, 27-years old, has been fighting for his life in a hospital ever since. Hours ago, a woman who is pregnant with his baby released a video to Facebook. Through tears and agony, Jeni said that Dustin had a Code Blue last night. "Now they are saying that he doesn't have any brain activity." Jeni is asking people for prayers. Pray for Dustin. "Dustin please pull through baby," she said.
A medical fund started for Dustin now also says they are raising money for funeral expenses. Previously, it stated that he was in critical condition. "He's having lots of surgery done and is not out of the woods. Yesterday at 12 in the afternoon he was attacked by dogs ... He could be [at the hospital] for up to 3 months or more." Today the fund states, "He's coded and his kidneys are failing," and "Please help this family with funeral expenses and his children's need and care."
On May 6, Sulphur police officers were dispatched to a residence in the 900 block of Platt Street. They arrived to find a man on the ground inside a fence-in yard being actively attacked by three pit bulls. Officers Tased one of the dogs, causing the other dogs to move away. Dustin was airlifted from the scene to Lafayette hospital in critical condition. At the time of the attack, Dustin was visiting the residence on Platt Street to see a family member, but that relative was not home.
Dustin suffered severe facial and skull damage, along with severe wounds to his legs, police said. Animal control impounded four pit bulls at the home. KPLC spoke to the owner of the dogs, Brandi Cormier, who victim-blamed then wallowed in "victimhood" on camera. "I'm so sorry for his family," Cormier said. "This has scarred me for the rest of my life. Everybody says pray for his family. But what about me? I tried to save him. I tried to make him get out," Cormier softly pleaded.
Cormier claimed her pit bulls had never been aggressive before, even though she clearly used them to guard her notorious home on Platt Street. She also claimed one of the dogs was a "$10,000 dollar breed dog," (an entertaining illusion like Dogecoin). "I'm gonna have them spayed and neutered and one of them is a 10,000 dollar breed dog," Cormier said. "So that takes income away from my house." Predictably, Cormier was also running a backyard breeding operation.
View the DogsBite.org Google Map:
Louisiana Fatal Pit Bull Maulings
.
Related articles:
04/15/21: Unprovoked Pit Bull Attack in Maine Shows that Characteristics of 'Classic Pit Bull Attack' Violence Never Change