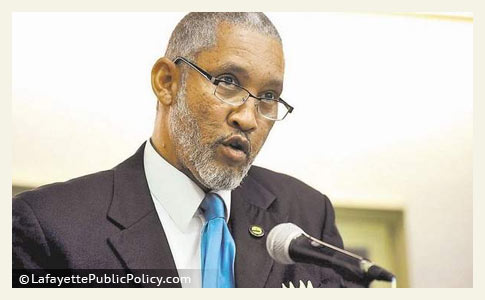 State Rep. Rickey Hardy's bill, HB 155, passes in a unanimous vote.
Unanimous Vote
Louisiana - In a bill that will broaden state laws on negligent homicide and make it easier to prosecute dog attacks that result in severe injury or death, House Bill 155 passed the Louisiana House 89-0. Earlier in the month, the Senate passed the proposal 31-0. The bill is dedicated to 83-year old Luna McDaniel of Ville Platte who was killed by three loose pit bulls in 2008 and to 4-year old Michael Blaise Landry of Morganza, who was killed by three loose boxers in April.
HB 155, which began as the Luna McDaniel Act, says negligent homicide is the killing of a human being by a dog or other animal when the owner is criminally negligent in confining or restraining the animal. Violators would face fines of up to $5,000 and five years in prison. Tony Clayton, who was the prosecutor in the case of the mauling death of 4-year old Michael Blaise Landry, said that the bill would have ensured the conviction of the dogs' owner, Candace Wells of Morganza.
In the case of Luna McDaniel, the City of Ville Platte already had an ordinance in place declaring pit bulls "vicious," which increased the charges that could be brought against the owner of the dogs, Theo Doucet.1 Charges against Doucet immediately advanced to negligent homicide after Luna died from her injuries. HB 155 now allows prosecutors statewide to more harshly charge all dog owners who fail to properly confine their animal and the result ends in human death.
Negligent Injury
Though not mentioned by the media after the passage of HB 155, we later learned the new act also addresses victims who are seriously injured by unrestrained dogs. To convict a dog owner under the statue, prosecutors must show that a person showed a reckless disregard for the public prior to the attack that resulted in serious injury. The Negligent Injury charge carries a penalty of up to six-months in jail and a $500 fine. The law was authored by state Rep. Rickey Hardy.
1
It was reported in a May article that Theo Doucet was scheduled to go on trial June 4, 2009.
Related articles:
04/14/09: 2009 Fatality: Michael Blaise Landry, 4, Killed in Own Yard
09/10/08: 2008 Fatality: Luna McDaniel, 83-Years Old, Dies from Pit Bull Injury
05/19/08: 2008 Dog Bite Fatality: 7-Year Old Boy Killed by Pit Bulls in Breckenridge