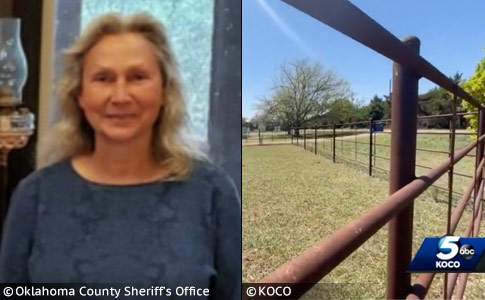 Anita Mears, 61, was killed by multiple dogs in her front yard near Newalla.
Woman Killed by Dogs
Newalla, OK - After Oklahoma County Sheriff's deputies found a woman dead in the front yard of her property on Sunday near Newalla, they thought the woman had been stabbed to death and began a homicide investigation. The coroner's office later announced the woman died of dog bites -- thus the police investigation had been bungled irrevocably from the start. Investigators were not searching for the culprit dogs or any dog attack evidence until days after the fatal dog mauling.
By then that window of evidence gathering had disappeared, and unsurprisingly, so had the dogs. They will likely never be identified.
To make matters worse, the victim's own dog was "standing over her," guarding her body, when deputies arrived and was also injured in the incident. "We believe the dog was trying to protect her," said Sheriff Tommie Johnson III, of the Oklahoma County Sheriff's Office. This is common behavior for certain dog breeds, largely pit bull-types and rottweilers, after they have fatally attacked their owner or family member. Police did not release the breed of dog that Mears owned.
The Oklahoma County Sheriff's Office and the County Medical Examiners Office have determined the death of a woman near Newalla this weekend is NOT a homicide. Sunday April 24 at approximately 12:23 pm, deputies were called to the 4300 block of South Catfish Drive on a report that a woman was dead.

When deputies arrived, they found the body of 61 year old Anita Mears in her front yard.

Ms. Mears had injuries consistent with being stabbed multiple times.

The Oklahoma County Medical Examiners Office responded and determined this is not a homicide, but that Ms. Mears was attacked by multiple dogs.

Ms. Mears' dog was also injured in the attack. Her dog was standing guard over Ms. Mears' body when Deputies arrived.

As for the dogs that attacked Ms. Mears, we don't know whether they are wild dogs or neighborhood dogs, and because there were no witnesses, we may never know. We are warning folks to stay away from any packs of dogs that may be roaming the area.

We are releasing a picture of Ms. Mears that her family provided. Our prayers are with Ms. Mears family as they work to cope with this tragedy. - Oklahoma County Sheriff's Office, April 26, 2022
Deputies responded to a property in the 4300 block of South Catfish Drive on Sunday shortly before 12:30 pm after reports that a woman was found dead. When they arrived, they found her body in the front yard of her home with injuries consistent with stab wounds. The Oklahoma County Coroner's Office responded and determined -- the date of the coroner's determination is not identified1 -- that Mears' death was not a homicide; she had been attacked by multiple dogs.
"We don't really know what kind of dogs they were, and that's part of the problem," said Aaron Brilbeck, public information officer for the sheriff's office. "The reality is we may never be able to identify these dogs. We don't know if they're wild dogs or if they're neighborhood dogs. There were no witnesses to this, so being able to identify the dogs responsible? We probably never will." - Oklahoman, April 26, 2022
The sheriff's office also added the unsubstantiated claim that the dogs could be "wild" too. "Wild dogs" are not involved in fatal dog attacks in the United States. Family dogs, loose owned dogs and formerly owned dogs -- abandoned dogs that become strays -- are by far the chief offenders in fatal dog maulings. True feral dogs -- dogs born in the wild, having no reliance on humans at all -- are involved in less than 2% of all U.S. fatal dog attacks, according to our 16-year data set.
Finally, Sheriff Johnson was asked during the press conference if the county has any type of animal control officers. Johnson said they do not and that they "work with other municipalities out east" that do have these officers. Johnson cautioned residents about the dogs. "If you see a pack of dogs, stay away and please call the police," he said. "Obviously, they travel in packs so they can be dangerous when they do that. So, please stay away, protect yourself and call the police."
1
On Tuesday, April 26, KOCO News reported, "On Tuesday, investigators determined a pack of dogs was responsible for a woman's death." The coroner's office likely did not determine her cause of death at the scene Sunday. They did so after a full autopsy was completed several days later.
Related articles:
09/10/19: 2019 Dog Bite Fatality: Elderly Woman Mauled by Pack of Dogs in Pickett County Dies
01/11/19: 2019 Dog Bite Fatality: Woman Killed by Pack of Dogs in Grenada County, Mississippi
03/08/18: 2014 Dog Bite Fatality: Mississippi Man Killed by Pit Bulls; Second Death by Dogs...
---
Baseline reporting requirements:
Law enforcement departments across the United States should release consistent "baseline" information to the media and the public after each fatal dog mauling,
including these items
.