Alex Geiger, 27, Faces Three Felony Counts After Vicious Attacks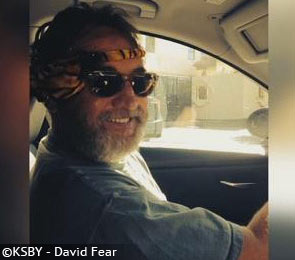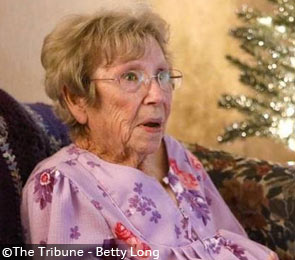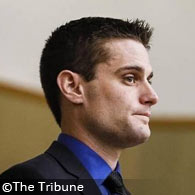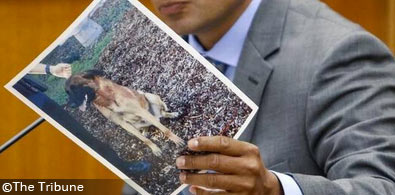 From left, David Fear, Betty Long, Alex Geiger and Sgt. Juan Leon holding up a photo of Neo.
---
The criminal trial is underway for former police officer Alex Geiger. In 2016, his "retired" attack-trained k-9 killed a man and injured a woman. Please see the complete timeline of events.
---
Opening Arguments
Drama unleashed in opening statements Tuesday, including the defense attorney brandishing a BB gun in front of the jury. Defense strategy appears to be "this was an accident" and the case is only a civil lawsuit matter. Prosecutor Deputy District Attorney Stephen Wagner stated that "safety was a distant second" in Geiger's mind, who knew or should have known that his attack-trained police K-9 was dangerous. Former officer Alex Geiger faces up to four years in jail if convicted.
Wagner said he would show jurors Geiger's property management company's application for housing pets on which Geiger reportedly wrote that Neo "will hopefully be a police dog again in the future." - San Luis Obispo Tribune
Geiger's 2.5-year old Belgian malinios, Neo, was not "retired" in any traditional sense. "Alex Geiger had plans to engage Neo in active service at the Grover Beach Police Department," Wagner said during opening statements. "That becomes an important issue as it relates to the case of Neo." An hour before chewing through a wooden fence and killing David Fear and seriously injuring Betty Long, Geiger's dogs had chased a mailman, who is scheduled to testify.
Wagner also took aim at the Grover Beach Police Department, alleging that officers "did not actively engage in evidence collection" after the attack. A BB gun and long-sticked garden tool were found near the scene of the attack. Wagner said a district attorney's office investigator had both items tested at a forensics lab; there was no evidence that either were used in the incident. This is the same BB gun defense argues perhaps Fear pointed at the dogs, triggering the attack.
During the trial, jurors are expected to see Geiger's body cam footage of his arrival at the scene of the deadly dog attack as well as hearing the 911 call made by Betty Long. In another revelation of what is yet to come in the trial, the prosecution accused Geiger's brother of talking to one of the jurors during a break Tuesday, reports KSBY. Both Geiger's brother and the juror were questioned in a closed session. The judge had to "remind" everyone not to talk to jurors to ensure a fair trial.
---
KSBY has video coverage of day one of the criminal trial of former officer Alex Geiger.
---
San Luis Obispo County, CA - Opening arguments begin Tuesday in the criminal trial of former Grover Beach police officer Alex Geiger. On December 13, 2016, Geiger's "retired" attack-trained police K-9, which he kept as a personal "pet" after leaving the Exeter K-9 unit four months earlier, chewed through a fence and mauled two people, killing one. Geiger faces two felony counts for failing to maintain control of a dangerous dog and one felony count of involuntary manslaughter.
The criminal trial comes nearly two years after a preliminary hearing was held in July 2017, when we last published about this case. Superior Court Judge Hugh Mullin III ruled there was enough evidence for Geiger to stand trial. David Fear, 64, died from complications of blood loss due to his bite injuries three days after the vicious attack. Betty Long, then 85, suffered bite injuries and broken bones from falling. She was not released from a rehabilitation center until March 2017.
In August 2016, Geiger had to sign a waiver with the city of Exeter when he purchased this dog, removing the city of any liability if it ever attacked someone under his "private" ownership. Geiger's police-trained K-9, "Neo," was not retired in the traditional sense. Neo was only 2.5 years old. A month before the fatal attack, Geiger had unsuccessfully lobbied Grover Breach to start a K-9 program. Four months earlier, Neo had been active duty with Geiger in the Exeter K-9 unit.
Preliminary Hearing
The preliminary hearing, along with Judge Mullin's ruling, focused on "retired" police dogs and the absence of "standard procedures" to follow for officers and other owners of these dogs. Mullin stated, "Maybe police departments should do something about it." Mullin also stated, "There is an inherent danger (with keeping retired police dogs) and I think Officer Geiger knew that." Just an hour before the fatal attack, Neo chewed through its wooden fence and chased a mailman.
The preliminary hearing also revealed the questionable investigation by the Grover Beach Police Department after the deadly mauling. Geiger was on duty at the time and arrived on scene shortly after the first officer. There were numerous protocol violations, including, but not limited to: failure to closely inspect Geiger's broken fence, failure to collect and preserve certain evidence, turning off a body cam too early, and euthanizing and cremating the dog without a body examination.
Prior to the attack, the K-9 was not locked in Geiger's 5-sided kennel in the backyard, as K-9 policy teaches, but left loose in a fenced backyard.
We expect that defense will use the shoddy investigation by Geiger's "employer" to help bolster their client's Not Guilty plea. However, what was clearly established during the preliminary hearing is that Geiger had knowledge of his dog's vicious propensities and he failed to properly secure it. On the day of the fatal attack, Geiger placed both Neo and his German shepherd in his fenced backyard, where he also had a 5-sided kennel. He did not secure either dog inside the kennel.
Case Background
On December 13, Geiger's Belgian malinios, Neo, a dual-certified police K-9 in detection and patrol work (bite work), escaped his property and attacked Betty Long and her neighbor David Fear who intervened to save her life. Fear suffered life-threatening injuries, including two arteries in his arms being severed. He died three days later while hospitalized. Long suffered serious bite injuries and broken bones from falling. Long was released from a rehabilitation center in March.
In September, Geiger was hired by Grover Beach, which has no K-9 unit. For weeks after the attack, the city would not release the officer's name or details about the dog's training. An expose by The Tribune, detailing Geiger's previous employment, showed that Neo was a dual-certified police K-9 and that a month after Geiger began working for the city -- and a month before his dog attacked Fear and Long -- Geiger unsuccessfully lobbied for a K-9 program in Grover Beach.
Prior to joining the city of Grover Beach, Geiger had worked at the Exeter Police Department in Tulare County with the last year spent as a K-9 patrol officer with Neo. Six months before Geiger moved to Grover Beach -- taking the dog with him as a "pet" -- Neo had bitten a trainer during a "bite suite exercise." The K-9 was not taken out of service afterward. When Geiger purchased the dog from Exeter for $5,287 in August, he signed a waiver relieving Exeter of any future liability.
Related articles:
07/21/17: Preliminary Hearing of Former Officer Whose 'Personal' Dual-Certified K-9 Killed...
06/12/17: 2016 Dog Bite Fatality: Former Officer Charged with Felonies After his 'Personal'...
Related website page:
Police K-9 Dog Bite Studies - A Collection of Studies Gathered by DogsBite.org