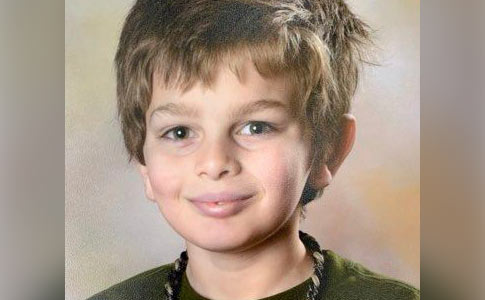 Robby Taylor, 9, was killed by one or more pit bulls in Faulkner County, Arkansas.
Girlfriend Finally Charged
UPDATE 01/15/21: Eight months after two pit bulls struck down a 9-year old boy who had gone to fetch the mail, the owner of the dogs has been arrested. Lisa Young, 26, has been charged with one count of negligent homicide and faces up to one year in jail if convicted. Young was not home when her dogs killed the boy. Previously, her boyfriend Trey Wyatt, who was home, was charged with negligent homicide, tampering with evidence and four unrelated felonies for narcotics.
---
06/26/20: Wrongful Death Suit Filed
A wrongful death lawsuit has been filed after a 9-year old boy was mauled to death by at least one pit bull. Trey Edgar Wyatt, 25, of Vilonia, was arrested in connection to the death of Robby Taylor. One of the dogs that killed Robby had acted aggressively toward the Taylor family on more than one occasion, according to the lawsuit filed against Trey Wyatt and his girlfriend, Lisa Young, who owns the dogs. Wyatt remains behind bars without bond and faces a felony tampering charge.
The complaint filed on behalf of Robby's parents accuses Wyatt and Young of wrongful death, strict liability, negligence and two counts each of trespassing and nuisance. According to the complaint, May 28 began as a "normal day." When Robby and his sister woke up, the two "piled up blankets and pillows in front of the TV and started to watch a movie." They were interrupted by barking and soon found an abandoned puppy in the carport. It was covered in fleas and ticks.
While Robby's sisters set to work giving the puppy a bath, he asked his mother if he could go check the mail. The mailbox is a 300-yard walk from the home. Robby never returned. He was attacked by "two or more dogs" at the end of the family's driveway," reports the Log Cabin. One of the dogs was the same brown pit bull that broke a glass door at the family's home two weeks earlier, when that dog and another pit bull tried "to get into a metal cage containing chickens."
Young, pertaining to the May 14 chickens incident, previously told Faulkner County Sheriff's Office deputies that the dogs' shock collars had failed and that she had "ordered replacements." Young, who is known as Lisa Cheyenne on Facebook, is the owner (or co-owner) of the accused dogs in both attacks. So far, Young has not been charged with any criminal or animal control violations in connection to Robby's death. The complaint also describes Robby's horrific mauling injuries.
"Robby was unable to overcome the dogs and eventually fell in the field ... The dogs ripped his face apart, including detaching his right eye and removing it completely from the socket. There was major trauma to the left side of his face as well. There were severe and deep wounds to his right upper arm, as well as puncture wounds on the right arm, neck, and chest areas. Robby succumbed to his injuries while laying in a puddle of water in the field." - Log Cabin Democrat
Robby had asked to check the mail around 9:00 am. His mother called 911 at 9:17 am, as she and the boy's siblings frantically searched for him outside. His mother found his shoes and the umbrella he had been carrying in the driveway. His 15-year old sister discovered his "bloody and mangled body" in a field around 9:30 am. She screamed when she found him. His mother rushed over and discovered Robby's badly injured body. Law enforcement arrived shortly thereafter.
---
05/29/20: 25-Year Old Man Arrested
On Thursday afternoon, Trey Edgar Wyatt, 25, of Vilonia, was arrested for tampering with physical evidence in connection to the death of Robby Taylor. Wyatt is also being charged with multiple county animal ordinance violations and four unrelated felonies: possession of controlled substance, a Class C felony, two charges of possession of drug paraphernalia, Class D and B felonies, and weapons possession during controlled substance offense, a Class Y felony.
In January 2020, Wyatt was charged with a felony after reportedly hitting his pregnant girlfriend in the face and threatening to beat her stomach, reports the Log Cabin. After hitting his girlfriend in the face, Wyatt reportedly "threw her against the wall and tried to choke her out." He also pushed his knee into her stomach. Wyatt was charged with aggravated assault, a Class D felony, and interference with emergency communications, a Class B misdemeanor, following the incident.
Wyatt's girlfriend has multiple pit bull photos on her Facebook page. As recently as January, she needed one adult female "gone" and was peddling three puppies. It's unclear who owns the attacking dogs, but tampering with physical evidence could indicate Wyatt tried to wash the blood off the dogs. Between the January charges and now, Wyatt is facing at least five felony charges. His life, as he knows it, is finished. It is also unclear if more people are going to be charged.
Robby Taylor's family released the following statement to the media:
"The Taylor Family is shocked and heartbroken over the loss of their son, Robby. They are outraged because this loss was entirely preventable, and especially because Robby's sister had the grisly misfortune to find her brother's body. At this time, the family requests space to grieve the loss of a beloved son and brother, as well as pray while they navigate this devastating time."
---
05/28/20: Dogs Kill Young Boy
Faulkner County, AR - On Thursday at 9:15 am, the Faulkner County Sheriff's Office received a call regarding a 9-year old boy who was missing in Mt. Vernon. "His mother advised deputies that he went outside to check the mail. When he didn't return a few minutes later, she looked for him and could not find him. His mother also stated that she noticed several dogs running from a field near her home," states a press release issued by the Faulkner County Sheriff's Office.1
"The young boy was found in the field deceased from an apparent dog attack. Faulkner County Major Crimes Unit was dispatched to the scene. The investigation led to two people being questioned by authorities regarding the incident," states the release. "Faulkner County Sheriff's Office requested assistance from the Conway Animal Shelter who took custody of two dogs from a residence off Chambers Lane. The dogs will be quarantined and held for investigative purposes."
Kaydi Homme organized a fundraiser for the boy's family and identified the child as Robby Taylor. Homme also identified the dogs involved as two pit bulls. "On the Morning of May 28, 2020 the Taylor Family will forever be changed," Homme writes. "Robby was walking to the mailbox at his home in Mount Vernon and was attacked by two loose pit bulls that ended up taking his life. His family will forever be at a loss and changed from this horrible tragedy," Homme writes.
Homme asks the public to help the Taylor family, who also have two other children. "The Taylor family needs help and support right now with bills and incoming expenses that were not expected at this time while they deal with this devastating loss. Please help them with what you can and your support matters to them," Homme writes. "The two other children will need help through this as well. Your thoughts and prayers are much needed in this time of need," Homme writes.
Audio Dispatch Files
We have pulled a portion of the audio dispatch files from Faulkner County Area Public Safety, published by Broadcastify. The boy's mother had been searching for him. During this segment, she finds him in a field. "She thinks a pit bull got ahold of him. His face is [pretty mauled]." One responder communicates, "I'm just trying to get there as quick as I can." It is then communicated, "It appears he is not breathing at this time." This fatal dog attack occurred off of Highway 36.
---
View the DogsBite.org Google Map:
Arkansas Fatal Pit Bull Maulings
.
1
Commenter Gary Eldridge states on the Faulkner County Sheriff's Office post: "This happened two houses down from me. Both yards are fenced. The dogs the FCSO believes are responsible are pit bulls. And The owner of said dogs is booked in jail. There is still an investigation going and that's because a lot of things are still uncertain."
Related articles:
04/17/20: 2020 Dog Bite Fatality: Man Dies Seven Days After Violent Pit Bull Mauling in Arkansas
12/11/17: Retired Doctor Dies After Being Knocked to the Pavement by a Pit Bull in Arkansas
---
Baseline reporting requirements:
Law enforcement departments across the United States should release consistent "baseline" information to the media and the public after each fatal dog mauling,
including these items
.