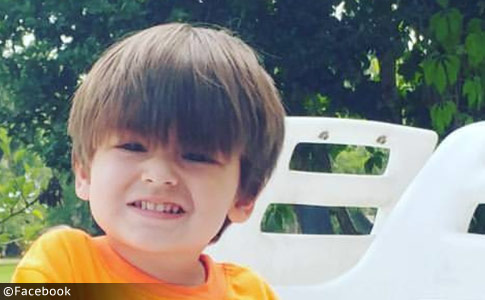 A 6-year old boy died after being attacked by a pit bull his mother was trying to rehome.
Police Release Statement
Hampton County, SC - An hour ago, the Hampton County Sheriff's Office released a statement. "On Wednesday afternoon, Hampton County Sheriff's Office deputies responded to a residence on Mullins Ford Rd. in Brunson regarding a juvenile being attacked by a dog. Upon arrival to the incident location, officers located the 6 yr. old male child, who was deceased. Hampton County Animal Control also responded to the scene. The dog, a Pit bull breed, was located a short time later, apprehended by Hampton County Animal Control and has been euthanized," police said.
---
About 18 hours ago, a grieving mother live streamed a message on Facebook explaining how a stray pit bull she had taken in killed her son. Victoria Rose LaBar, of South Carolina, said that "me and my family need some space right now." As I am "sure most of you have heard," LaBar said, "my 6-year old little boy was attacked early this afternoon by the pit bull that I had been trying to find a home for. It had been abandoned on our property." She also stated, "I was an advocate, supporter for pit bulls. What happened, happened so fast that there was nothing that anybody could do." LaBar said it will be at least a week before funeral arrangements can be made. The boy's father is named Cameron.
On January 15, LaBar posted about the pit bull she had taken in. By that time, she had already spent a week with the dog. "So I gave the owners an adamant amount of time, at this point I believe they ditched their Fur Baby on purpose. Having spent a week with this sweet boy, I CANNOT IMAGINE WHY!" LaBar feared taking the dog to a shelter would mean its death. One commenter even called out trail blazer Tallulah King McGee, the director of Beaufort County Animal Services (an adjacent county), who helped pass the first mandatory pit bull spaying and neutering ordinance in the Southern United states in 2015. Two jurisdictions in that county, Beaufort and the Town of Bluffton, followed suit and also adopted a similar mandatory pit bull sterilization ordinance.
---
"Happened So Fast"
Yes. Fatal attacks inflicted by pit bulls often occur in an instant and without warning. "Due to their failure to communicate intention before an attack -- pit bulls will attack without warning and will attack in the absence of species-specific signs," we wrote in our comments to the Department of Transportation last year. "A breed that consistently displays these traits -- failure to communicate intention before an attack, disinhibited aggression and a disproportionate response to stimuli."
Multiple appellate court decisions have remarked on this characteristic of the pit bull. Over 1000 jurisdictions in this country regulate pit bulls for these same reasons, along with jurisdictions in 53 countries worldwide. LaBar, a young mother who was an "advocate" for the breed, just learned first hand why these regulations exist. Nothing will bring her beloved son back. Moreover, the story of LaBar's son will not change the opinion or actions of other young female pit bull advocates.
They will simply tell themselves, "This will never happen to me." Welcome to 2021.
"The extreme dangerousness of this breed, as it has evolved today, is well recognized. Pit bulls as a breed are known to be extremely aggressive and have been bred as attack animals ... coupled with an unpredictable nature" (Matthews v. Amberwood, 1998) "The trial court also found that pit bulls tend to be stronger than other dogs, often give no warning signals before attacking, and are less willing than other dogs to retreat from an attack, even when they are in considerable pain," (Colorado Dog Fanciers v. Denver, 1991) "The trial court was presented with evidence which established that the specific breeds targeted by the ordinance possess inherent characteristics of aggression, strength, viciousness and unpredictability not found in other dog breeds." (Singer v. Cincinnati, 1990) "Pit bull dogs possess a strongly developed 'kill instinct' not shared by other breeds of dogs. This testimony indicated that pit bull dogs are unique in their 'savageness and unpredictability.'" (Hearn v. City of Overland, 1989) "Pit Bulls also possess the quality of gameness ... which can be described as the propensity to catch and maul an attacked victim unrelentingly until death occurs, or as the continuing tenacity and tendency to attack repeatedly for the purpose of killing. It is clear that the unquantifiable, unpredictable aggressiveness and gameness of Pit Bulls make them uniquely dangerous. (Vanater v. Village of South Point, 1989) "The Village also presented evidence establishing that the American Pit Bull Terrier breed possesses inherent characteristics of aggression, strength, viciousness and unpredictability not found in any other breeds of dog." (Garcia v. Village of Tijeras, 1988).
---
View the DogsBite.org Google Map:
South Carolina Fatal Pit Bull Maulings
.
Related articles:
07/22/20: 2020 Dog Bite Fatality: Unreported Fatal Pit Bull Mauling of 2-Year Old Boy in Stockton
09/24/19: 2019 Dog Bite Fatality: 13-Month Old Boy Killed by Family Pit Bull in Granite Bay
10/27/18: 2018 Dog Bite Fatality: Child Dies After Deputies Arrive to Family Pit Bull 'Slinging...
---
Baseline reporting requirements:
Law enforcement departments across the United States should release consistent "baseline" information to the media and the public after each fatal dog mauling,
including these items
.