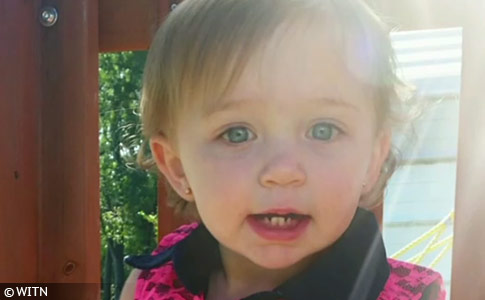 Triniti Harrell, 1-year old, died of her injuries after being attacked by a family pit bull.
Child Dies of Injuries
Rocky Mount, NC - The Edgecombe County Sheriff's Office confirmed today that Triniti Harrell has died. Last Monday, deputies arrived to the scene of a family dog slinging the 1-year old child around in its mouth. A fast-acting deputy shot and killed the dog. Triniti was airlifted to a trauma center with life-threatening injuries. On Friday, family friends reported on Facebook that she had no blood flow to her brain. On Sunday, a post stated that she had been removed from life support.
During the frantic 911 call, the child's mother can be heard screaming repeatedly, "Kilo STOP!" The dog's name was not stated in media reports last week, which transcribed parts of the call. The mother's boyfriend, who lives at the home where the attack occurred, owns a pit bull named Kilo that is about 8-years old, according to his Facebook posts. In a 2014 photograph of Kilo, he wrote, "hate he like to kill shit but o well I love him either way (haha those poor lil bunnies" [sic].
Case Background
On October 22, Edgecombe County Sheriff's deputies responded to a call of a family dog actively attacking a 1-year old child in the 12000 block of NC 43 North in Rocky Mount. The mother was trying to stab the dog to get it to release her child. "Detective Whitaker was one of the first officers on scene and observed the dog slinging the child around in its mouth. Detective Whitaker acted quickly and shot and killed the dog," states a release issued by the sheriff's office on the 24th.
The child was airlifted to Vidant Medical Center with life-threatening injuries then transferred to UNC Children's Hospital in Chapel Hill.
On Wednesday, Sheriff Clee Atkinson gave a press conference. The family dog was a 6-year old pit bull-mix. Officers described the attack "as the pit bull shaking a baby doll," Atkinson said. "That's how aggressive it was." Atkinson said the deputy "saved that baby's life," and commended his precise shooting. "A lot of law enforcement officers would have been hesitant to take that shot," Atkinson said. "We're looking at inches." The child was later identified as Triniti Harrell.
We may never know why the dog attacked, Atkinson said. "I just want to say that I have not slept and my deputies have not slept since the injuries, the incident." The attack and injuries were so traumatic, Atkinson called it "character building." He asked for prayers from the public. "One of the things that hit home for us," Atkinson said, "is a lot of my deputies have small children. I want the public and the citizens to continue to pray for us. Because it's a character building moment."
On Thursday, text from the chilling 911 call was released. The dispatcher suggested ways for the child's mother, Miranda Harrell, to get the pit bull to release the child. First, by shoving a stick into the dog's mouth to pry its jaws open. Next, by hitting the dog with a pan or a shovel to halt the attack. Next, the dispatcher asks Harrell, "Can you run in the house and grab a steak knife or something? If you will run in the house and get a knife, I will tell you how to get him off her."
"Ma'am, yelling at him is not going to change anything. I need you to find something sharp, and I'll explain to you how to get the dog off of her," the dispatcher tells her.

After a couple minutes, she runs into her house and grabs a knife, and the dispatcher instructs her how to slit the dog's throat.

"Cut him across the bottom of his neck. It's going to release his jaw muscles. He won't have a choice but to let go," he says.

"I'm trying. The blade isn't sharp enough," Harrell says. - WRAL.com
What is remarkable about the dispatcher is that he or she appears trained in methods to stop a pit bull attack, given the reality of the objects the mother might have within her reach. After the dispatcher states, "I've got everybody I can get en route to you," the first suggestion is a break stick. The problem is, not many pit bull owners know how to use one. The next instruction is to try to "knock the dog out" by hitting it extremely hard on the top if its head with a pan or shovel.
Then the suggestion moves to a sharp object -- lethal intervention. As each minute passes, the pit bull goes deeper into the zone, where "they don't feel the pain anymore," according to Cesar Millan. The only option left is lethal intervention. "I need you to do anything you can do with that to make that dog let go. The dog's life is not a concern to me at this point," states the dispatcher, who knows this is a potential fatal dog mauling. We've never seen this level of training before!
Throughout the harrowing 10 minute call, Harrell pleaded, "I can't get him off" and "She's dying please help." As the mother struggles with a knife too dull to fulfill its lethal task, the deputy arrived. He shot the dog once, which did not stop the dog, then shot it again, killing it. Triniti was clinging to life when she was flown to Vidant Medical Center. News reports later stated she was in stable condition, but that is not what family and friends have been saying on Facebook.
This pit bull-mix was described as a family pet for six years prior to unleashing an explosive, unpredictable attack while interacting with the small child. During the press conference, one reporter asked if the deputy was wearing a bodycam. Understandably, Sheriff Atkinson did not initially answer the question, but later said, "No, no, no." This horrific and deadly attack by a family pit bull follows another family pit bull killing a man in Rocky Mount, North Carolina in August.
---
On 10/22/18, The Edgecombe County Sheriff's Office received a call of a dog actively attacking a one year old child at 12039 NC 43 North, Rocky Mount. The dog was the family's dog. The mother of the child was trying to stab the dog to get it off of the child. Deputies responded. Detective Whitaker was one of the first officers on scene and observed the dog slinging the child around in its mouth. Detective Whitaker acted quickly and shot and killed the dog.

Edgecombe County Rescue Squad and deputies on scene performed emergency first aid on the child to try to stabilize her as she was clinging to life at this point. She was transported to the hospital and then flown to Vidant Pitt for treatment. At this time, her status is believed to be stable.

Out of respect for the family, we are not releasing any names or identifying information at this time. We ask that everyone keep the little girl and her family in their thoughts and prayers. We hope for a full recovery for the little girl. No charges are expected in this matter. - Edgecombe County Sheriff's Office 10/24/18
---
View the DogsBite.org Google State Map:
North Carolina Fatal Pit Bull Attacks
.
Related articles:
08/21/18: 2018 Dog Bite Fatality: Rocky Mount Man Found Dead Inside Home with Pit Bull Injuries
08/10/18: 2018 Dog Bite Fatality: Woman, 66, Killed by Pit Bulls in Lake Tillery Development