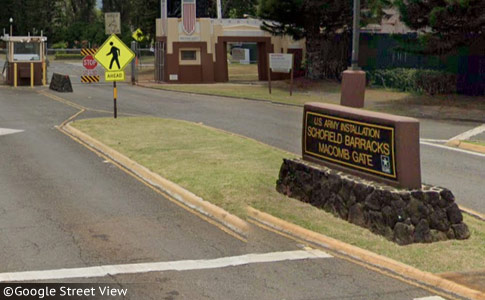 A infant died Wednesday after being mauled by a dog in a Schofield Barracks residence.
Infant Killed by Dog
Honolulu, HI - An infant died after being mauled by a dog in a Schofield Barracks residence. The infant was in a car seat when the attack occurred. Emergency personnel responded to a 911 call Wednesday evening about a child with serious injuries that had been bitten by a dog inside a home at Schofield, the Army said in an email to the Star-Advertiser. "Our hearts go out to the family during this difficult time," said Col. Dan Misigoy, commander, U.S. Army Garrison Hawaii.
The type of dog involved was not released. The Honolulu Police Department is leading the investigation, reports the Star-Advertiser. Police spokeswoman Michelle Yu said this "tragic incident" has been classified as an "unattended death." Meaning, that a person was found dead and there were no witnesses. In some cases, the body is not found for days or weeks. All unattended deaths have to be investigated to determine if any criminal act was involved.
Hawaii News Now reports the infant was a 4-month old girl. The attack happened at her home on Hall Street just before 5:00 pm. The child suffered head injuries and was taken to Tripler Army Medical Center, where she was pronounced dead. No other information was released. Dog bite fatalities on military installations typically have very few details. Since 2009, the Army has banned multiple breeds from privatized housing, including: pit bulls, rottweilers and several others.
Very likely due to each military branch adopting their own uniform breed-specific policies a decade ago, we have not reported a dog mauling death in military housing since 2012. That year, a 6-year old boy was killed by a PTSD "service dog" just outside of Fort Campbell. In 2010, a 2-year old boy was killed by a dog in Tierrasanta, a military housing area within the city of San Diego. His mother was later convicted of child endangerment. Both deaths involved German shepherds.
Multiple children have been killed by dogs while strapped into a child safety seat indoors. Most recently in 2019, when a babysitter left the baby in a car seat while she went to clear room in her car for the child. When she returned, her pit bull-mix had attacked the baby. In 2018, a babysitter placed an infant, who was in foster care, on a couch still in the car seat. When the family dog got "agitated" in its crate, the babysitter let the dog out. The dog immediately attacked the infant.
Related articles:
03/05/19: 2019 Dog Bite Fatality: Child Killed by Babysitter's Pit Bull-Mix in Salisbury
10/05/18: 2018 Dog Bite Fatality: Adopted Dog Kills Baby Girl While in Foster Care in Florida
---
Baseline reporting requirements:
Law enforcement departments across the United States should release consistent "baseline" information to the media and the public after each fatal dog mauling,
including these items
.