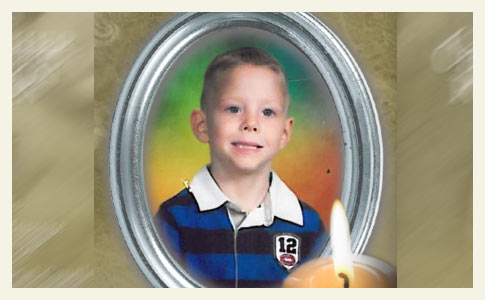 Steven Robertson, 6-years old, was mauled to death by a PTSD service dog.
Stricter Requirements
UPDATE 07/31/12: A boy was killed by a service dog 6-months ago has been identified as Steven Robertson. His death prompted Ft. Campbell to adopt stricter policies pertaining to service dogs. "Many are not allowed inside the gates without very specific behavioral training. The new rules all stem from an incident that happened just outside Ft. Campbell last January; when a 6 year old Kentucky boy was mauled to death by a trained and certified PTSD dog," Sky 5 News reports.
Fort Campbell now requires "specific behavioral training" before service dogs are allowed inside their gates. "They are trying to make sure that not anyone can put a vest on a dog and call it trained. And that is reasonable," said Jodi McCullouh from the SAFE program that helps soldiers with mental illness. The new rules require the completion of a training course that can take up to six weeks. McCullouh believes the additional costs and training are worth the time and money.
---
02/11/12: Group Issued Warning
In a related development, Paws4People Foundation based in Wilmington, N.C. issued a news release February 9 calling to attention this fatal dog attack and that "it will happen again" unless the awareness of the "rampant problem of what we term Imposter Service Dogs," states the release, is acknowledged. The group specializes in training service dogs for veterans with PTSD and brain injury and children with physical and psychiatric challenges, according to their website.1
      [News release] Last week, at Ft. Campbell KY, a 6 year-old was tragically killed by a supposed "Service Dog." Our thoughts and prayers go out to the family and all involved in this tragedy. Our goal is to use this tragic accident to create awareness for the rampant problem of what we term Imposter Service Dogs and suggest actions to help avoid repeats of these horrible events.

Paws4people TM warned of this happening over a year ago when we ceased work with clients at Camp LeJeune, NC due to multiple bites and aggressive incidents by Imposter Service Dogs who were -- and still are -- allowed free access to Camp LeJeune and many other bases. - Paws4People Foundation
The release points back to a July, 2011 blog post, "Knockoff" Imposter Psychiatric Service Dogs, which harshly criticizes the lack of service dog training standards required by military units. The post states, "Would the Commanding Officer, Wounded Warrior Battalion – East ALLOW any of his Marines to receive a non-FDA Approved, "Knock-off" prosthetic limb?" The post also notes that it takes "months, years" to properly train a mobility, psychiatric or seizure response service dog.
      [Blog post] There are hundreds, if not thousands, of pages of Requests for Proposals which detail thousands, if not millions, of details, specifications, requirements, measurements, materials, manufacturer's standards, manufacturer's competence requirements, management, engineering and accounting standards for all contractor personnel, contractor rules and regulations ...

All of this is done to ensure the Kevlar Vests, bullets and the prosthetic limbs work, that the hospital patients don't get infections, and so the aircraft and their crews take-off, fly their missions, and land safely.
Then why do we ALLOW unqualified organizations to provide un-certified and untrained (in some cases – the dogs are dropped on base within hours of being obtained from a shelter, wearing pinch-collars) to some of our most seriously psychologically and/or emotionally diagnosed Marines, and then ALLOW these recipients to treat these dogs as fully-qualified, certified, public-access Service Dogs? ...

In many states, the laws do not allow certified and insured Service Dog trainers to begin training dogs in public places until the dog is six months old; yet a few weeks ago, there was a three month-old puppy, whose handler claimed it was a already a Service Dog inside the Camp LeJeune MCX. - Help Kyria, Paws4People
02/06/11: Both Parties Active Military
No new information is available about this fatal dog mauling, but some clarifications have been made. Both the dog's owner and the father of the boy were servicemen stationed at Fort Campbell. The dog had allegedly been trained to wake up its owner "in the event he was having a nightmare," according to Oak Grove Police. Three dogs were seized from the premises, including the "small" German shepherd -- another child also was at the scene, but was unharmed.
01/31/11: Trainer: "Anything Can Happen"
New information has been revealed about a 6-year old boy killed by a trained "medical service dog." One can thank the last and current presidential administrations for the failure to require any certified training for service dogs under the revised ADA requirements. This particular dog was allegedly trained to help its veteran owner who suffers from Post-Traumatic Stress Disorder. So the first thing this trained service dog should do in response to a human scream is to kill?
The basics of Post-Traumatic Stress Disorder (PTSD):
Re-experiencing symptoms - Vivid flashback episodes, where the event seems to be happening again and again; repeated nightmares and memories of the event
Avoidance symptoms - Being unable to remember important aspects of the trauma; feeling detached; avoiding places, people, or thoughts that remind you of the event
Hyper arousal symptoms - Having an exaggerated response to things that startle you; expressing hypervigilance; feeling irritable or having outbursts of anger
The explanation of this boy's death through the eyes of a service dog trainer:
"It's not that he wanted to brutally kill this child it's that he was confused on what was going on that screams were coming out and he wanted to fix it" ... "Dogs have teeth, what can you say? Anything can happen at a split moment. It could be anything from the little boy screaming at a split moment"2 ... "My initial thought was maybe he nipped, and the child began screaming and the dog panicked and he wanted to fix the scream so he went for the mouth and the face area which is why he went for the attack" - Leah Patterson, PTSD service dog trainer.
So when the dog's owner, who suffers from PTSD, wakes up screaming after reliving the horrific event in a nightmare, it's perfectly normal and acceptable for his trained medical service dog to attack and kill him? The entire "point" of a PTSD service dog is that it ought to be "bomb-proof." Due to the great failure of the ADA in recognizing the volume of huckster dog trainers, we can expect to see more "Pattersons," violent attacks and deaths by so-called trained service dogs.
01/31/12: PTSD Service Dog Kills Child
Oak Grove, KY - In a developing story, a dog trained to help a soldier with Post-Traumatic Stress Disorder killed a 6-year old boy. The young boy and his family were visiting the Fort Campbell soldier's home Sunday afternoon when the mauling occurred. Police say the dog attacked the boy in the yard of the home. The child was LifeFlighted to Vanderbilt Medical Center where he died from his injuries early Monday morning. The dog is described as a "small" German shepherd.
      Police in Oak Grove, just over the Tennessee state line, said the boy was visiting friends at a home on Linda Drive when he was bitten in the face by a small German shepherd.

"We heard some hollering, so I looked out and a man had a little boy in the back of his truck," neighbor Sandra Cardona said. "He pulled him out and all you saw was blood on his head, his hands were red and the mom came out. She was screaming."
Cardona said the boy's father and mother performed CPR on their child as other neighbors called 911. - WKRN, January 30, 2012
1
According to the Paws4people FAQ, the group primarily uses carefully selected lines of golden and Labrador retrievers in their program.
2
Patterson added, "Hearing that the boy had a puncture on his hand and then was bit several times in the face fits the pattern of how these dogs can react to a playful child." We think Patterson should be fired quickly for her ethereal attempt to "explain away" the death of a child who should have been protected by a

bomb proof

dog.
Related articles:
09/27/10: 'Fully Vetted' Pit Nutters and Their Service Dogs
08/17/10: Department of Justice Axes Monkeys, Other Creatures From Service Animals