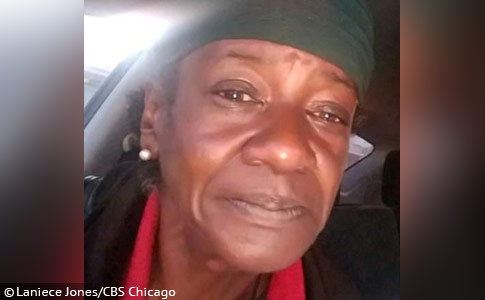 Karen Brown, known as "Punchi", was killed by a large pit bull in South Deering.
Dog's Owners Flee
UPDATE 08/06/18: An autopsy Sunday determined that Karen Brown, 57, died from multiple injuries inflicted by a dog. The manner of death was ruled accidental, according to the Cook County Medical Examiner's Office. Brown was viciously attacked by a loose pit bull on Saturday in the 10100 block of South Calhoun Avenue on Chicago's Far South Side. According to neighbors, the pit bull was kept in an unfenced backyard by owners who kept multiple dogs in crates.
The owners of the pit bull vacated their home and fled after their dog brutally attacked and killed Karen Brown, according to neighbors.
A community vigil was held Sunday at the scene of the deadly dog mauling. Over 100 people attended. Friends said that Brown was on her way to a home on the street to start house sitting when she was attacked. In addition to at least one previous attack, residents said the pit bull had long been a problem in the neighborhood. When police officers responded Saturday, a hail of gunfire was heard in the neighborhood. Officers fired up to 30 bullets at the pit bull, killing it.
08/04/18: Pit Bull Kills Woman
Chicago, IL - A 57-year old woman is dead after being mauled to death by a large pit bull, Chicago police said. The victim was in the 10100 block of South Calhoun Avenue in the South Deering neighborhood at 12:25 pm when the dog attacked, biting her neck and all over her body. A pair of police officers shot and killed the animal after it lunged at them. She was taken to University of Chicago Medical Center, where she was pronounced dead. Police continue to investigate.
ABC 7 reports that residents knew the victim as a "jack of all trades" type in the neighborhood, like cutting grass and going to get groceries for neighbors. She could always be counted on to offer a helping hand. She was about to cut grass when the pit bull violently attacked her. Chicago police and animal control officers remain at the scene of the deadly dog attack. Currently, officers are going door-to-door trying to find out who owned the pit bull and how the animal got loose.
"I would have never thought … that nobody -- my family -- it hit home. It hit home. That she lost her life because of a pit bull." - Laniece Jones
In it's evening broadcast, ABC 7 interviewed relative Laniece Jones who believes that special precautions should be in place for pit bulls. "If you have a pit bull, it should be put away, locked up -- something," she said. An unidentified neighbor said his friend Rick was attacked a week and a half ago by the same dog. "I don't know how [the owner] manages to get away with it, but he does. They should be held accountable for that. They really should. That's a murder," he said.
Unfortunately, Illinois has the worst track record in the country when it comes to filing criminal charges after a fatal dog attack. From 2005 to 2017, canines killed 16 people in the state. Pit bulls were responsible for 81% (13) of these deaths. No charges were brought in any of these cases, including the death of James Nevils III. The dog's owner was issued two infractions. The child's grandfather was appalled, "My grandson's gone forever, and all you get is two tickets?"
CBS Chicago confirmed the victim's name is Karen Brown. Her nickname was "Punchi." Family members say there will be a vigil at the scene of the fatal dog mauling Sunday at 6:00 pm.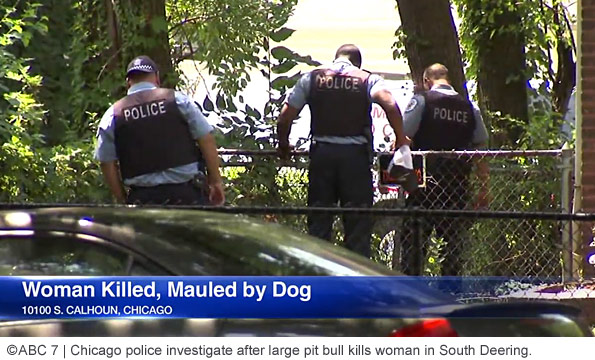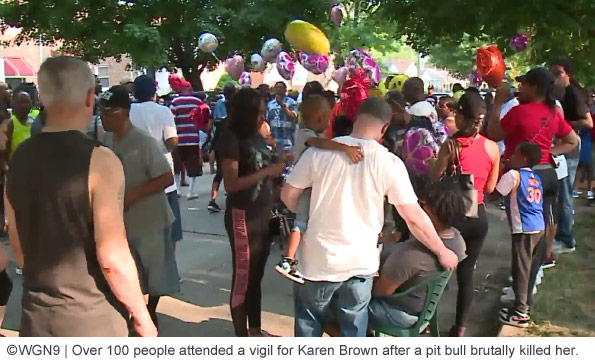 View the DogsBite.org Google Map:
Illinois Fatal Pit Bull Maulings
.
Related articles:
12/12/17: 2017 Dog Bite Fatality: Woman Mauled to Death by Her Pet Pit Bull in Alsip, Illinois
05/29/15: 2015 Dog Bite Fatality: 5-Year Old Boy Fatally Attacked by Pit Bull in Chicago
04/29/14: 2014 Dog Bite Fatality: 4-Year Old Girl Killed by Family Pit Bulls in Bloomington
---
Baseline reporting requirements:
Law enforcement departments across the United States should release consistent "baseline" information to the media and the public after each fatal dog mauling,
including these items
.