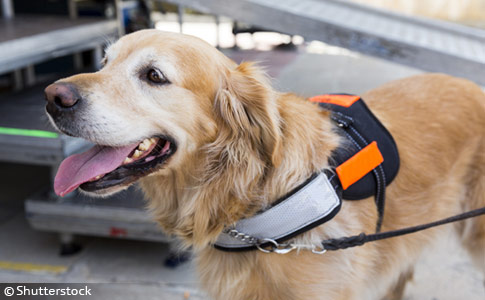 DogsBite.org - After Delta Air Lines issued a new policy on June 20, limiting emotional support dogs to one per person and banning pit bulls as service and support dogs, we reviewed top service dog organizations and their selected breed types. These dog breeds are overwhelmingly Labrador retrievers, golden retrievers, Labrador-golden mixes and standard poodles. Primarily, pit bull "breed advocate" groups, one who failed miserably, are pushing "pit bull service dogs."
Accreditation by Assistance Dogs International (ADI) is the highest standard of accreditation for service dog organizations. We selected portions of website statements from accredited groups and candidates of ADI accreditation about why breed choice matters in service dog work. We also selected informational statements from other sources that explain why pit bulls, guarding and protection breeds are poor choices for service dogs, especially psychiatric service dogs.
Common Themes About Pit Bull Service Dogs
Decide what is more important to you -- having a service dog to help you, or having a particular breed because you want to be a breed advocate.
Guarding, protection and fighting breeds are poor choices because many handlers with disabilities are not able to physically restrain them.
Pit bulls do not show temperament until adulthood, about the age of two. If one year in training has already been invested and that dog "defaults" to its hereditary breed traits -- dog aggression -- it becomes unusable.
Pit bulls and bully breeds create a social barrier instead of a neutral bridge between a disabled person and the community. Getting a service dog is supposed to be about making your life easier not more difficult.
What truly lies at the heart of Delta's new policy, however, is reflected in their statement: "untrained, pit bull-type dogs posing as both service and support animals are a potential safety risk." Tia Torres of Pit Bulls and Parolees addresses this on her adoption page in clear terms. Torres will not adopt one of her pit bulls to an individual "if your plans are to make it a service dog." Torres does not want her dogs placed into a situation that the dog may be unqualified for.
We will not adopt our dog to you, if your plans are to make it a "service dog". With too many people fraudulently obtaining "service dog vests" or fake "service dog trainers", we do not want our dog put into a situation that he/she may not be qualified for. - Adoption Process, Villalobos Rescue Center
Torres issuing this condition in July 2017 speaks volumes about the number of her fans hoping to abuse loopholes in the ADA and Air Carrier Access Act for breed advocacy purposes. Delta's new policy is aimed directly at these types, as well as the narcissistic types, such as Kimberly Ferrell of Silverton, whose registered service dog, a "bull terrier-mix," attacked three people in one year and the owner of an emotional support pit bull in Killeen that attacked two people in nine days.
Why Breed Choice Matters
This section highlights why breed choice matters in service work. We start with a quote from ADI that explains why a service dog should not be protective. Handi-Dogs Inc., next explains a fact about pit bulls that few, if any, animal shelters explain to an adopter: "Pit types can be genetically dog aggressive, and this may not show in the dog's temperament until it becomes an adult." Handi-Dogs also reminds that genetic breed characteristics cannot be "trained out" of a pit bull.
Assistance Dogs International - Protection/Working Breeds

An Assistance Dogs job is to make a disabled individual more able, not to protect them. The dog's presence is a natural deterrent. Because disabled people take their Assistance Dogs into public places and many are not able to physically restrain their dogs, the Assistance Dog must be safe for the public. Many dogs, especially working breeds, will sense their owner's disability and their vulnerability. These dogs can learn on their own to protect at inappropriate times. This can be compounded by an individual who doesn't recognize that they are unconsciously encouraging this behavior.
Handi-Dogs, Inc - Accredited by ADI

Pit Bull types (American Staffordshire Terrier, Staffordshire Bull Terrier, Pit mixes) are not recommended for service dog training for several reasons: 1). Terrier breeds can difficult to train for service work if the dog has the typical independent terrier temperament. Do not assume that the dog you choose will be the exception; 2). Pit types can be genetically dog aggressive, and this may not show in the dog's temperament until it becomes an adult. If this develops after you have invested a year in training, you will not be able to use the dog in public; 3). You are training a service dog to help make your life easier, not more difficult by facing municipal breed specific legislation, breed bans in rental housing, additional insurance costs, and public access challenges.

Training a service dog will require a commitment of time, energy, and money. All dogs are individuals, but do not assume that the individual dog you choose will be the exception to genetic breed characteristics, or that you can just "train it out of him." Choosing a breed with the genetic temperament for service work will greatly affect your success. You must decide what is more important to you -- having a service dog to help you, or having a particular breed because you like the way they look / had one as a child / want to be a breed advocate.
Clear Path for Veterans - Candidacy for ADI
BREED RESTRICTIONS FOR SERVICE DOG PLACEMENT AND TRAINING
Not all breeds are recommended for service dog training. Bully breeds or mixes can be a social barrier in providing a neutral bridge between the Veteran and the community. Bully breeds include but may not be limited to: American Staffordshire Terrier, Bull Terrier, American Bulldog and Bull Mastiff. Clear Path does not take a stance against bully breeds; however, these breeds are not recommended for our owner/trainer service dog program.
International Association of Assistance Dog Partners - IAADP

Breeds classified as Guard Dogs, Flock Guardians or Fighting Dogs have aggression related breed traits that are particularly worrisome. Assistance dog partners who do not have previous experience handling a dog with a strong Protection drive, a fierce Territorial instinct or a hereditary dog aggression problem should not attempt a partnership with one of these breeds. Those who do choose to work with one of these breeds must respect the darker side of its nature, learn how to avoid triggering it and never ignore the potential for a misunderstanding. Occasionally one hears of a Doberman or German Shepherd or a Rottweiler that seems to lack the normal hereditary breed traits that earned such dogs the reputation of being formidable guard dogs. But atypical specimens like that are extremely difficult to find, nor do they come with a lifetime guarantee. Realistically, your odds on a pup from those breeds growing up to be an adult that lacks his breed's guard dog instinct is very slim. Hereditary breed traits should always be considered part of the package when making a breed choice.1
Service Dog Society - Information Source

Do not choose breeds like Huskies, Rottweilers, Bull Breeds, or other breeds that are notoriously hard to train. You want to set yourself up for success. Successfully training a service dog is hard enough. It's crucial that you find a breed that matches your ability level to help stack the odds in your favor...

If you're looking for a psychiatric prospect that narrows down your options quite a bit. You don't want any breed prone to developing protective instincts (think German Shepherds, Dobermans, Rottweilers, Livestock Guardians, and other breeds known for their protective nature). The trouble with protective breeds is that often that instinct doesn't kick in until the dog has matured. Therefore, you could put around 2 years of training into a dog just to have an otherwise amazing service dog in training become extremely protective and subsequently have to be washed out. You'd end up losing two years of time and money and gain a lot of heartbreak. It simply isn't worth the risk.
"Breed Advocacy" and Pit Bull Service Dogs
This section is an extension of the "psychiatric prospect" aspect and highlights a real world example of a group's attempt to train rescue pit bulls for psychiatric service dog work. In their own words, they describe why pit bulls are unsuitable as psychiatric service dogs due to "reflecting the symptoms of their handler's PTSD." They also note that "the longer the team spends together, the more the dog's training would 'unravel' and revert to the genetic disposition of the dog."
Pit Bulls 4 Patriots was launched in 2011 as a specialty group only training rescued pit bulls to help military vets with PTSD. However, in less than a year, their pilot program fully broke down due to problems with the pit bull breed. By 2012, the group resurfaced under the name, Hounds 4 Heroes, specializing in only using rescued greyhounds to help military vets with PTSD. Both sites are now offline, but we captured their "explanation" before they shut down Pit Bulls 4 Patriots.
What began as a "breed advocacy" service dog stunt in 2011, ended in near disaster. The pit bulls "sensitivity" puts them at risk of becoming "unbalanced by constantly reflecting the symptoms of their handler's PTSD," they determined. Because most of their dogs "washed out," the group was then stuck with pit bulls they could not adopt out. "The founders' home became filled with dogs and we were thus unable to take in new service dog candidates to train," states the group.
On the dog side we learned a lot from the very capable, loving and loyal pit bull terrier type dogs in our program. It became apparent that this is perhaps more difficult for the dog than any other type of service because of the extreme emotional/energy state of the handler with Post Traumatic Stress Disorder. We have found that over a period of time the dogs' sensitivity, which is normally a wonderful trait, puts them at risk of becoming unbalanced by constantly reflecting the symptoms of their handler's PTSD. We became clear that we need dogs who are able to provide calm in any situation rather than matching the handler's feelings. Also, it is critical that PTSD service dogs can adapt and recover quickly from stress, and to be resilient enough to do that again and again.

All service dog programs have washouts -- really great dogs who need to be diverted to a different path. A great deal of time, energy and money went into finding new situations for our wonderful pit bull terrier "washouts". The founders' home became filled with dogs and we were thus unable to take in new service dog candidates to train. We realized our program needs to work with dogs for whom we can quickly and easily find a permanent home or a foster home when need be. - Pit Bulls 4 Patriots, captured January 5, 2012 (www.pitbulls4patriots.org)
The founders provided more information after they started Hounds 4 Heroes. Blogger Craven Desires captured these statements in a 2015 post. While working with greyhounds, the trainers discovered they did "not have to train over any strong genetically bred instincts and drives (such as protection/guarding, being territorial, herding, dog aggression, or hunting)" and that the genetic instincts and drive the dog defaults to (fighting breed vs. greyhound) is a critical matter of safety.
When living with someone who has fluctuating weak energy and leadership skills, such as anyone with a psychiatric disorder, a dog will revert to its genetically bred instincts and/or to default behaviors learned in puppyhood. Skilled training can override weaknesses in temperament and high-drive instinctual behaviors, but our PTSD handlers will not be able to maintain training over the top of these things. The longer the team spends together, the more the dog's training would "unravel" and revert to the genetic predisposition of the dog. Examples of this would be an unbalanced German shepherd who falls back inappropriately to his instinct to guard and bite when threatened, or a herding dog who neurotically begins nipping at the feet and heels of anything that moves around his person. - Hounds 4 Heroes, captured February 12, 2015 (www.h4htb.org)
Breeds Chosen by Accredited Organizations
This section highlights dog breeds most often selected by ADI accredited organizations. There certainly are a number of other breeds that can be trained to perform service dog tasks, the priorities being: easy to train, enjoys working, even temperament that will last the dog's life time, low arousal, low prey drive, good problem solving skills, and if the dog should ever "default" to its hereditary breed traits and disposition, both must be safe for the handler and the public.
America's VetDogs - Accredited by ADI
Guide Dog Foundation dogs learn how to lead a person in a straight line, find and follow a clear path, maneuver around obstacles (both on the ground and overhead), and stop at changes in elevation, such as curbs and stairs. They are also trained to be extremely well behaved when in public places. We use Labrador Retrievers, Golden Retrievers, Labrador/Golden crosses. Standard Poodles are available for individuals or their immediate family member's with documented allergies.
Southeast Guide Dogs - Accredited by ADI

These working dogs are smart, fit, and highly trained, like elite athletes prepared for the challenge. Through cutting-edge genetics and breeding, innovative puppy education, positive home experiences, and expert training, we're creating healthier, stronger, more intelligent dogs that love people, love to learn, and live to please. Through our advanced pedigrees of Labradors, golden retrievers, and goldadors, we're changing the world, one extraordinary dog at a time.
Warrior Canine Connection - Accredited by ADI
Warrior Canine Connection's (WCC) dogs are Golden and Labrador Retrievers specially bred for health, temperament and longevity. The WCC Director of Dog Programs researches at least 12 generations of each dog's pedigree to obtain an accurate picture of his or her genetic potential to become a successful service dog for a wounded Warrior.
Guide Dog Foundation - Accredited by ADI
The dogs we breed at the Foundation have a success rate for guide and service dog work that is well over twice that of dogs donated as puppies by breeders or from a shelter. By breeding our own dogs, we have a proven history that goes back many generations to assess a dog's temperament, health, and overall suitability for guide and service work ... Our breeding colony has over 100 dogs, the majority of which are Labrador Retrievers. The other breeds we use include: Golden Retrievers, Standard Poodles, Lab/Golden crosses.
Autism Service Dogs - Accredited by ADI
ADS dogs are of the highest quality, with optimal health, temperament, maturity and adaptability. The types of dogs trained are Labrador retrievers, golden retrievers and some Standard Poodles (specifically for families with allergies).
COPE Service Dogs - Accredited by ADI
For the most part, COPE has trained Golden Retrievers, but has also worked with Labrador Retrievers, Standard Poodles and Barbets. The breeding and training program reinforces desired traits in a service dog, including work ethic, low arousal, low prey drive and good problem solving skills.
Pacific Assistance Dogs - Accredited by ADI
Our Service Dogs usually need to be of a larger, solid build, and are often Labrador Retrievers or Golden Retrievers ... Our Hearing Dogs are usually smaller breed dogs (under 40 pounds), but occasionally we will train a smaller Labrador or Golden Retriever if the dog has a suitable temperament.
Summary
There is a reason why the public correlates Labradors and goldens with service dogs; they are the two most popular breeds used in service dog work. There is a reason why the public is distrustful when being told, "My pit bull is a service dog." Because only "breed advocate" owners and groups push pit bull service dogs, whether the dog is trained or not. Whereas the goal of a legitimate service dog training group is to produce amazing, productive and safe dogs for the truly disabled.
The level of honesty shown by legitimate service dog training organizations about breed suitability cannot be emphasized enough either. Shelters and adoption groups rarely, if ever, explain to a potential adopter that temperament in pit bulls may not show until the dog reaches adulthood, about the age of two. It is no surprise that the most common age of an unwanted pit bull in the shelter system is 1.5 to 2-years old, according to multiple shelter surveys by Animals 24-7.2
"When Ruben gets upset, the dog gets upset." - Stalking victim Deborah Farmer
Finally, we selected two videos for contrast. The first demonstrates how an alleged pit bull service dog and its owner respond to a conflict on a crowded New York subway -- the pit bull attacks. Trained service dogs are impervious to conflict and seek to calm their handler or help their handler navigate away from threats. After Ruben Roncallo was arrested and charged for the subway attack, he was re-arrested on a stalking charge, where he used his dog to harass a woman.3
The second video demonstrates a goldendoodle passing a Public Access Test. Certification of passing this test is not required by the government under the ADA or Air Carrier Access Act, but passing it is required to meet the minimum training standards of the IAADP and is a benchmark for service dog training groups and those who are self-training their service dogs. The 9.5 minute video shows just how high of a standard these dogs are held to when working out in public.
1
While the ADI discourages the use of protection breeds as service dogs, the IAADP strictly prohibits protection trained or aggressive dogs: "IAADP Policy Prohibiting the Enrollment of Protection Trained or Aggressive dogs - Any dog who is protection trained, attack trained or one who exhibits aggressive behavior in violation of our Minimum Training Standards for Public Access is NOT eligible for enrollment as an Assistance Dog in IAADP, or renewal, no matter what disability related tasks or alerts the dog is said to perform. If an IAADP Partner member's dog later displays aggressive behavior and cannot be rehabilitated within a reasonable time period, ethically, that dog should be retired as unfit for duty outside the home, as the dog does not qualify as an assistance dog under our Minimum Training Standards for Public Access. Non aggressive barking as a trained behavior will be acceptable in appropriate situations." (An older post addresses this as well: 7-Year Old Boy Killed by Trained Protection Dog)
2
Merritt Clifton, "Obsessed about pit bulls?," Animals 24-7, September 10, 2014 (www.animals24-7.org)
1
The subway attack by Ruben Roncallo's fake service pit bull and his arrest occurred in late April. At that time, Roncallo had 311 complaints lodged against him. As of June 7, Roncallo continues to flaunt his fake service pit bull in a transportation venue and as of July 3, in a restaurant as well. Both are violations of the ADA. This is a known attack dog. Any business can kick out this dog because it poses a "direct threat" to their employees and patrons.
Related articles:
06/23/18: Delta Bans Pit Bull-Type Dogs as Service, Support Animals in the Cabin
01/25/18: Delta Tightens Reins on Untrained 'Support' Dogs in the Aircraft Cabin
07/14/17: Delta Passenger is Severely Attacked by an Unrestrained Emotional Support Dog