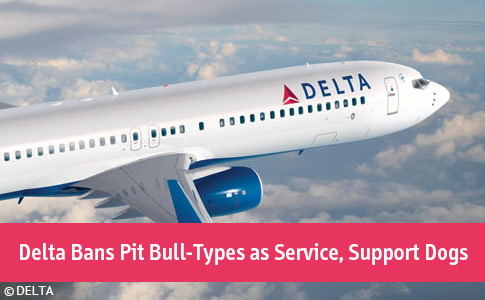 Starting on July 10, Delta bans pit bull-type dogs as service and support animals.
Delta's News Release
Atlanta, GA - On June 20, Delta Air Lines announced increase restrictions on service and support animals. The restrictions include limiting each passenger to one emotional support animal per flight and prohibiting pit bull-type dogs as service or support animals. "These updates, which come as the peak summer travel season is underway, are the direct result of growing safety concerns following recent incidents in which several employees were bitten," states the Delta news release.
This announcement follows Delta's "enhanced requirements" for passengers flying with service and emotional support animals (ESA) that went into effect in March. The new policy requires that passengers traveling with an ESA or psychiatric service animal must submit a signed Veterinary Health Form (proof of rabies and distemper vaccinations) and a signed Confirmation of Animal Training form. Passengers with service animals must also provide proof of immunizations.
Both policy changes came after an alleged "support" dog repeatedly attacked a passenger in the face in June 2017. It was an escalating violent attack. The dog's owner could not stop his dog from mauling the victim, nor did the owner heed to multiple warnings the victim asked before the attack, "Is this dog going to bite me?" The victim was trapped in a window seat. The 50-pound dog was on its owner's lap seated next to him. Last year, we issued a special report about this attack.
The March enhanced policy also came after an 84 percent increase in reported incidents involving service and support animals since 2016, including urination, defecation and biting, states the news release. Currently, public comment is being taken by the Department of Transportation (through July 9) to determine the "appropriate definition of a service animal" and ways to reduce the likelihood that passengers will falsely claim that their pets are service and support animals.
Delta Bans Pit Bull-Type Dogs as Service, Support Animals
Delta's June 20 announcement, which prohibits pit bull-type dogs as service or support animals, is due to "growing safety concerns" after two employees were bitten by a passenger's emotional support animal last week. The Atlanta Journal-Constitution -- which is based in Atlanta along with Delta -- provided more details. Apparently, a passenger attempted to board a plane in Atlanta with not one, but two alleged emotional support pit bulls. Two Delta crew members were bitten.
The incident occurred in Atlanta during boarding of a flight to Tokyo Narita, and one employee was medically treated on site, according to the airline. The passenger with two pit bulls was removed from the flight.

Delta said when the new policy takes effect it will no longer accept "pit bull type dogs" as service or support animals. - Atlanta Journal-Constitution
The tipping point of the ban involved a passenger abusing the loophole in the Air Carrier Access Act that allows emotional support animals (ESA) in aircraft cabins if the passenger has a recognized mental health-related disability. Many of those gaming the system with ESAs claim to have a disabling mental health condition. Numerous for-profit entities, like Certapet.com, offer private online assessment for a fee to obtain an ESA letter from a mental health professional.
Gaining an ESA letter from a mental health professional can begin by taking a 5-minute online quiz. We answered "rarely", "no" and "never" to the key questions and still qualified as a "good candidate." The next step is to purchase the ESA letter ($149 to $199) and a $25 review by a mental health professional, who screens a longer online assessment test. CertaPet.com promises: No pet fees or a security deposit in housing, no airline fees and the letter lasts one full year. - DogsBite.org, July 14, 2017
Delta clarified the pit bull ban even further to People. "We must err on the side of safety. Most recently, two Delta employees were bit by a pit bull traveling as a support animal last week. We struggled with the decision to expand the ban to service animals, knowing that some customers have legitimate needs, but we have determined that untrained, pit bull-type dogs posing as both service and support animals are a potential safety risk," Delta said in a statement to People.
Airlines are Not Subject to the Americans with Disability Act
In the frequently asked questions about service animals and the ADA, the FAQ points out that airlines fall under the Air Carrier Access Act. Question 37 asks, "Do commercial airlines have to comply with the ADA?" The answer: "No. The Air Carrier Access Act is the Federal law that protects the rights of people with disabilities in air travel. For information or to file a complaint, contact the U.S. Department of Transportation, Aviation Consumer Protection Division..."
The Air Carrier Access Act (ACAA) is entirely different than the ADA because it is specific to air travel, where safety standards are several orders of magnitude greater than they are on the ground. Delta was correct in stating that "untrained, pit bull-type dogs posing as both service and support animals are a potential safety risk." Under the ACAA, the prohibition of pit bulls is apparently legal, as a safety standard, (§382.117) and Delta is free to "err on the side of safety."
(f) You are never required to accommodate certain unusual service animals (e.g., snakes, other reptiles, ferrets, rodents, and spiders) as service animals in the cabin. With respect to all other animals, including unusual or exotic animals that are presented as service animals (e.g., miniature horses, pigs, monkeys), as a carrier you must determine whether any factors preclude their traveling in the cabin as service animals (e.g., whether the animal is too large or heavy to be accommodated in the cabin, whether the animal would pose a direct threat to the health or safety of others, whether it would cause a significant disruption of cabin service, whether it would be prohibited from entering a foreign country that is the flight's destination). If no such factors preclude the animal from traveling in the cabin... - The Air Carrier Access Act
The Fall Out from "Celebrities" and "Animal Groups"
First, one must consider that neither celebrities nor animal groups have any expertise in aviation safety. Neither have expertise in human safety either. To state this more concretely, aviation safety experts make policy decisions for what is safe -- and when to err on the side of safety -- during aircraft takeoff, landing and while the plane is traveling over 500 miles per hour at 30,000 feet in the air. Air travel has the highest standard of safety in transportation available to the public.
So, Shorty Rossi, an actor who appeared on the now defunct series Pit Boss, complaining to Delta on social media is childish. Rossi is not an aviation safety expert. In fact, Rossi only cares about himself and his pit bull. Delta takes responsibility for the safety of ALL of their passengers and employees for every single flight, where zero margin of error is allowed -- a mighty undertaking. Delta has more than 15,000 daily departures and over 180 million passengers annually.
In the over 400 comments on Rossi's post, one pit bull owner, Lorraine Weiss, states, "This was Delta's response to my email. Seriously?" No doubt Weiss was taking instructions from Rossi. That was the point of his post. Rossi wanted to create a fury in his base of pit bull supporters and direct them to contact information of Delta officials. Delta handled Weiss' complaint with grace, stating that they had worked with their Advisory Board on Disabilities to develop the new policy.
Hello Lorraine, RE: Case 01211022 Thank you for sharing this information and the photo of your dogs however, we have worked with our Advisory Board on Disabilities to develop this more detailed policy. Pit bull type dogs tend to not behave as well in small spaces and we feel not allowing them is in the best interest of our customers and employees. And unfortunately, there have been at least two instances where a pit bull bit another passenger and our crew member and safety is our first priority. Again, thank you for writing and know that I will share your feedback with those that make these policies. - Delta Air Lines
On June 21, the president of the ASPCA, Matt Bershadker, an avid pit bull supporter, chimed in as well. The sole mission of the ASPCA is "to provide effective means for the prevention of cruelty to animals throughout the United States." The ASPCA has no mission relevant to human safety and certainly no expertise in aviation safety. So Bershadker's fraudulent claim that Delta's pit bull ban "spreads false and life-threatening stereotypes" is about as hollow as a drum, given the source.
While pit bull advocacy and propaganda is free to rage "on the ground," it has limitations in commercial air travel space. In fact, it stops when you enter one of Delta's aircrafts starting on July 10. Delta aviation safety experts have determined that "untrained, pit bull-type dogs posing as both service and support animals are a potential safety risk" to their passengers and crew members. Delta no longer accepts them in the cabin nor do they accept them traveling in cargo.
---

Some of the dog breeds most often categorized as pit bull-type dogs affected by Delta's ban.
---
On June 23, 2018, commenter Gaius Marius indicated he was a witness on the flight from Atlanta to Tokyo when the Delta flight attendant was attacked in the face by a "support" pit bull. The comment was left on a June 22 Washington Post article that interviewed players of the pit bull lobby. This attack, in part, led to Delta's policy of banning pit bulls as service and support dogs.
Commenter Gaius Marius:

I was on a Delta flight from Atlanta to Tokyo last thursday in which a flight attendant was bitten *in the face* by a medium sized pit bull-style dog (I'm not an expert on dog breeds) just before departure. While we were all settling down in our seats I heard a bark and a commotion towards the rear of the plane, followed by a flight attendant running past my seat with a bloody napkin or handkerchief held to her face. In a few moments the dog's owner was escorted up the opposite aisle while she clasped the dog's muzzle in one hand, and then both were sent off the plane. She had a smaller second dog, also unmuzzled, that was walked off the flight by another airline agent. According to the flight attendants I later talked to, the flight attendant was also taken off the flight to the nearest hospital.

The flight was delayed by ~1-hour as we waited for a replacement flight attendant to be located, but that's not important. What is important is the question: why is an airline allowing fairly dangerous animals to be on board a crowded airplane for a long duration (in this case, 11-hour) flight without at least being muzzled? In such situations most dogs can feel threatened and become aggressive and unpredictable. Would you like to sit next to a pit bull for even a short flight under these conditions? To make matters worse, the woman was allowed to bring not one but *two* unmuzzled dogs. This is *crazy*.

I can understand that many people have anxiety issues and that comfort animals can mitigate this. But not at the expense of the safety of others on board. Flying is stressful enough (and I have a basic fear of flying, though Martinis allow me to cope) without having to worry about your face being ripped off by someone's "comfort pit bull".
Related articles:
01/25/18: Delta Tightens Reins on Untrained 'Support' Dogs in the Aircraft Cabin
07/14/17: The Friendly Skies Fade After a Delta Passenger is Severely Attacked by an Unrestrained 'Emotional Support Dog'