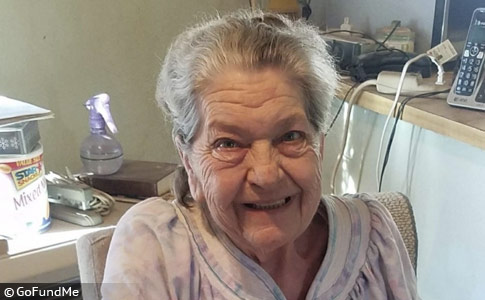 Teena Mawhorter, 74, died after being attacked by a family pit bull-mix in September.
Mount Shasta, CA - In mid September, we received a tip that a woman died after being attacked by a pit bull in the Mount Shasta area. By searching through dispatch logs on Webcastify, we obtained a September 6 recording of a 74-year old female "bitten by a dog in the head" in the 5000 block of Serrano Drive. We then learned that a resident of this home had died on September 6. We sent a public information request to the Siskiyou County Sheriff's Office and the coroner.
On October 10, we received two reports from the Siskiyou County Sheriff's Office, as well as a copy of the bite reports. Teena Carol Mawhorter, 74-years old, was viciously attacked by a family pit bull-mix about 10:30 am that morning. Doctors pronounced her dead at 11:58 am. The cause of death was determined to be "severe blunt facial and head trauma." A contributing factor was heart disease. The dog also attacked one of her daughters (Victim 2), who tried to stop the attack.
Victim 2 witnessed the violent mauling, which is briefly described in the sheriff's report. Victim 2 also said the dog was "usually friendly."
Mawhorter was in the kitchen seated in a chair when the attack occurred, states the report. Victim 2 was taking Mawhorter a glass of water when she saw her reach under the table to pet her dog. "The dog then started attacking Mawhorter causing her to fall out of the kitchen chair," states the report. "The dog viciously attacked Mawhorter and was biting her face and the area of the back of her head." When Victim 2 intervened to stop the attack the dog attacked her too, states the report.
Both Mawhorter and Victim 2 were on the kitchen floor being attacked by the pit bull-mix when a male roommate pulled the dog away. Victim 2 had a 4 inch laceration on the back of her head and blood covering the left side of her face and both arms, states the report. Victim 2's account was taken at the scene of the attack. After emergency medical responders performed CPR on Mawhorter for 35 minutes, both women were taken to Mercy Medical Center in Mount Shasta.
Mawhorter suffered severe injuries to her face and the back of her head. The dog also ripped off a portion of her scalp. The report also describes a large amount of blood at the scene. Mawhorter was declared dead at 11:58 am at Mercy. An autopsy was conducted five days later. The cause of death was determined to be "severe blunt facial and head trauma." A contributing factor of Atherosclerosis heart disease was also determined. The manner of death was accidental.
Victim 2 is one of two surviving daughters of Mawhorter. The other daughter, Paula Jones, is the owner of the pit bull-mix, and also resides at the home on Serrano Drive where the attack occurred, according to the animal bite report. The attacking dog is listed as a brown and white "pit bull, collie terrier." Since her mother's death, Jones continues to have a photo featured on her Facebook page of a brown and white pit bull-mix. Extended family members also own pit bulls.
After locating the dispatch recording from Siskiyou County Fire and learning the physical address of the attack, we were able to quickly locate more information prior to receiving confirmation from the sheriff's office. A Facebook Memorial page stated that Mawhorter died on September 6. Her family had also started a GoFundMe page to help with funeral costs. There is no mention anywhere of a violent dog mauling. Nor was there any media coverage of this fatal dog attack.
---
---
In 2017, we uncovered two unreported fatal dog maulings, one in Illinois, the other in Florida. Two deaths by sepsis due to untreated severe dog bite injuries were discovered in 2017 involving previous years and two deaths involving aggressive non-bite injuries (struck by dog death) were discovered in Ohio and Arkansas. Cases involving sepsis and non-bite injuries are excluded from our statistics. Qualifying struck by dog deaths may be added to our data set at a future time.
Anonymous tips about fatal dog maulings are confidential and can be sent to us at any time.
View the DogsBite.org Google State Map:
California Fatal Pit Bull Attacks
.
Related articles:
07/02/18: 2018 Dog Bite Fatality: 'Rampaging Attack,' Dog Attacks Two, Killing One, in Arcata
05/14/18: 2017 Dog Bite Fatality: 21-Year Old Man Dies After Dog Attack in Quincy, Illinois
11/13/17: 2017 Dog Bite Fatality: Woman Dies in Palm Beach County After Being Attacked...
---
Baseline reporting requirements:
Law enforcement departments across the United States should release consistent "baseline" information to the media and the public after each fatal dog mauling,
including these items
.