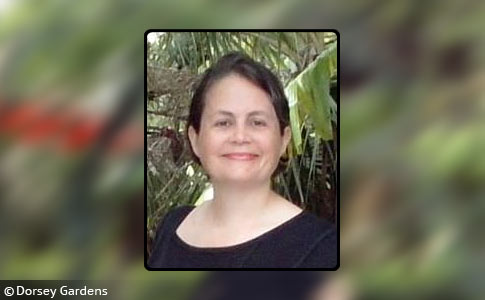 Grace Walks, 41-years old, died after being attacked by family dogs in Lake Worth.
Report Unveils Fatality
Lake Worth, FL - On November 1, Contact 5 published an investigation into dangerous dogs in Palm Beach County. By examining dog bite records, they discovered there were over 1,700 dog bites in the county last year, but less than 100 dogs on the dangerous dog list. They created an interactive Google Map so that county residents can see where each dangerous dog resides. Through their investigative research, they also uncovered a fatal dog attack in Lake Worth.
"While digging through dog bite data for this story, Contact 5 found a fatal dog attack in Lake Worth which happened earlier this year. Authorities believe two family dogs attacked 41-year-old Grace Walks, a woman who knew the animals and loved them. Walks later died and the dogs were euthanized." - Merris Badcock, WPTV.com, November 1, 2017
After filing a public records request, we received the dog bite report from Palm Beach County Animal Care and Control on November 9 pertaining to Walks' death. The attack occurred on August 27 on the 900 block of Pinto Drive. Walks was pronounced dead at the scene. Walks resided at the home where the attack occurred. One or both family dogs were involved, a 6-year old male American bulldog, named Max, and a 9-year old female pit bull, named Holly.
Walks lived at the home with her father and mother-in-law. Neither was home during the attack. Both dogs were registered to her mother-in-law. A neighbor found her body at 8:15 am inside her fenced-in yard. Both dogs were loose in the area; he tied up Max and called police. The pit bull remained hiding beneath a shed on the property, forcing the animal control officer stand watch to ensure it did not come onto the scene where deputies and the medical examiner were working.
"I then met with Dough Jenkins, Forensic Investigator with the Medical Examiner's Office, and he stated all the wounds he observed were from the dogs, and that she died quickly. The deceased did have a dislocated shoulder but he was unsure whether that was from her fall to the ground or from a dog," states the animal control report. After the body was removed from the scene, and with the help of the mother-in-law, law enforcement was able to load the pit bull into the truck.
The Following Day:
8/28/17 - "I have spoken with Doug Jenkins from the PBC Medical Examiners Office. I advised that both dogs have been euthanized and that we are prepared to assist with anything they need. He stated that he had consulted Dr. Bell, the Chief Medical Examiner, and advised that they do not require anything further from our agency or from the bodies of these dogs. He explained that since both dogs are now deceased and there is no criminal element to this investigation, neither molds of their bite pattern nor additional DNA samples will be necessary. He advised that if the cause of death is determined to be from animal bites, it will be assumed that it was one or both of these dogs who were involved, since there were no other animals and the property was securely fenced. Therefore it is now ok to proceed with rabies testing for both dogs and ok to dispose of the bodies of both dogs." - Capt. David Walesky, Palm Beach County Animal Care and Control
Both dogs tested negative for rabies. As of November 13, the cause of death is pending. We also filed a public records request for this information. What also remains unknown is the time of the dog attack and her death. The mother-in-law told the animal control officer, "she and her husband had been out of town last night." Thus, apparently no one witnessed the attack. We do know that "she died quickly" of the wounds observed by a medical examiner as being inflicted by the dogs.
Why Initially Unreported?
We don't know why local media did not report this case when it occurred. In late August, most southeasterners were focused on Hurricane Harvey, which dropped over 40 inches of rain in parts of Texas and over 50 inches in Houston. Over 400 square miles in Harris County were submerged as the rain poured in from August 25 to 29 and catastrophic flooding occurred. It just so happens, Contact 5 located Walks' death while undertaking their larger investigation into dangerous dogs.
---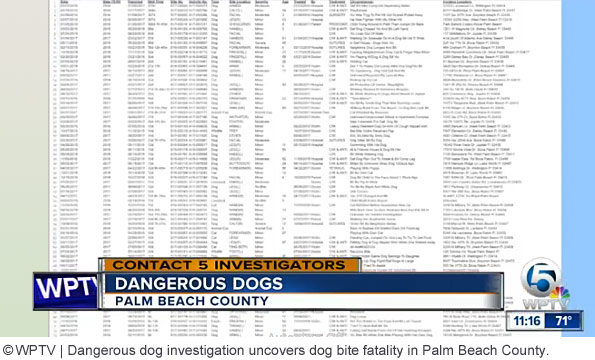 View the DogsBite.org Google Map:
Florida Fatal Pit Bull Maulings
.
Related articles:
05/16/16: 2016 Dog Bite Fatality: Man Mauled to Death by Pack of Dogs in Miami-Dade County
03/30/16: 2015 Dog Bite Fatality: Family Dogs Savagely Kill Elderly Woman in Miami-Dade
10/02/14: 2014 Dog Bite Fatality: Dog Bite Injuries Contribute to Florida Woman's Death
---
Baseline reporting requirements:
Law enforcement departments across the United States should release consistent "baseline" information to the media and the public after each fatal dog mauling,
including these items
.