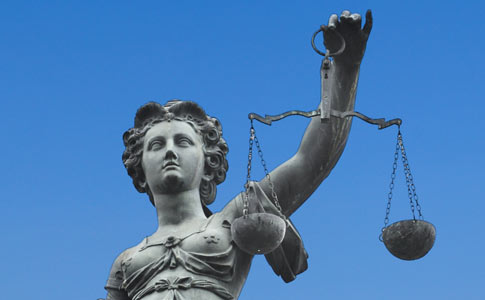 The estate of Shirley Wright is suing those believed to be the keepers of the dogs.
Lawsuit Filing
Toledo, OH - Last Wednesday, the family of a Toledo woman who died a month after she was badly injured by a dog filed a civil complaint in Lucas County Court of Common Pleas. Rebecca Best, the executrix of the estate of Shirley Wright, alleges in the complaint that Susanne Barwiler is the owner of the home where defendants Anthony Foust and Holly Foust reside, located on Ogden Avenue in Toledo, and that Barwiler herself resides in the home for at least part of the year.
"Defendants, Susanne Barwiler, Anthony Foust and Holly Foust, are, upon information and belief, were owners/keepers/harborers of a vicious dog(s)," states the complaint. The Lucas County Coroner ruled in August that Shirley Wright, 89, died June 8 due to "gastrointestinal hemorrhage, deceased was knocked down by neighbor's dog." The manner of death was ruled accidental. This type of injury resulting in death falls under "struck by dog," not death due to dog bite injuries.
      "On or about May 6, 2017 at approximately 5:00 pm, Shirley Wright was doing yard work on her property, which was located adjacent to the defendant's property at 626 Ogden Ave., Toledo, OH 43609. Defendant, Anthony Foust, was sitting on his front porch with his two pit-bull dogs. As Ms. Wright was walking towards the driveway, one of the defendant's dogs charged at her, jumping up on her left side, biting her, mauling her and causing her to fall to the concrete.
As a direct consequence of the attack, Shirley Wright, suffered severe and painful injuries, the complications of which directly resulted in her death. Her injuries included but are not limited to right hand swelling with fractured middle finger; a fracture of the right shoulder; and a fracture of the right hip."
Plaintiff Rebecca Best is seeking an amount "greatly in excess of twenty-five thousand dollars ($25,000.00) per defendant," states the lawsuit, "as well as for all costs of this action, any and all applicable interests, plaintiff's reasonable attorney fees, as well as any and all other such relief as this Honorable Court deems appropriate, just, and equitable." The lawsuit filing, which demands a jury trial, was assigned to Judge Linda J. Jennings and will be heard at a date in the future.
CDC Wonder Database
DogsBite.org does not include "struck by dog" deaths in our dog bite fatality statistics or cases involving non-bite or minor bite injury. However, we do track them when we learn about them. The way that we check our statistics every few years to ensure we are not underreporting is through CDC Wonder Search, which includes the combined number of individuals killed after being "bitten or struck by a dog" (Code W54). CDC Wonder results do not separate out the two scenarios.1
Thus, CDC Wonder results should always be slightly higher than ours, as we exclude "struck by dog" and non-bite injury deaths. - DogsBite.org
Other cases we have written about previously that could qualify as "struck by dog" deaths include a 33-year old letter carrier who died after a rottweiler ambushed him, causing him to fall and suffer a fatal head injury. The attack occurred in 2010 in Oceanside, California. In 2009, Plainfield Animal Control Officer Theresa Foss was hospitalized with a head injury after being knocked to the ground by an aggressive pit bull on September 29. She died while hospitalized on October 8.
One of the Foust's Pit Bulls
A family member posted one of their pit bulls to Facebook on January 24, 2017. The dog is seen sitting on the porch of their home on Ogden Avenue. Wright was attacked by one of the pit bulls just over three months later. The lawsuit states the defendants "were negligent by failing to keep and maintain reasonable control of their dog(s) while unconfined and/or untethered, thereby allowing them to roam free with the potential to cause physical bodily harm to another person."
---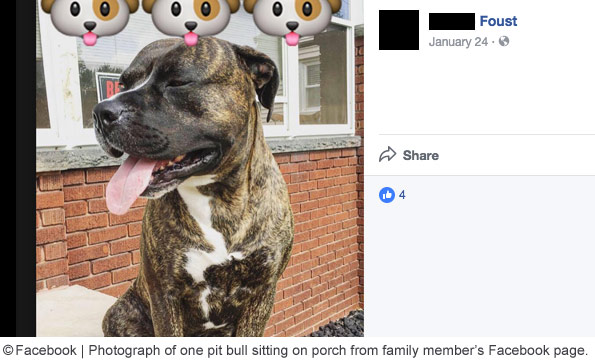 Related articles:
09/29/17: 2017 Dog Bite Fatality: Family Pit Bull Fatally Mauls Infant in Knox County, Ohio
04/26/17: 2017 Dog Bite Fatality: Pit Bull Breaks Chain, Attacks and Kills Man in Dayton, Ohio