Father Woke Up to Baby Dead in its Bassinet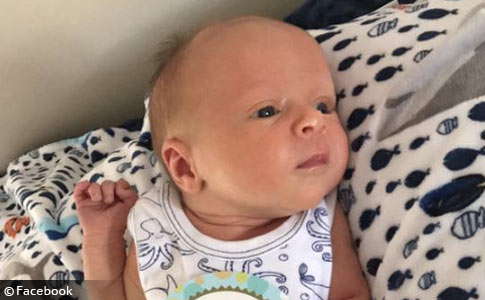 Barrett Hagans, 1-month old, was mauled to death by a family pit bull in Pike Township.
No Criminal Charges
UPDATE 09/29/17: After a father awoke last week to his 1-month old baby mauled to death by a family dog, Knox County Prosecutor Chip McConville announced that no charges would be filed. "Based upon the autopsy results, there is no reason to believe that this child's death was caused by anything other than a dog attack," he said. Barrett Hagans was attacked and killed by a family pit bull of 7-years as he slept in his bassinet. The dog had no documented history of aggression.

"While these events are horrifying, and perhaps preventable, they do not rise to the level of criminal conduct." - Knox County Prosecutor Chip McConville
Painfully, the baby's father, Teddy Hagans, was alone overnight for the first time with his infant son and his two pit bulls when the attack occurred, reports The Columbus Dispatch. The article also shows us why criminal charges were initially anticipated. According to McConville, police found dozens of empty beer cans, drug paraphernalia and a back room littered with "so much urine and feces in it that I could not breathe due to the odor," an investigator noted, reports The Dispatch.
As typical after many fatal dog attacks, the prosecutor echoed the same lack of evidence that is often required to file criminal charges. The father would have had to have knowledge of the dog's vicious propensities, posing a substantial risk to the child, and failed to keep the baby safe. Prior to 2012, Ohio state law designated all pit bulls "vicious." Had this law still been in place, McConville would have had a sturdier case, along with the appalling conditions inside the father's home.
09/27/17: Death by Dog Attack
The Knox County Coroner ruled that a 1-month old baby boy found dead in its bassinet last week died due to injuries suffered in a dog mauling. Barrett Hagans died from "extensive blunt and crush force injuries with puncture injuries" inflicted by a male pitbull/pitbull mix, a press release from Knox County Coroner Dr. Jennifer Ogle said Wednesday. The autopsy, conducted one day after the fatal pit bull mauling, found no other trauma besides what was inflicted by the family dog.
The baby's death was reported by his father, Teddy Hagans, 25, at 6:10 am on September 20. According to Ogle, the baby's bassinet was located in the father's bedroom. The pit bull fatally attacked the baby while his father slept. The baby's head was so mutilated by the time of the 911 call, the father did not even attempt CPR, according to 911 recordings examined by The Columbus Dispatch. At the time of the attack, the baby's mother, Courtney Cole, 23, was not at the home.
Authorities removed two family pit bulls from Hagans' residence after the mauling. Both animals were "euthanized for examination" via a court-ordered search warrant and the contents of their stomachs were examined. A previous report from Mount Vernon News states there were no prior incidents reported to the Knox County Sheriff's Officer or the Knox County Dog Warden involving the two pit bulls at the home. The status of the criminal investigation, presumably, is ongoing.
09/20/17: Fatal Dog Mauling Suspected
Mount Vernon, OH - A 1-month old infant is dead after what is believed to be dog mauling. Early Wednesday, the Knox County Sheriff's Office responded to a call of an infant killed by a dog in the 16000 block of Wooster Road in Pike Township. Sheriff's deputies, the Knox County Coroner's Office and the Ohio Bureau of Criminal Investigation are investigating the baby's death, according to a press release. The Knox County Dog Warden has removed two dogs from the residence.
In a 911 call, the baby's father stated his son is dead and that the dog killed the baby, reports Mount Vernon News. The death of an infant nearly always initiates a full homicide investigation no matter what the baby's caretaker said in a 911 call or told arriving law enforcement officers. The coroner's office is expected make a ruling on the cause and manner of death. No other information has been released at this time, including the breeds of dogs that were removed from the home.
Late Afternoon Updates
The Columbus Dispatch reports that both dogs seized were pit bulls. A statement by Knox County Prosecutor Chip McConville simply says, "There is probably more that we don't know than what we do know right now." A report from WCMH plays part of the 911 call, which identified the caller as Teddy Hagans. He said he "woke up to find his baby dead in his bassinet this morning." This could indicate culpability for the father. Police continue to investigate and collect evidence.

Video: The male caller in the 911 call identified himself as Teddy Hagans. And said that he woke up to find his baby dead in his bassinet this morning. He described a gruesome scene and told the police dispatcher that his dog was responsible.
Dispatcher: Your dog killed your baby?
Hagans: Yeah.
Dispatcher: How old is your baby?
Hagans: He's a month old.
A 2014 photo on Teddy Hagans' Facebook page shows a male, unneutered pit bull named "Roby."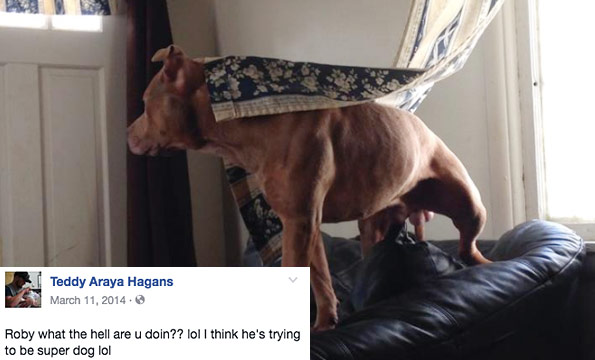 A distinctly pit bull propaganda image from 2014 shows a different infant lying with a family pit bull.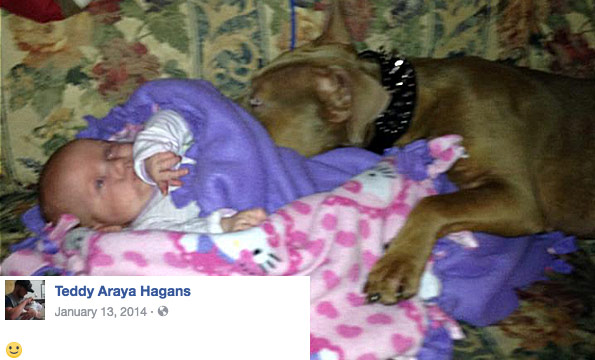 View the DogsBite.org Google Map:
Ohio Fatal Pit Bull Maulings
.
Related articles:
01/18/17: 2017 Dog Bite Fatality: Infant Killed by Family Dog in San Marcos, Texas
07/03/17: 2017 Dog Bite Fatality: Family Pit Bull Kills 3-Week Old Baby Girl in Grand Rapids
08/07/17: 2017 Dog Bite Fatality: Bangor Infant Injured by Family Dog Pronounced Dead

---
Baseline reporting requirements:
Law enforcement departments across the United States should release consistent "baseline" information to the media and the public after each fatal dog mauling,
including these items
.