City Uses Unique Approach to Show Dog Can't be Rehabbed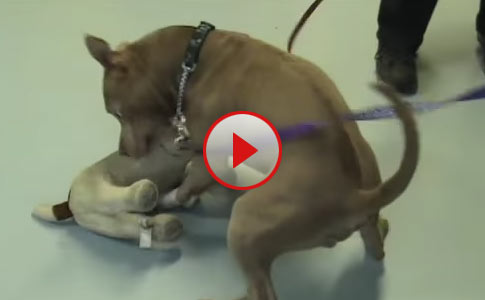 One of two videos shown to courtroom demonstrating this pit bull's dog aggression.
City Officials Show Videos
Victoria, Canada - In an uncommon, but effective demonstration, the City of Victoria used videos of a decoy dog to show a courtroom the level of dog aggression in a pit bull, named Bentley. On April 21, as 72-year old Peter McPherson was walking his Maltese-cross named Cassie, Bentley viciously attacked his dog. "I've never seen a dog with a bigger mouth," McPherson testified. "This dog went for the throat." The pit bull inflicted deep laceration wounds and crushed Cassie's spine.
McPherson also testified how he and other adults tried to save Cassie. "I was holding the dog and they were pulling back on the other dog. Several people were actually punching it on the nose and it showed no sign of release," McPherson said, emphasizing the tenacity of the breed. Pit bulls were selectively bred to continue attacking until death -- a quality known as "gameness" by dog fighters -- which is why lethal intervention is often necessary to stop a relentless pit bull attack.
Featured in the Times Colonist story is one of the videos shown to the courtroom. Bentley sails into a room where Lisbeth Plant, an animal aggression expert, is standing with her decoy Jack Russell terrier. Bentley immediately rushes the decoy dog and bites him on the neck. What follows is equally as disturbing as the pit bull heavily pins the decoy dog down, all the while wagging his tail. "If that had been a live dog, that dog would be dead," Plant testified. "Those were kill bites."
In another video not shown, and filmed just four minutes later, the pit bull attacks a decoy black lab, he "bites it and shakes it until its spine is broken," reports the Colonist. Plant testified that Bentley's level of aggression is 10 out of 10. The entire court proceeding was required because Bentley's owner, Ryan Mulligan, refused to surrender his dangerous pit bull after if killed Cassie. His dog had also attacked two other dogs before fatally injuring Cassie, according to Mulligan.
"[Bentley] almost instantly rises to the attack to the point of injury, if not death. How can such an animal be reintroduced to the community to live among adults, children and other domestic animals?" asked Judge Lisa Mrozinski. This dog would have to be under "constant" control, she continued, harnessed, muzzled with no way of escaping from a home in cases where a child or pet dog passes by. Mrozinski is correct. No neighborhood can withstand a dog-aggressive pit bull.
Where The Roads Diverge
The City of Victoria animal control officers and Judge Mrozinski absolutely made the appropriate call about this dangerous pit bull. This case stands out to us, because it happens so infrequently today. At the request of the dangerous dog's owner, a judge will often order the dog shipped out-of-state to be "rehabilitated." Frankly, our own city and county shelters openly adopt out animal-aggressive dogs by simply stating on the adoption card, "No dogs or cats for this bundle of joy!"
In July, we watched another disturbing decoy dog video showing instant pit bull dog aggression executing kill bites. That pit bull, named Buster, was destined for euthanasia by Miami-Dade Animal Services (MDAS), but was selected for the county corrections and rehabilitation program, where inmates develop skills in dog training. Buster flunked out after biting a worker and was returned to MDAS as a death row dog. Only a "rescue" was eligible to pull the dog, and one did.
Larues Legacy Bulldog Rescue pulled the dog and on July 1 announced that Buster "will be receiving his @applauseyourpaws evaluation on Monday!" Buster had already bitten a man and was known to be highly dog aggressive. Larues openly states, "must be heavily guarded of other dogs, he shows much signs of aggression." Buster was so aggressive his "Foster Mom" could only walk him at 3:00 am. During his evaluation that Monday, Applause used a decoy husky dog.1
---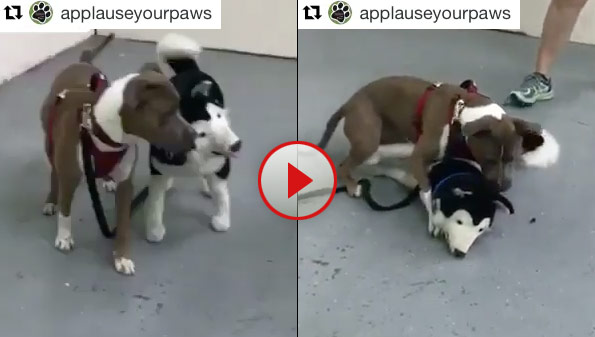 ---
On July 9, Casey Lomonaco commented on a Facebook post after seeing this alarming video (which was later removed), "This dog is a time bomb," she wrote. "Just because you CAN adopt a dog out doesn't mean you SHOULD. What kind of adopter is prepared to safely manage this dog? Would you want it living on the other side of the fence from your dog? Sending dogs like this into communities where other pets (and potentially people) will be put at risk is not ethical," she wrote.
Recall Miami-Dade Animal Services allowed this dog to be pulled instead of humanely euthanized.2 What would Judge Mrozinski say to that?
Even pit bull expert Diane Jessup got in on the action, commenting, "Lol!!!! I'm not sure why I find this so humorous, but I do. Bulldog being a bulldog." Jessup refers to all pit bulls as bulldogs, just like old-timer dogmen do. Her point is the pit bull was only doing what it was selectively bred to do, attack and kill other dogs. Possibly Jessup found it humorous that "rescue angels," including Larues, falsely presumed that "training" of "any kind" could remove this inherent dog aggression.
The Wise Provincial Court Judge
Judge Mrozinski not only laid out the reasons why Bentley was unsafe in any neighborhood, she considered the life of the dog too. His prognosis for rehabilitation is poor, said Mrozinski after watching the pit bull attack the decoy dogs. "Even if he were placed in a home, his life would be so restricted it would be borderline cruel," reports the Colonist. Mrozinski granted the order to put the animal down within 14 days. The dog's owner, Mulligan, of course plans to appeal the order.
What became of Buster, the dog-aggressive pit bull with a bite record? After a month, his Foster Mom shipped him off to the Rainbow Bridge.
To say that we are now operating in an upside down world, where tax funded shelters like MDAS transfer dangerous, aggressive animals like Buster out to "rescuers" -- most with zero care, thought or application of public safety -- so that these dogs can end up on the other side of your fence, would be an understatement. It's just one more nail in the coffin regarding the public's eroding trust in city and county shelters. Sadly, there just aren't enough Judge Mrozinskis left.
---
---
It is difficult to follow the timing on Instagram, but it appears Buster's Foster Mom put him down on July 28 after he attacked her a week earlier and tried to attack two big dogs on July 27. The publish date on the decoy dog video was July 3. So Buster lasted about 25 days in her care.

---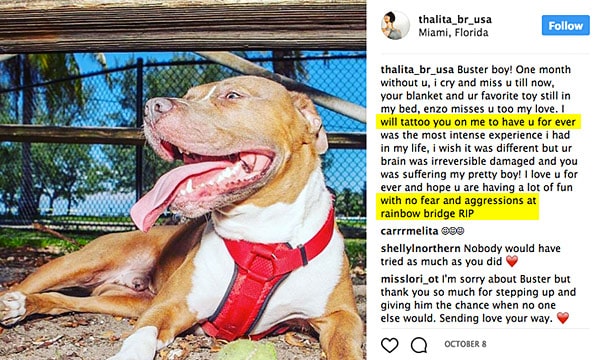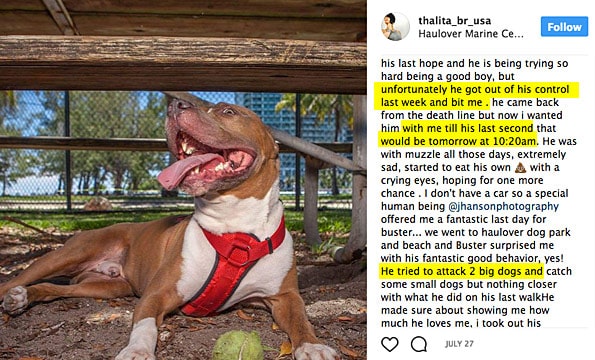 1
We believe the video of Buster attacking the decoy husky dog was first published by Applause Your Paws on their Instagram page. On July 4, it was re-posted by Sophie Gamand (also known as "flowerpot head"), who later removed her post, which is why Lomonaco's post no longer contains the video. We captured the video on July 11. While writing this post, we could no longer find the decoy dog video on Applause Your Paws social media pages.
2
As if Miami-Dade County Animal Services could not sink further into a Florida swamp, Buster was a legal dog in a county that has a longstanding pit bull ban. This dangerous dog-aggressive dog was not even declared a pit bull by MDAS. We can't count the number of times we have written about the Interchangeable Breed Labels by MDAS. This is true even after a multiple fatal attacks on humans. Pit bulls are routinely labeled "American bulldog-mixes."
Related articles:
08/28/17: 2017 Dog Bite Fatality: Woman Killed by 'Dog Aggressive' Pit Bull While Caring for It
07/23/17: 2017 Dog Bite Fatality: Fostoria Man Dies After Breaking Up Pit Bull Fight
02/28/17: 2017 Dog Bite Fatality: Man Dies After Vicious Attack by Two Pit Bulls in Lincoln Heights