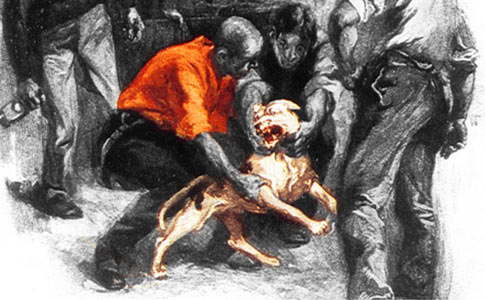 Illustration by E.M. Ashe for 'The Bar Sinister' by Richard Harding Davis, 1903 | America's Dog
Dog-Aggression Kills
Fountain, FL - A 76-year old woman is dead after trying to care for a pit bull belonging to family members. A Calhoun County Sheriff's deputy responded to a home on NW Lamont Road after being alerted to a dog attack on Saturday night. Alicia Malagon was found unresponsive on the floor lying in a large pool of blood. Malagon had agreed to watch her daughter and son-in-law's dogs at their home while they were away on vacation -- something she had done in the past.
"Blue bit Alicia in several places all over her body most noticeably was her right leg, which sustained extremely deep and large lacerations," - Calhoun County Sheriff's Deputy report
Malagon brought her dachshund with her when one of the dogs in the home, a pit bull named Blue, viciously attacked her dog. When she tried to separate the animals, the pit bull attacked her. The dog attacked multiple parts of her body and left extremely deep wounds on her right leg. Her pet dachshund was badly injured too. Another family member found Malagon on the floor and called 911. She was taken to Calhoun-Liberty Hospital where she was later pronounced dead.
Let there be no mistake that pit bull dog aggression kills human beings every year. In July, a Fostoria man bled to death from dog bite injuries after trying to break up a savage fight between two pit bulls. Back in April, 82-year old Cecille Short of Oklahoma City and her small dog were horrifically mauled to death by two loose pit bulls while walking down on a residential street. Emergency responders said the attack was so gruesome, the victim was nearly decapitated.
Late Evening Updates
Calhoun County Sheriff Glenn Kimbrel confirmed Malagon was dog-sitting for her daughter and son-in-law when she was fatally attacked by a pit bull after trying to break up a dog fight. "The major bite that probably caused her death was the upper-right inside leg," Kimbrel said. "She was able to move from the bedroom, literally crawl, to the living room where there was a telephone," Kimbrel said. "She reached out to her daughter and son-in-law who she was house sitting for."
Malagon was able to reach her son-in-law on the phone after the attack. Apparently, due to shock, she did not realize she was bleeding out.
Her son-in-law directed his brother, who was located closer to Malagon, to go to his home and check on her. "The man went over to the house and had to break in," Kimbrel said. "He found her on the floor." Kimbrel said she was in and out of consciousness and was transported to the hospital, but did not survive. WJGH also interviewed neighbor Linda Martin, who quickly stated the owners must have caused the dog to attack -- totally denying the breed's dogfighting heritage.
Malagon had watched her daughter and son-in-laws dogs before, apparently without any problems. But the golden rule of pit bull ownership is to "never trust your dog not to fight" with another animal. That includes pets and offspring the dog may have cohabitated with for years. That is the unpredictable, "attack without warning," nature of a dog selectively bred to fight to the death in a pit. The attacking pit bull remains in the custody of the Calhoun County Sheriff's Office.
View the DogsBite.org Google Map:
Florida Fatal Pit Bull Maulings
.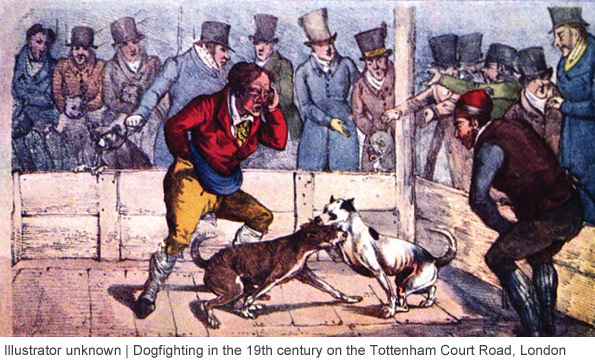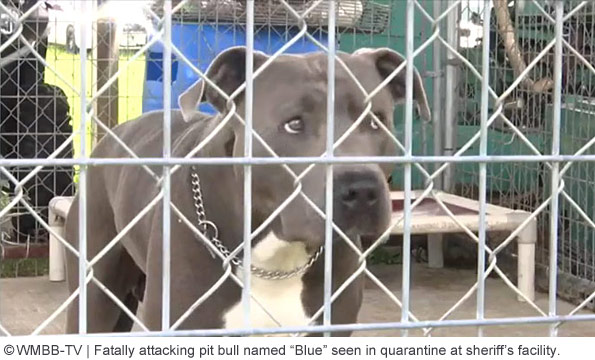 Related articles:
07/23/17: 2017 Dog Bite Fatality: Fostoria Man Dies After Breaking Up Pit Bull Fight
05/10/17: 2017 Dog Bite Fatality: Woman and Dog Killed by Two Pit Bulls While Walking...