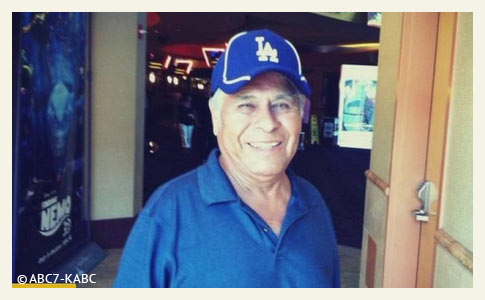 Valentine Herrera, 76, did not survive his injuries from the violent pit bull attack.
Victim Did Not Survive
Los Angeles, CA - A 76-year old man critically injured by two pit bulls in early February has died, according to family members. Valentine Herrera and his small dog were savagely attacked by the pit bulls on February 2 while walking in Lincoln Heights. The attack occurred about 6:00 pm on the 2600 block of North Lincoln Park Avenue. His pomeranian, named Dodger, was killed in the attack. Herrera was rushed to the hospital and underwent brain surgery, family members said.
At the time of the vicious attack, Herrera was suffering health difficulties, including a heart condition and being on dialysis. In November, he nearly died of a heart attack. After the mauling, his son, Luis Herrera, said his father briefly died during the heart attack. "I lost him for 32 minutes -- he died for 32 minutes -- and then came back," Luis said. "He was living way better than before, and now this happened." Herrera's family must now go through this terrible pain all over again.
Luis described his father as a strong, loving man and said it is very difficult to see him struggling again for his life." - Luis Herrera, the victim's son
The pair of male pit bulls first attacked Dodger, shredding the small dog to pieces. When Herrera intervened, the pit bulls knocked him down and began tearing into his flesh. Neighbor Frank Carrasco witnessed the vicious attack. "I saw these two pit bulls pulling something apart. I thought it was a piece of material," he said. Carrasco said the owner of the pit bulls offered no apology to the victim nor did he attempt to help the elderly man sprawled on the ground and bleeding.
The same two pit bulls had killed another neighborhood dog just 4-days before attacking Herrera. Stephanie Grezelle said the pit bulls killed her dog, named Tulula right in front of her two young children, reports CBS Los Angeles. "They watched their dog get mauled in a puddle of blood," Grizelle said. "We rushed her to the hospital. We tried to save her. Later that evening, she stopped breathing. There was too much damage, and she died." She said Tulula never stood a chance.
Dangerous Dog Hearing
A dangerous dog hearing was held Wednesday. CBS Los Angeles reports the outcome could lead to criminal charges against the owners of the pit bulls. Herrera's family members and witnesses testified at the hearing, reliving the horrific attack. The pit bulls' owners testified as well, defending themselves after their dogs brutally attacked a man and killed at least two pet dogs in less than a 1-week period. Los Angeles Animal Services is expected to issue a final decision within 30 days.
What appears to be the primary issue about the potential criminal charges of this case is how the dogs escaped the owners' property. We've highlighted portions of the California felony dog attack statute, which may be at play (§ 399. Mischievous animal causing death or serious bodily injury; negligence of owner or person having custody or control; punishment). The highlights indicate the elements that must be proven beyond a reasonable doubt in order to obtain a felony conviction.
"(a) If any person owning or having custody or control of a mischievous animal, knowing its propensities, willfully suffers it to go at large, or keeps it without ordinary care, and the animal, while so at large, or while not kept with ordinary care, kills any human being..." -- Knowledge of propensities and failing to keep the dogs without ordinary care. The pit bull owner's actions after the attack may be a factor too. Witnesses said the owner did not attempt to help Herrera at all.
View the DogsBite.org Google State Map:
California Fatal Pit Bull Attacks
.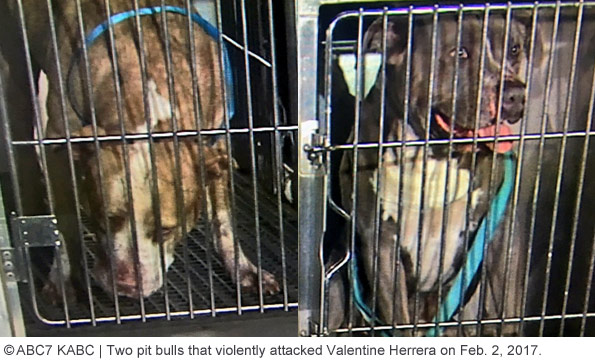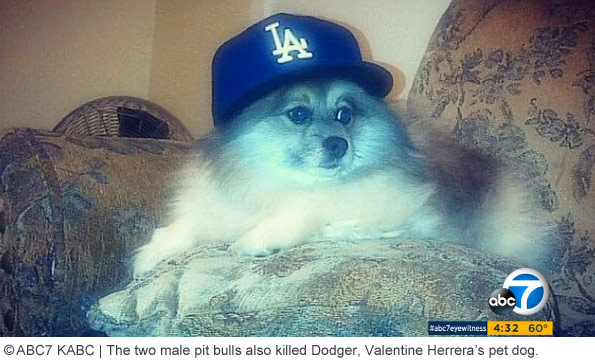 Related articles:
10/10/16: Special Report: Level 1 Trauma Center Dog Bite Studies in All U.S. Geographical...
09/10/15: 2015 Dog Bite Fatality: Pit Bulls Kill Man, Injure Woman in North Shore, California
11/04/14: 2014 Dog Bite Fatality: Pit Bulls Kill Modesto Man, Critically Injure Another
11/03/14: 2013 Dog Bite Fatality: Antelope Valley Woman Mauled to Death by Pit Bulls