Pit Bull Owner Arrested, Faces Two Criminal Charges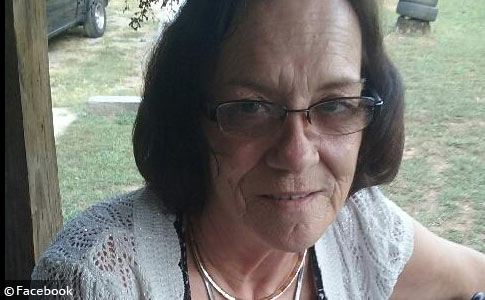 Kathy Sue Nichelson, 61-years old, was killed by a pit bull while visiting the owner's home.
Dog Owner Charged
UPDATE 10/05/17: According to an official statement by the Gilmer County Sheriff's Office, the owner of the pit bull that attacked and killed 61-year old Kathy Nichelson last Thursday has been arrested and faces two criminal charges. "Today, Detectives with the Gilmer County Sheriff's Office have taken Dante Holloway into custody. He has been booked into the Gilmer County jail and is charged with Involuntary Manslaughter and Reckless Conduct," states the sheriff's release.
"The arrest is a result of the investigation into the death of Ms. Kathy Nichelson by a Pit Bull owned by Mr. Holloway. His bond is $50,000 for both charges," the release continues. We are uncertain at this time if the involuntary manslaughter charge is a felony or misdemeanor -- Georgia has both. Reckless conduct is a misdemeanor punishable by up to 12 months in jail and a $1,000 fine. Several days ago, the Times Courier reported this dog had "some issues" in the past.
Reckless Conduct
(16-5-60) A person who causes bodily harm to or endangers the bodily safety of another person by consciously disregarding a substantial and unjustifiable risk that his act or omission will cause harm or endanger the safety of the other person and the disregard constitutes a gross deviation from the standard of care which a reasonable person would exercise in the situation is guilty of a misdemeanor.
Late Friday, a local news group released the incident report and the arrest report. The second victim, who tried to give aid to Kathy Nichelson, was identified as Morgan Fountain. He suffered a facial bite by the dog. Sgt. Jason Newman was first to arrive on scene. He described the dog as having a "black and white face," and had "red all over its mouth and head area." Once fire units arrived, Newman and another deputy stood watch for the dog; it was later fired upon and killed.
The arrest report shows that two deputies stopped Dante Holloway and his wife on October 5 as they drove on 515 North. Dante exited the vehicle without incident and was placed under arrest. He was handcuffed and placed into the back of a police cruiser. Holloway's wife, Melissa, also exited their vehicle and gave consent to search it. Deputies found small bags commonly used for narcotic use in their search. One had white residue that tested positive for methamphetamine.
Multiple Vicious Dogs in Household?
Meanwhile, on the related Facebook post by the Gilmer County Sheriff's Office, locals continue to claim the attacking pit bull had a history of bites over the years. Authorities have not confirmed this. A person claiming to be Holloway's daughter, Lindsey Gazaway, states, "If you were looking at public records showing that there was a violent dog at that address, you're right. But it was my dog that bit the cyclists and animal control got involved." He has "since then died," she wrote.
---
09/29/17: Sheriff Confirms Breed
On Thursday, the Gilmer County Sheriff's Office issued a press release stating that a 61-year old woman died after being attacked by a dog. Very few other details were released. The Cherry Log community is about 80 miles north of Atlanta. Police later identified the victim as Kathy Sue Nichelson and confirmed that she died after being attacked by a pit bull on Goose Island Road. A second person was injured trying to help the victim. Deputies shot and killed the vicious animal.
On September 29, the Gilmer County Sheriff's Office issued another press release:
A-61-year old woman died after being attacked by a Pit Bull Thursday, Sept. 28th, at 890 Goose Island Rd. The woman, identified as Kathy Sue Nichelson, was attacked shortly after arriving at the residence. A passerby saw Ms. Nichelson on the ground and stopped to render aid. The dog attacked him as well, and he escaped to his vehicle where he was able to call 911. He received non life-threatening injuries.

Law enforcement and EMS arrived soon after. Law enforcement attempted to keep the animal at bay while EMS tried to treat Nichelson. During this time, the animal came towards public safety personnel aggressively, and the animal was put down by deputies.

An investigation into the animal's behavior and its owner are ongoing. More information may be available once the investigation is completed.
Today, WXIA revealed Nichelson was a great-grandmother. The injuries the pit bull inflicted were so punishing, she will have a closed casket, as is usually the case after a fatal pit bull mauling. During the 911 call, dispatch asks, "Is she able to talk or anything?" The person replies: "No she's not because she's barely breathing. He bit her neck really bad." Nichelson had stopped by a friend's home. When she exited her vehicle, her friend's pit bull savagely attacked and killed her.
Nichelson's daughter, Candy Smith, said she tried to fight the dog with a knife, but she was no match for the animal. A passerby saw Nichelson lying on the ground after the mauling. He ran to give her aid, not knowing about the dog. The pit bull then reappeared and attacked him. One or both victims managed to climb on top of Nichelson's car. "The dog literally scratched the paint off of the hood of my mom's car trying to get to them," Nichelson's youngest daughter told WXIA.
After deputies arrived they barricaded the pit bull, but it broke free, apparently not finished with its "rampage" attack. Deputies fired on the animal, killing it. "To be brutally, brutally murdered like that, nobody, nobody deserves that," the youngest daughter told WXIA in a shaky voice. Yet, after the emotional shock and horror of this vicious, deadly attack, family members told WXIA they "don't blame the breed of dog," but rather the owner. Police have not identified the owner of the pit bull.
---
In January 2016, one of the victim's granddaughters, Deanna Melville, reflected a similar view of "not blaming the breed." On a public Facebook post Melville left at Villabolos Rescue Center, she praised Tia Torres of Pit Bulls and Parolees for helping the "missed understood animals" [sic] and the "only way and animal is bad is depended on how they are raised" [sic]. Melville also stated that she owned an American pit bull, named "Commit." It's unclear if Melville still owns the pit bull.
After further examination (kudos to the hot tipper who sent this in!), we see that daughter Candy Smith is also a pit bull owner. We pulled these comments from the Gilmer County Sheriff's Office Facebook post. "I don't blame the breed as I have a pit. I blame the owner," Smith states. Smith also blames the Good Samaritan who came to her mother's aid. "He was only worried about himself," she states. People like Candy Smith help ensure that these horrific maulings continue.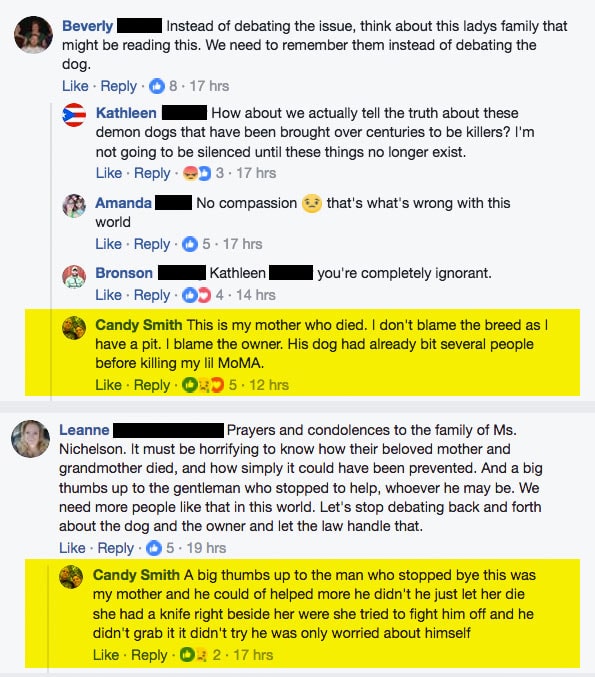 View the DogsBite.org Google Map:
Georgia Fatal Pit Bull Maulings
.
Related articles:
09/21/17: 2017 Dog Bite Fatality: Woman Dies of Injuries After Pit Bull Mauling in Mississippi
08/03/17: 2017 Dog Bite Fatality: Child Killed by Two Family Pit Bulls in Hart County, Georgia
01/19/17: 2017 Dog Bite Fatality: Pit Bulls Kill Child, Critically Injure Another Child in Atlanta.
08/04/17: 2016 Dog Bite Fatality: Woman Mauled to Death by Her Boyfriend's Pit Bull in Georgia
---
Baseline reporting requirements:
Law enforcement departments across the United States should release consistent "baseline" information to the media and the public after each fatal dog mauling,
including these items
.