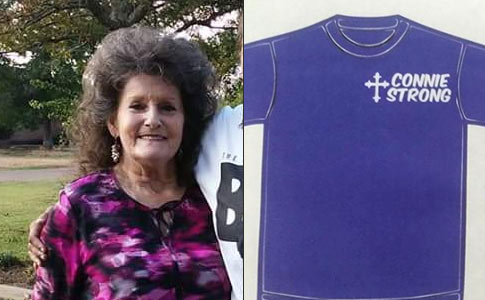 Connie Holley Storey seen next to tee-shirt fundraiser, "Connie Strong."
The Victim's Brother
UPDATE 09/21/17: On September 8, Connie Storey, 62-years old, was savagely attacked by her son's pit bull after she went outside to feed it. According to the dog's owner, Josh Storey, the animal had also attacked him previously. Connie suffered life-threatening injuries that led to the amputation of both of her legs. But Connie was a fighter; she amazingly survived another 12 days before succumbing to her grave injuries. How do her family members feel about pit bulls now?
Marty Holley, who claims to be Connie's brother, left several disturbing comments on the WTOK article. "The family does not blame the breed," he said, and falsely blamed the vicious attack on rabies (pipe dream). He then proceeded to spell out the "normal" attack manner by pit bulls in cases of serious and fatal maulings, claiming it was abnormal behavior of this dog. Marty should read up on how pit bulls execute the killing bite and frequently rip out their victim's throats.
"The family does not blame the breed. I am her brother. I love pits have only met a couple that have been bad. I personally think the dog a rabies. This dog did not attack like a normal dog. It attracted her drug her into the bushes, brutally ripping her thighs down to the bone. He bit her on the neck and behind her head, he them continued to rip and chew on her for the next 4 hours. It was a horrible tragedy. But I don't blame the breed. So that I squared up maybe you can do something constructive and tell people to vaccinate their pets." [sic] - Marty Holley, Sept. 20, 2017
One can see that even after a pit bull attacks two family members, and in one of those cases caused death, pit bull lovers like Marty continue to defend the breed and invent false stories to excuse away the behavior of a dog selectively bred to fight to the death in a pit. This is after a family pit bull killed his sister. Finally, Marty is yet again another "exhausted cliché" pit bull owner for signing (as a non-resident) and spreading petitions opposing pit bull laws in other jurisdictions.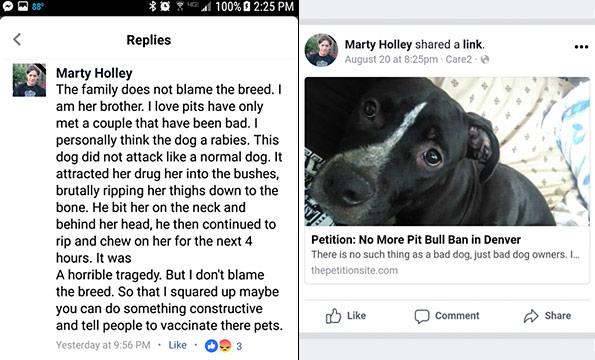 ---
09/20/17: Pit Bull Confirmed As Attacker
Neshoba County Sheriff Tommy Waddell confirmed to WTOK that 61-year old Connie Storey died from injuries sustained in a pit bull attack Wednesday morning. She had been hospitalized since the pit bull mauling on September 8. The vicious attack occurred in the Beatline community as she was feeding the dog at a home on County Road 276. The sheriff also confirmed the animal belonged to Storey's son. The pit bull has since been put down. No charges have been filed.
Connie Storey went out to feed her son's pit bull when the dog suddenly turned on Storey and attacked her. Storey's son called 911. - WTOK News
Connie had several sons. It's clear by reading through public Facebook comments that Josh was the owner of the pit bull. The dog had also attacked him before. The day after his mother was brutally mauled, he was asked, "Was that the same dog that attacked you?" Josh responded, "Yes." Then apparently, he shot the dog twice after it attacked his mother, killing it. It's too bad this aggressive pit bull was not put down after the first attack. Connie paid the ultimate price for this.
09/20/17: Woman Dies After Dog Mauling
Philadelphia, MS - Earlier, a person sent in a notice about woman who passed away today after being severely attacked by a dog September 8. Just hours ago, the Neshoba Central High School Class of 1973 Facebook page confirmed that Connie Holley Storey did not survive her injuries. "Please be in prayer for the family of Connie Holley Storey. Connie passed away this morning." The post also states that she had remained in critical condition in Jackson following the attack.
Friends and family, we have a fundraiser going as of today for Ms. Connie Storey. For those who do not know she was attacked by a dog and has been in critical condition in Jackson for some time now. Her injuries are extensive and though she is a strong woman the battle continues to be an up hill struggle for her and her precious family. - Neshoba Central High School Class of 1973
One recent Facebook post states that doctors had to amputate both of Connie's legs. Another post states, "she has many surgeries upcoming and a long road to recovery." One person posted a photo of Connie: "Rest in peace mama Connie Holley Storey i love u so much." Other posts acknowledge her death today. Just several days ago, the Scarbrough family started a fundraiser to help pay medical expenses. The tee-shirts are titled, "Connie Strong" with a prayer on the back.
What appears to be true, through the tee-shirt fundraiser and various Facebook posts, including by her daughter, is that people were anticipating her survival. We know that she fought hard to survive for 12 days. Multiple amputations after a violent dog mauling is a grave prognosis for any person her age. We expect to see local news reports about Connie's death in the next several days. We hope that family members or friends share what happened with local reporters.
The person who sent the notice into DogsBite.org said that Connie was attacked by her son's pit bull. We are working to confirm this, though it is apparent on Facebook that multiple male relatives own a pit bull. One of these dogs is shocking, possibly game bred, and should be named Satan. Karen Storey comments, "Good Boy! Just dont turn your back and ... if he doesn't know you ... BACK OFF! Wouldnt be the 1st time he's tasted blood. If he knows you ... No Problem." [sic].
View the DogsBite.org Google Map:
Mississippi Fatal Pit Bull Maulings
.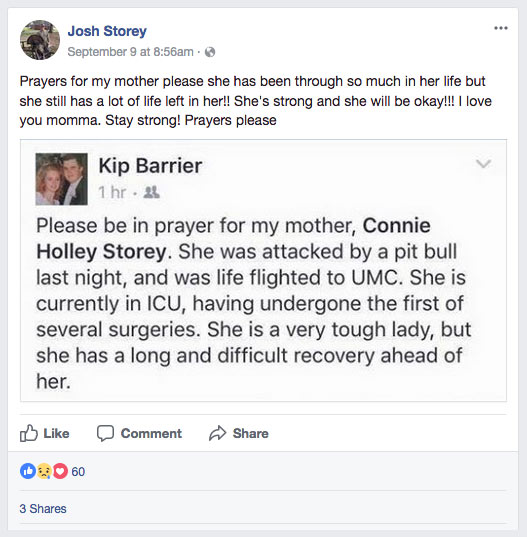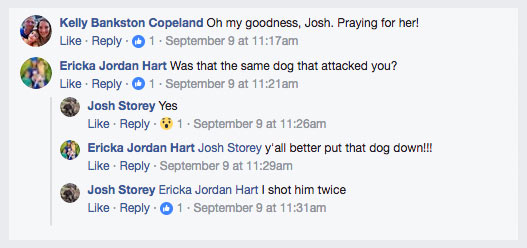 Related articles:
08/28/17: 2017 Dog Bite Fatality: Woman Killed by 'Dog Aggressive' Pit Bull While Caring...
09/13/17: 2017 Dog Bite Fatality: Woman Brain Dead After Pit Bull Mauling Near Bozeman
05/05/09: Alexandra Semyonova: Heritability of Behavior in the Abnormally Aggressive Dog

---
Baseline reporting requirements:
Law enforcement departments across the United States should release consistent "baseline" information to the media and the public after each fatal dog mauling,
including these items
.