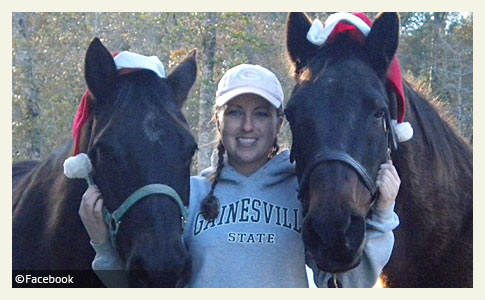 Michelle Wilcox, 30, was killed by her boyfriend's pit bull in Screven County, Georgia.
No History of Aggression for Any of the Dogs?
UPDATE 08/04/16: Since news broke Tuesday about the fatal dog mauling of Michelle Wilcox, the public has been told that no dogs belonging to her boyfriend had "any known history of viciousness or aggression," according to Screven County Sheriff' Mike Kile's news release. That information is no longer valid; one of the male pit bulls had previously attacked. We also now know the identity of the boyfriend and that he owned four adult pit bulls -- two females and two males.
Devin Bannon is the boyfriend of Wilcox and clearly states so on his public Facebook page. His male pit bull Conan is still being used as his cover photo. On July 18, Bannon posted an image of his pit bulls: Muffin, Kaos, Conan and Molly. We presume Muffin is a female, so that leaves Kaos or Conan as the male fatal attacker. According to Kaos' former owner, Troy Johnson, "Kaos, ended with some legal charges over an attack, sent him to a farm in Statesboro with Devin."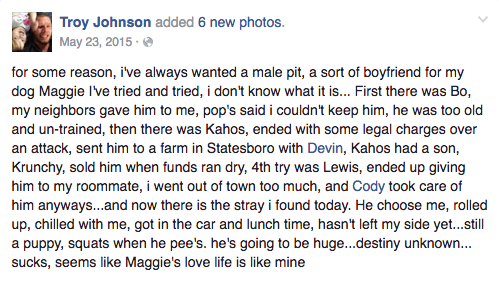 Johnson posted this status update on May 23, 2015 along with photos of Kaos at different ages. The name "Devin" links to the profile of Bannon. In the update, Johnson commiserates about his inability to find a suitable male pit bull for his female pit bull, Maggie. By that point he had gone through four male pit bulls and was starting on a fifth. It is unknown exactly when Johnson sent Kaos to Devin. The first photo of Kaos appears on Bannon's Facebook page on May 26, 2014.
Yesterday, we wrote to Sheriff Kile with this information and also asked for clarification on whether the fatal attacker was Kaos or Conan. We emphasize again that Conan continues to be Bannon's Facebook cover photo after the death of Wilcox. What is also notable about his photographs is that his four pit bulls are of the larger variety and mainly seen "outside." Yet, he was quick to tell authorities his pit bulls were "indoor" dogs. Maybe Bannon meant they were "garage" dogs.
Pit Bull Milestone
Attorney and author J. Thomas Beasley wrote about this attack at his website. Last April, Beasley published Misunderstood Nanny Dogs? A Critical and Objective Analysis of the Facts & Myths Concerning Pit Bulls. We wrote an excellent book review for it, and others have as well. We encourage readers to purchase a copy. In his post about Wilcox, Beasley reminds us of her expertise with animals, yet even this expertise could not prevent or stop the deadly mauling.
"Michelle Wilcox worked as an inspector for the U.S. Department of Agriculture, and had studied pre-veterinarian medicine and animal science at the University of Georgia. She was an avid and skilled equestrian rider, and by all accounts, an "animal expert." But that expertise did nothing to thwart the unprovoked, unexpected and uncontrollable attack by her boyfriend's pit bull on August 2, 2016. Police investigators stated that the dog was well cared for, had been raised from puppyhood as an "inside dog" and had no history of violence or aggression." - J. Thomas Beasley
Read in full: Pit Bull Milestone - J. Thomas Beasley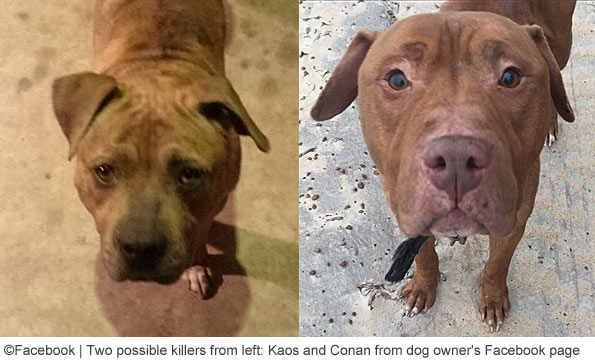 ---
08/02/16: News Release Adds Details
An autopsy conducted by the Georgia Bureau of Investigation (GBI) Medical Examiner's Office confirmed Michelle Wilcox, 30-years old, died due to injuries inflicted by the pit bull, according to a news release issued by Screven County Sheriff Mike Kile late Tuesday. "No one else was in the home at the time of the incident," Sheriff Mike Kile states. "The dog, a male pit bull, was put down by the owner immediately following the discovery of the attack," Kile states in the release.
Wilcox was familiar with the dogs at the home and had handled them safely many times in the past. None of the dogs in the home had any known history of viciousness or aggression, states the release. The Statesboro Herald adds that Wilcox's Facebook page indicates Wilcox was employed as a meat inspector with the Georgia Department of Agriculture and had studied pre-veterinary medicine at Gainesville State College and animal science at the University of Georgia.
08/02/16: Pit Bull Kills Woman in Georgia
Screven County, GA - In a developing story, a woman was brutally mauled to death by her boyfriend's pit bull near Newington, Georgia. Investigators say Michelle Wilcox died after being attacked by her boyfriend's pit bull while he was away at work Monday. About 6 pm last night, county investigators responded to a 911 call of a dead person at the boyfriend's home. Authorities arrived to a "horrific scene," reports WTOC, a woman mauled to death by a family pit bull.
"We will never know the reason why. It was raised from a small puppy in the house to the 95 pound dog it is now," Screven County Sheriff Mike Kile said. "She came home and let it out and seemed to be doing the normal routine. The dog just attacked," Kile said. Like many law enforcement officers, Kile responds to the "lack of reason" for the deadly attack, yet the nature of a pit bull attack is often explosive, unpredictable aggression and the execution of the killing bite.
While writing this post, more news was added, including there were multiple dogs in the home. "Investigators say none of the dogs in the home had any known history of viciousness or aggression," reports WTOC. It is very likely the family was backyard breeding pit bulls. The owner also destroyed the attacking pit bull immediately upon discovering his girlfriend dead. The Georgia Bureau of Investigation (GBI) assisted local authorities in this investigation, reports WTOC.
View the DogsBite.org Google Map:
Georgia Fatal Pit Bull Maulings
.
Related articles:
06/24/15: Anchorage Pit Bull Attack: The Mechanics of a "Classic" Unprovoked Pit Bull Attack
11/05/13: 2013 Dog Bite Fatality: Kernersville Woman, 25, Killed by Her Boyfriend's Two Pit Bulls
05/05/09: Alexandra Semyonova: Heritability of Behavior in the Abnormally Aggressive Dog