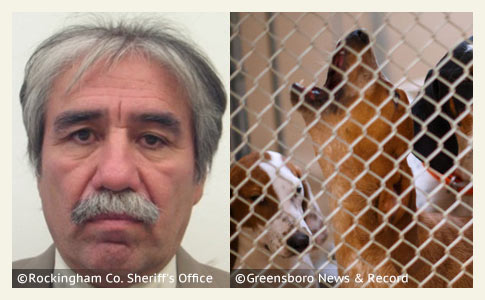 Dog Owner Charged
UPDATE 04/13/15: A Rockingham County grand jury issued charges today against a man whose pack of dogs contributed to man's death in November. Daniel Douglass McCollum, 55, of Madison was charged with one count of involuntary manslaughter in connection to the death of 62-year old Jose Cruz Cazares Robles. The victim, who had been visiting from Mexico, had left his family's home that day for a walk when the pack of dogs viciously attacked him along McCollum Road.
03/25/15: Bites Contributed to Death
The autopsy report of a man mauled by a pack of dogs and found dead on November 24 in Rockingham County has finally been released. 62-year old Jose Robles, who had been visiting family from Mexico, was discovered dead at the bottom of an embankment with most of his clothing ripped away and bite marks covering his body. The report released March 23 states, "Bleeding and stress from a dog attack and resultant injuries most likely contributed to death."
The Medical Examiner noted in the autopsy, "In my opinion, the most likely cause of death was an acute cardiac arrhythmia or myocardial infarction due to coronary artery atherosclerosis. Bleeding and stress from a dog attack and resultant injuries most likely contributed to death." - WFMYnews.com, March 24, 205
According to the state medical examiner's report, Roble's body was covered in canine bite marks. "Incised wounds and abrasions were consistent with injuries from a dog attack," states the report. The dogs also inflicted scratches to his scalp, face, arms, legs, back and lower abdomen. All told, the report states there were more than 100 wounds inflicted upon Robles. At some point during the dog attack he died. The autopsy report was released exactly 4-months after his death.
After making the grisly discovery in November, authorities confiscated 15 dogs belonging to Daniel McCollum, who lives across the street from where his body was found. Though it is still unknown how many dogs were involved in the attack, the animals continue to be housed at the Rockingham County shelter costing the county nearly $28,000, the News & Record reports. Rockingham County District Attorney Craig Blitzer said he is evaluating the case to see if charges will be filed.
12/29/14: Case Details Still Guarded
New information about the death of Jose Robles was revealed in late December. On November 24, Robles was discovered dead by Rockingham County deputies at the bottom of a steep embankment on McCollum Road. His clothes and shoes had been ripped off his body and he was covered in animal bite marks. Deputies seized 15 dogs belonging to Daniel McCollum of 1122 McCollum Road -- previously unnamed -- the home across from where his body was located.1
The News & Record continues to investigate, despite the sheriff's office refusing to comment on this man's violent death 35 days after his body was discovered or to release a preliminary autopsy report that identifies the cause of death. The sheriff's office would not even permit News & Record to interview animal control officers to discuss the county's leash laws. Family members of the victim also told the News & Record that investigators told them not to speak with the media.
The News & Record was able to obtain related information. As of December 28, the county spent about $7,440 to house McCollum's 15 dogs (in 11 cages) at the county shelter. After the attack, McCollum was fined $600 for failure to vaccinate 12 of his dogs, $150 for six of his dogs running at large and $150 for six of his dogs being a public nuisance. USPS also confirmed that McCollum's mailbox receptacle had to be moved within the last 18 months for the safety of a postal carrier.
12/04/14: Numerous Bite Injuries
Madison, NC - The News & Record reports a nearly non-reported 2014 U.S. fatal dog mauling that occurred on November 23 in Rockingham County, North Carolina. On that day, 62-year old Jose Robles left the family he was visiting to take a walk down Bethany Road at about 1 pm. Deputies discovered him the next morning about a mile from where he was staying. He was dead -- stripped of all clothing and shoes with numerous bite marks on his body and 15 dogs lurking nearby.
These latter details, which strongly indicate a fatal dog mauling -- his clothing and shoes stripped away, numerous bite marks on his body and 15 dogs nearby -- were recently provided by News & Record after they obtained a warrant taken out by the Rockingham County Sheriff's Office on November 24. At the time of the discovery of his body, the sheriff's office provided no details of Robles' death to the media and will not release more today citing an ongoing investigation.
The Rockingham County Sheriff's Office is no longer searching for Jose Cruz Cazares Robles. It was unclear how the search concluded. He was reported missing Sunday afternoon. - News & Record, November 24, 2014
Deputies confiscated the 15 dogs hours after finding Robles dead and transported them to the county animal shelter. Kevin Baughn, the shelter's director, confirmed to News & Record yesterday that "15 blue heelers and hounds" were in his care, but declined to comment further. Kevin Suthard, a spokesman for the Rockingham County Sheriff's Office, would not discuss the dogs' involvement, the warrant or provide an update on the case, the News & Record states.
At the time of the attack, Robles and his wife, who are from Jalisko, Mexico, were in Rockingham County visiting with family. After Robles did not return from his walk within a few hours, the family became concerned and contacted local law enforcement. The Rockingham County Sheriff's Office then issued a bulletin asking for the public's help in finding the missing person. After discovering him dead the next morning, the sheriff's office simply said the cause of death is unknown.
Evening News Reveals More
Later into the day, Fox8 reported more about this investigation. As detectives were searching the area for Robles, one officer observed "a pack of various dogs which aggressively confronted his vehicle in the roadway." Another detective reported that she was "also confronted aggressively by these dogs." Officers then found Robles dead across the street from the dog owner's home. The 15 suspected dogs are described as blue and red heelers, Australian shepherds and hounds.
Though the owner of the 15 dogs is not named, she told detectives that her dogs "would bite the ankles of strangers who were near the property." Detectives asked her to secure the animals and she did. For those of you who do not know, heelers will nip the heels of the animals they are herding to push them along. That is a far cry from owning a pack of 15 dogs -- running at large -- that appear to have enjoined pack behavior resulting in the brutal death of a 62-year old man.
After confronted by the 15 dogs, officers got a warrant and seized the animals. The Rockingham County Sheriff's Office is still awaiting autopsy results to determine if the man was still alive when he was viciously mauled. A subsequent search warrant allowed investigators to get blood samples, oral swabs, nose swabs, toe swabs and bite impressions from each of the 15 dogs. The time frame of the autopsy results is unknown. FOX8 was unable to contact the victim's family.
Related articles:
02/28/14: 2014 Dog Bite Fatality: 3-Year Old Girl Killed by Family Pit Bull in North Carolina
11/05/13: 2013 Dog Bite Fatality: Kernersville Woman, 25, Killed by Her Boyfriend's Two Pit Bulls
12/05/12: 2012 Dog Bite Fatality: Yadkin County Infant Mauled to Death by Family Dog