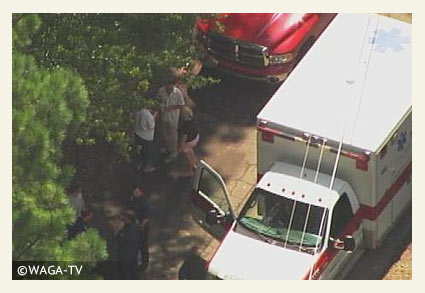 Scene of pit bull dog aggression attack and man's death.
Dies in Street
Douglas County, GA - Tim Thomas, 49-years old, died of a fatal heart attack on Friday after trying to stop his two pit bulls from killing a smaller dog. CBS Atlanta reports that the incident happened on Mitchell Mill Road. Apparently, Thomas "realized something was wrong" just after letting his pit bulls out. When he got out to the road, he saw his two pit bulls attacking the smaller dog. When Thomas tried to intervene, he suffered a fatal heart attack and died in the street.
The man's family, thus far, has decided to euthanize his two dog-aggressive pit bulls.
The Douglas County Sentinel reports that Thomas was on the phone with his ex-wife Myna Meyer at the time of the attack. "I heard him yelling 'stop, stop' and just heard growling, barking and him struggling with them ... I put down the phone and took off over here and he was dead right there," said Meyer. Thomas' father, Joe Thomas, also expressed shock. He said his son was a disabled Navy veteran and had medical issues, but was unaware of any heart problems.
The victimized dog, a Lhasa apso, apparently survived its injuries.
Related articles:
04/19/11: Pit Bull Bite Causes Massive Heart Attack; Ashland County Man Dies
11/28/10: Pit Bull Dog Aggression: East Texas Man Dies Fighting Off Pit Bulls
03/08/10: 2010 Dog Bite Fatality: Pit Bull Kills 65-Year Old Woman in Lee County
Photo: WSBTV.com