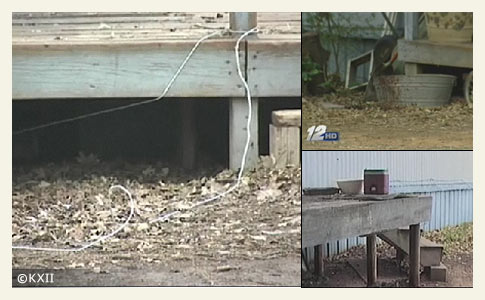 Virgil Cantrell, 50-years old, was killed by a pit bull that was tethered to a porch.
Dog Owners Convicted
UPDATE 09/28/11: A Carter County jury took just three hours to convict a couple of charges in connection to the dog mauling death of Virgil Cantrell. Rickey Lynn Grant and his wife, Lisa Kay Bloxham-Grant, were convicted with ownership of a dangerous dog causing the death of a person. The jury's sentencing recommendation was that each pay a $5,000 fine. This is a far lower punishment than the statute allows. Formal sentencing will be conducted next month.
05/08/11: Felony Charges Brought
The Daily Ardmoreite reports that felony charges have been filed against the owners of the "white in color pit bull" that brutally mauled an Ardmore man to death in April. Assistant District Attorney Tim Burson filed "ownership of a dangerous dog causing death of a person" Friday against Ricky Lynn Grant, 40, and Lisa Kay Bloxham-Grant, 40. Court documents show that the dog inflicted "massive sharp force injuries" in the attack, including fracturing Cantrell's right jaw.1
If convicted, the couple faces possible prison sentences of five years and fines up to $25,000.
04/25/11: New Images of Scene Released
News9.com reports an important clarification: Authorities removed the remaining dogs from Grant's property. This is good news for the community and for the seized pit bulls. The group also reports that the victim, Virgil Cantrell, was on good terms with the offending pit bull, named Ike. After many previous porch sittings with the dog, the animal "suddenly attacked" and killed him Friday. The video also shows imagery of the dog after being shot to death by police.
Imagine if the video had shown images of Virgil with his face torn off?
04/25/11: Dogs Disappear from Property
KXII brings us footage of Rick Grant's property on Petty Road. The imagery shows at least two breeding bitches with docked tails -- the latter being uncommon -- as well as what appears to be the blood spattered porch where one pit bull was chained while it fatally attacked Virgil Cantrell. Neighbor Lindsey Crook talks about two prior yard accidents involving the offending pit bull, one concerning a bite inflicted upon her son that required stitches about a month ago.
Once again disproving the myth that biting pit bulls are "culled" by dogfighters2 or pit bull owners in general.
According to neighbors, "someone removed" the breeding bitches from Grant's property after the fatal incident. No doubt to recreate more biters and pit bulls most likely used for the illegal purposes of dogfighting. The offending pit bull, probably a male, was shot and killed on the scene by Carter County Sheriff's Deputies. Finally, and as the article points out, biting incidents that occur on private property (50-70% of all dog bites), don't always count for much.
04/24/11: Dog a Previous Two-Time Biter
Ardmore, OK - In a developing story, a 50-year old man was killed by a pit bull Friday night that was chained to the porch of a rural Ardmore home. Carter County Undersheriff Milton Anthony said Virgil A. Cantrell died en route to a Dallas hospital following the attack at the Petty Road residence of Rick Grant, the owner of the dog. Anthony said the victim sustained severe facial, head and throat injuries. When deputies arrived, the animal was still chained to the porch.
It appears no one was home during the deadly mauling, though Grant and his wife were scarce Friday night. The two reappeared Saturday and voluntarily submitted to interviews. Records show that authorities have answered two previous calls at the Grant residence for dog bites. On Monday, charges of harboring a vicious animal will be sought. After the investigation is completed, and the district attorney reviews the information, upgraded charges may be sought.
Related articles:
03/03/11: 2011 Dog Bite Fatality: Pontotoc County Man Killed by Three Pit Bulls
09/17/10: 2010 Dog Bite Fatality: Mountain Ranch Man Mauled to Death by Two Pit Bulls