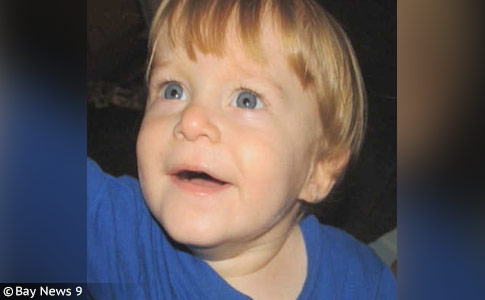 Declan Moss, 18-months old, was killed by his grandfather's two pit bull-mixes.
Images Released
UPDATE 01/23/15: The Hernando County Sheriff's Office released still images of both fatally attacking dogs to their Facebook page yesterday along with a message to so-called "animal lovers" who are upset that the sheriff's office also allowed the media to capture video footage of the dogs. Max and Thumper, both male pit bull-mixes, attacked and killed 18-month old Declan Moss on Monday. Quickly afterward, his mother Sheila Moss defended the breed of the dog.
We greatly thank the sheriff's office for releasing the images. Doing so provides an excellent public service. Also, to clarify the "animal lover" language, the vast majority of Facebook users complaining to the sheriff's office were pit bull advocates, upset that images identifying the breed of dog were released to the public at all. They do not want another damning fatal attack stacked onto the breed's horrific track record, which kills more people than all dog breeds combined.
There has been a lot of discussion about our recent Facebook posting that included the video of the dog(s) involved in the fatal attack on Declan Moss. The posting came after several members of the media requested to obtain still and video images of the dogs for their continuing coverage of this terribly tragic event. Our intent was not to offend animal lovers. We, on the contrary, have a long history of supporting the appropriate adoption and treatment of domestic animals. We did feel, however, that including the video on our Facebook page would be an opportunity to provide a public service. We all like to think that something like this could never happen in our home. We believe that we can pick out a vicious dog when we see one. Unfortunately, as you can see from the videos, it would be impossible to predict a tragic attack like this based solely on the temperament or demeanor of the dog, especially when interacting with adults under normal circumstances. It is for this reason that we want every parent and guardian to be aware that medium and large size dogs can be unpredictable around young children and can inflict considerable damage in a short period of time. Whether a dog attack is motivated by jealousy, frustration, a pack mentality or a "killer instinct," doesn't matter after an event like this. The only option is for parents and guardians to be hypervigilant in keeping small children out of harms way. - Hernando County Sheriff's Office
---
---
01/19/15: Pit Bulls; Mother Defends Breed
A hot tipper just sent in a YouTube video link that captures Hernando County Sheriff Al Nienhuis speaking with Fox 13. We believe this clarifies the breed of the attacking dogs, as well as the mother of the dead child's position on this matter. Nienhuis said, "I did unfortunately get to talk with the mother earlier and she was obviously devastated -- she was not here when it occurred. But she was even talking about 'defending the dogs' and 'it's not necessarily the breed of the dog.'
Watch Nienhuis closely. He appears to be "struggling" as he speaks those underlined statements. Why is that? Because it is outrageous that a devastated young mother would ever say these things -- rushing to defend the breed of dog and piling on pro-pit bull propaganda -- in the immediate wake of her own child's vicious dog mauling death. How will the veterinarian rule on the breed of the dogs? Perhaps an Alapaha Blue-Blood Bulldog or other known pit bull mislabel?
In a separate video, neighbor Charles Shorey breaks down on camera. "He was a beautiful kid. I feel sorry for the mother. She's single. She's fighting and struggling," Shorey said. It is unclear if it was Shorey or another neighbor who told News Channel 8 the dogs were pit bulls and had killed smaller dogs in the past. The grandfather was babysitting when he saw his grandson was in trouble, the segment states, "but he couldn't get the dogs off the baby and off of each other."
01/19/15: Family Dogs Kill Toddler
Brooksville, FL - Two family dogs attacked and killed an 18-month old boy on Monday. When authorities arrived at the home at 16251 Cherokee Road, they found Declan Moss1 deceased from injuries inflicted by the dogs. Michael Terry, spokesman for the Hernando County Sheriff's Office, said that Declan had been playing on the home's porch while his grandfather, Gregory Moss, 51, watched him. The grandfather was home alone with the child and witnessed the attack, Terry said.
"Our technicians are out here interviewing the grandfather and trying to get the details from him, but he's obviously pretty shaken up." - Michael Terry
The Sheriff's Office is unsure of the breeds of the two attacking dogs, calling the animals "mix-breeds" temporarily as they await additional information from a veterinarian (The Daily Mail reports that neighbors described the two dogs as pit bulls.). The attacking dogs, ages 2 and 6, were seized and removed from the home. Two other dogs owned by the family were not involved in the attack and were left at the family's home. Detectives are still on scene investigating.
Last year, Florida had five fatal dog attacks. The only state to outnumber it was Texas with seven.
View the DogsBite.org Google Map:
Florida Fatal Pit Bull Maulings
.
1
Early news reports misspelled his name as "Declin" Moss.
Related articles:
01/07/15: 2014 Fatal Dog Attack Breed Identification Photographs - DogsBite.org
12/22/14: 2014 Dog Bite Fatality: Toddler Killed by Family Rottweilers in Citrus County, Florida
10/02/14: 2014 Dog Bite Fatality: Dog Bite Injuries Contribute to Florida Woman's Death
09/11/14: 2014 Dog Bite Fatality: Visiting Child Killed by Family Pit Bulls in Miami-Dade County
08/08/14: 2014 Dog Bite Fatality: Visiting Child Killed by Aunt's Pit Bulls in Fanning Springs...
07/29/14: 2014 Dog Bite Fatality: Visiting Child Killed by His Uncle's Two Pit Bulls in...
Photos: Facebook.com, Hernando County Sheriff's Office and WTSP.com