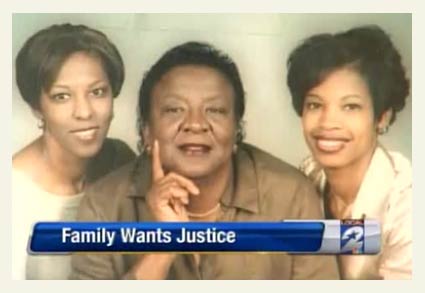 Edna Dyson and her two daughters, Regina and Lawanda.
Edna Dyson
Houston, TX - A Houston woman severely mauled by two pit bulls last week died from her injuries Tuesday. Click2houston.com reports that 71-year old Edna Dyson died November 15 after police say two pit bulls attacked her last week. She was in ICU for nearly a week. Specifically, "Investigators say two pit bulls dug a hole under a fence and got out. They mauled Mrs. Edna. She crawled to her car and waited for help. Lawanda says her Mom was scared of those dogs."
Because the dogs' owner was "in the process" of putting up a fence and because they euthanized the dogs, Harris County District Attorney's Office says they will likely not file any charges. Edna's husband, Billy Dyson, and her two daughters, Regina Dyson and Lawanda Dyson Lindsey, called her death a "homicide" and are devastated that no one will be held accountable. Edna was a teacher for Houston Independent School District (HISD) for 33 years and a basketball coach.
View the DogsBite.org Google Map:
Texas Fatal Pit Bull Maulings
.
Related articles:
06/15/11: 2011 Dog Bite Fatality: 74-Year Old Man Dies After Catastrophic Pit Bull Injury
04/03/11: Attorney Comments After Judge Throws Out Felony Charges in Fatal Dog Attack Case
09/17/10: 2010 Dog Bite Fatality: Mountain Ranch Man Mauled to Death by Two Pit Bulls