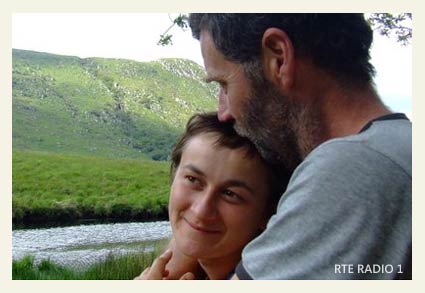 Maurice Sullivan and Agnieszka Jablonska
September 17, 2012 marks the one-year anniversary of RTE Radio 1 airing Maurice - A Final Journey by radio documentary maker Sarah Blake. To date, not a single U.S. journalist, or public TV or public radio producer has ever delved so deeply into the human victims' side of this story: The events leading up to a devastating fatal pit bull mauling and what happened to the victim's family members in the aftermath. In 2012, Maurice - A Final Journey received a Finalist Certificate in New York Festivals 2012 World's Best Radio Programs Winners.

Maurice - A Final Journey
Ireland - The Irish Times recently ran a story about Maurice Sullivan who was brutally killed by two pit bulls in Malaysia in January. The story ran on the same day that a documentary produced by Sarah Blake aired on RTE Radio 1, Maurice - A Final Journey. The radio piece is just over 45 minutes long. It is a story still untold by the U.S. media after a fatal dog mauling, illustrating the great loss felt by the victim's family deepened by the dogs' zealous owners.
Voices in the documentary include several of Maurice's sisters, his Polish partner, Agnieszka Jablonska, who witnessed his final moments and Maurice's 15-year old son.
Background: Journey to Malaysia
On January 8, 2011, Maurice and his partner, Agnieszka Jablonska, traveled to Teluk Bahang on the northwest tip of Penang Island, where they were to start work on an organic farm owned by Joseph and Beatrice Teoh. The two ate dinner with the Teohs and met their four pit bull crosses. They talked about the dogs for an hour that night. Joseph said he got the dogs for "protection from wild animals." He also assured the couple that the dogs "will never bite."
Agnieszka describes the attack that unfolds the next morning:
I heard him scream. He was saying something like "Stop!" … I started running toward where he was screaming from … I saw him standing at the top of one of the hills. The dog was pulling him from the back of his leg; both of them were...
They made him fall, and he rolled over from the hill; Beatrice came running down … She laid down on top of Maurice, protecting him, but they were biting him from underneath her, and she couldn't do anything. And I couldn't do anything...
Beatrice was trying to pull one of the dogs off of him and she was pulling him by the back legs. She managed to take one of the dogs off … the other kept biting him on the neck. Maurice was like a puppet...
I asked Maurice to get up, please, get up … He was really trying to stand up ... but he couldn't. Then he said, "I can't breathe." I said, "You are going to bleed to death." He said, "I am already dead."
Aftermath of the Fatal Dog Mauling
Maurice was left lying in the sun for six hours before being placed into a police vehicle. Agnieszka was on her own in Malaysia until Irish embassy officials heard about the horrific event and began trying to reach her. An Irish diplomat in Malaysia quickly flew to the island to stay with her. "He was there all the time for me then," Agnieszka said. "The Irish ambassador was a really lovely person," she said. "I don't know what I would have done without them."1
In April, we wrote a post about Subang Jaya, a Malaysian city to the south of Penang Island. The city approved a ban on a group of high-risk dog breeds following the death of Maurice and a directive issued by the Selangor Veterinary Department labeling the breeds "unmanageable or possibly dangerous." The new law, effective immediately, banned the American bulldog, pit bull terrier, Japanesa tosa, Neapolitan mastiff, akita, dogo argentino and fila brasileiro.
By May, the Teohs -- who would not be interviewed for the documentary2 -- had teamed up with an animal rights attorney and activists to "save" their four pit bulls from destruction. As stated in the radio piece, the Teohs had originally agreed to put down the two attackers, but miscommunication had ensued about the fate of the other two. Once fanatical activists got involved, "saving" the two killer pit bulls became eminent (See: Blame the Victim Petition).3
Victim's Sister: "It was All About the Dogs"
Putting down the two pit bulls that took the life of Maurice was all that his family ever wanted, and they wanted this to ensure that no other human being was harmed. On July 14 that wish was finally carried out by Malaysian authorities. The two remaining pit bulls were returned to the Teohs under court order that they be securely contained when farm workers and tourists are present. One of Maurice's sisters sums up the bitter legal proceedings the best:
There was never a word about Maurice or his death; it was all about the dogs and keeping the dogs alive.
Part of what led to the July 14 action occurred in a Malaysian courtroom two days earlier. A letter from Maurice's son was read aloud to the judge. Of the many animal lovers who follow this website, and have since our launch in 2007, his words will deeply resonate. For new readers and those who happen upon this post, know that this boy's mother is not only a true responsible dog owner, but a hero to the animals this dog may have harmed in the future.
I am fifteen years old. My Mom had to help me write this letter because I cannot talk about how Dad died yet.
My Dad was a very kind man. He loved nature and everything that grows and hated war and conflict. He loved dogs; he always had a dog.
When I was three, Mom and Dad gave me a collie puppy. We called him Billy. When Billy was three years old, Mom had to put him down because he was chasing the neighbor's sheep, hurting them. I was so sad, but I knew Mom had to do it.
That's what I don't understand about the couple who owned the dogs that killed Dad. I cannot bear to think that the dogs maybe will go back and live on the farm.
What they did to Dad, they can do to someone else.
1
Being killed by pit bulls in your own country is horrific. Imagine if it occurred while traveling abroad?
2
They were "too traumatized" according to their lawyer. We will add, "too traumatized by their own guilt."
3
Despite clear knowledge and evidence to the contrary, the petition -- that was initiated by Joseph Teoh, but written by MDDB & MCCP -- blamed the deadly attack on Maurice and perpetuated distortions that caused his grieving family even more anguish.
This blog post was first published on DogsBite.org September 22, 2011.
Related articles
08/29/11: Victoria Signals End to Unregistered Pit Bulls After Fatal Attack
06/01/11: Animal Behaviorist Responds to Statements Following Trinidad Fatal Pit Bull Attack
05/11/11: Family of Mauling Death Victim Awaits Apology from Dogs' Owner
04/14/11: Malaysian City Bans Seven Dangerous Dog Breeds; Includes American Bulldog
02/06/09: Ecuador Joins International Trend: Bans Pit Bulls and Rottweilers as Pets
Photo: RTE Radio 1