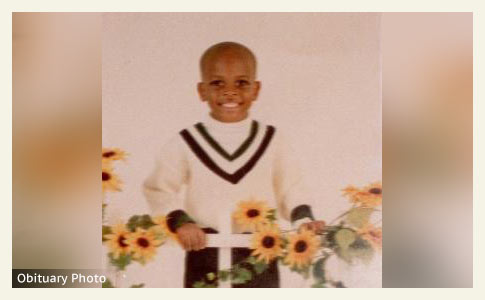 Roger Dukes, 6-years old, was mauled to death by a pit bull named "Crush" in 1999.
Roger Eugene Dukes archived
Savannah, GA - In the aftermath of a pit bull mauling that left 7-year old Javon Roberson with permanent disfiguring injuries and potentially life long facial paralysis, the father of a child killed by a pit bull twelve years ago from the same area emerged. Roger Eugene Quarterman spoke frankly with Savannah Morning News this past weekend and offered vivid details about the attack that took his son's life in February of 1999. "He would have been 18 now," Quarterman began.
"I've been carrying this burden ever since then. Every time I see a little boy, I think of my son," Quarterman said.
According to the article, 6-year old Roger Eugene Dukes was at home with his mother that Sunday. Euland Joby Powell, the boyfriend of Roger's mother, Mona Lisa Dukes, kept several dogs at the address, including a pit bull named Crush. Later that afternoon, "Powell told Roger that one of the dogs had gotten out of the yard, and to put it back inside."1 As the boy tried to do so, Crush attacked, biting Roger multiple times in the head and neck. He died shortly thereafter.
Quarterman and Dukes had two children. Ebony, 7-years old, tried to rescue her brother by hitting Crush on the head with a baseball bat. This did not prompt the pit bull to let go. Her father said that Ebony still bears scars from that day. While speaking at a public meeting following the fatal attack, Ebony said, "Crush bit his head. He bit his neck, bit his face and spun him around in a circle." Quarterman said that witnessing her little brother die that way has taken its toll.
Quarterman was away at the time of the deadly attack. On that day he had driven to Rome where he was attending school. Upon arrival, school personnel told him the news. Too upset to drive, he took a bus back to Savannah. "It would be his first ride on what is now a 12-year-long emotional roller coaster," states the Morning News. After the funeral, Quarterman fell into depression and dropped out of school. "I just completely lost focus," Quarterman told the newspaper.
Powell was issued "tickets" after Roger's death for failing to have licenses and shots for his seven dogs. Powell was not charged in connection to his death. Like most victims following a brutal pit bull attack, Quarterman wonders how the city can be in this situation again. "I don't think pit bulls should be allowed in the city limits," he said. "They're dangerous, and you don't know what they're going to do." We'll add that when pit bulls do attack, they may be virtually impossible to stop.
View the DogsBite.org Google Map:
Georgia Fatal Pit Bull Maulings
.
1
We've highlighted portions to show two important points. One, the number of occurrences in which a child is severely or fatally mauled by a pit bull or other dangerous dog breed and the animal belonged to a "boyfriend," are too numerous to count. Two, the "boyfriend" dog owner, Powell, directed the child to his horrific death by instructing him to take actions that

Powell should have taken himself

.
Related articles:
05/29/11: 2011 Fatality: "Monster Dog" Kills 4-Year Old Brooklyn Boy
07/15/10: 2010 Fatality: Boyfriend's Dogs Suspected in Death of 5-Year Old
11/09/09: 2009 Fatality: 16-Month Old Killed by Pit Bull of Babysitter's "Boyfriend"