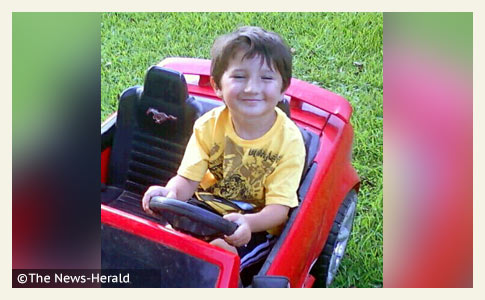 Kyle Holland, 5-years old, was fatally attacked by one or more dogs in Lincoln Park.
Autopsy Report Released
UPDATE 07/15/10: An autopsy report released Wednesday confirmed that Kyle Holland died of multiple crush wounds due to dog bites. An earlier article by FOX 2 reported that neighbors had complained of the dogs "time and time again" to Lincoln Park Animal Control. Neighbor Mike Lockhart said, "They told us that they thought it was a hybrid wolf and it wasn't supposed to be in the city." Despite this knowledge, the owner was allowed to keep the prohibited animal.
"According to official reports found by FOX 2, the dogs were involved in a bloody fight with another dog in November. Plus, at least one of them was found roaming the neighborhood. Animal Control officers told the owner that wolf hybrids were not allowed in the state. He said he was leaving and heading to West Virginia, another state that won't allow them in. But despite that, the owner paid his fines and Animal Control gave the dog back. Neighbors say that should never have happened." (Alexis Wiley, MyFoxDetroit.com)
07/13/10: Victim: Kyle Holland, 5-Years Old archived
Lincoln Park, MI - In a story that emerged Monday evening, officials continue to investigate the death of a 5-year old Lincoln Park boy. The boy was found upstairs by his mother at about 9:30 am Monday morning. An autopsy report by the Wayne County Medical Examiner's Office had been expected to be available Tuesday afternoon. However, Police Chief Thomas Karnes said that due to the extent of the boy's injuries, the report might not be available for seven to 10 days.
Officials are treating the incident like a homicide investigation. The child had been dead for several hours prior to police arriving. Authorities seized two dogs from the house, an alleged German shepherd-husky mix1 and a black lab-mix, neither of which appear bloody in the photos.2 Both dogs belong to a live-in boyfriend who is not Kyle's father. He is currently being held for possession of drugs. The boy's mother was released from police custody after being questioned.
Neighbors said they could hear the mother screaming after she found her son. One said the boyfriend fled in his vehicle after the screaming erupted. He later returned. Another neighbor described one dog he saw as "pretty good sized" and "brown and white." He added, "From what I understand, there was another dog that was a full blooded wolf." (It is difficult to mistake a black dog from a "brown and white" dog, but the person may have been referring to the husky-mix).3
The number of questions this case raises about potential criminal behavior is uncharted territory for DogsBite.org. Fortunately, the case lies in the hands of Lincoln Park officials and the Wayne County Medical Examiner's Office. In 2007, The American Journal of Forensic Medicine and Pathology published a fatal dog bite injury study, Pitbull Mauling Deaths in Detroit, by Cheryl Loewe, Fransico Diaz, and John Bechinski, of the Wayne County Medical Examiner's Office.
1
Just as pit bull owners and some humane groups intentionally mislabel a pit bull after a serious or fatal dog attack, owners of wolf hybrids do as well. While the former mislabels the breed to "protect" its reputation, the latter may be forced to -- wolf hybrids are prohibited by most municipalities.
2
A dog cannot bite a child to death without blood left on its mouth and fur. As in other fatal dog attack cases, the offending dog may have been washed down afterward.
3
In addition to neighbors having confusion about the dogs, they also believed that more than one child lived at the home. Police confirmed that Kyle was the only one.
Nate Stemen, "LINCOLN PARK: Autopsy scheduled for 5-year-old killed by apparent dog attack (with videos)," The News-Herald, July 13, 2010 (www.news-herald.com) URL:http://www.thenewsherald.com/articles/2010/07/13/news/doc4c3cadd047354589179648.txt?viewmode=fullstory. Accessed: 2014-04-29. (Archived by WebCite® at https://www.webcitation.org/6PCUwUCbP)
Nate Stemen, "LINCOLN PARK: Death of boy mauled by dog ruled homicide
July 14, 2010 (www.news-herald.com) URL:http://www.thenewsherald.com/articles/2010/07/14/none/doc4c3e0a5ad85bf270253001.txt?viewmode=fullstory. Accessed: 2014-04-29. (Archived by WebCite® at https://www.webcitation.org/6PCVKwY6w)
Related articles:
04/23/18: Fatal Wolf-Dog Hybrid Attacks - The Archival Record - DogsBite.org
06/30/11: Justice for Lincoln Park Fatal Dog Attack Victim Finally Emerges
09/25/10: Activist Seeks Justice for Kyle Holland After Fatal Dog Mauling