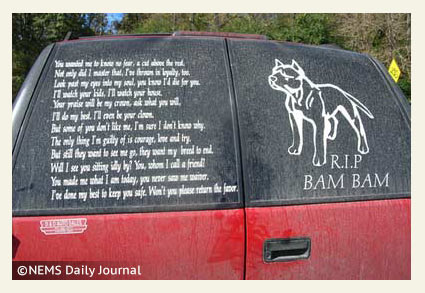 Pit bull owner Jerry Westmoreland, has a "pit bull memorial" painted on his vehicle.
"Boyfriend's" Pit Bull
UPDATE 11/09/09: The New Albany Gazette published an update to the fatal pit bull mauling of Destiny Marie Knox. At the time of the attack, Destiny was under the care of her babysitter Tonya Graham. According to Union County Sheriff Tommy Wilhite, Graham and Knox were at Graham's boyfriend's residence, the home of Jerry Westmoreland, when the incident occurred. The offending pit bull, named Foolish, was shot and killed at the scene by a police officer.
The mother of the victim is Nicole Howard and the father of the baby girl is Detrick Knox. In regards to possible charges, Wilhite told reporters, "We have not been able to prove any neglect and haven't established a criminal violation at this time." Charges, if any, will be determined in the March term of the grand jury. Westmoreland, who has a "pit bull memorial" painted on his vehicle, surrendered his four remaining pit bulls to the Oxford Humane Society.
11/07/09: Dog Was "Very Healthy, Very Stout"
New information concerning the death of Destiny Marie Knox has been released. The pit bull owner had a total of five pit bulls, one of which "slipped its collar" and chain and entered into the owner's home. The dog quickly attacked the toddler, who had not been left unattended as previously reported. Investigators found no signs that the pit bull had ever been mistreated. Chief Deputy Jimmy Whitten said, "This dog was very healthy, very stout. It was well-kept, well-groomed."
According to Whitten, Union County had not had a fatal dog attack in his memory, but he and fellow officers said vicious dogs are a frequent problem. Sheriff's Investigator Anthony Anderson said he'd favor a ban on pit bulls and other vicious breeds. "Every dog bite case I've worked at the hospital has involved a pit bull," he said. Investigator Roger Garner agreed. "When I was at Tupelo and we had attacks by dogs, almost 100 percent of the time it was by a pit bull or some pit mix," he said.
Both Whitten and Anderson believe that state legislators need to look at the growing pit bull problem and take action to prevent future maulings.
11/06/09: Victim Named: Destiny Marie Knox
Union County Coroner Mark Golding has released the identity of the Union County toddler killed by her babysitter's pit bull Thursday evening in the Martintown community. Golding identified the 16-month old child as Destiny Marie Knox. According to Union County Sheriff Tommy Wilhite, sheriff's deputies are continuing their investigation into the killing. No other names of people involved, including the babysitter, have been released.
The child was killed at the home of its babysitter when the babysitter's chained pit bull "slipped out of its collar" and followed the people into the house as they unloaded groceries. A 19-year old man in the house tried to stop the attack, but by the time sheriff's deputies arrived the child was dead. The pit bull was later killed by sheriff's deputies, presumably by gun fire.
"It's devastating anytime you have the loss of a child," said Sheriff's Investigator Anthony Anderson. "Especially in these circumstances, where the child was mutilated, it's devastating."
The vehicle identified as belonging to the owner of the pit bull bears a "pit bull memorial." The dog, named Bam Bam, is apparently a former pit bull owned by the person. Two of the lines in its poem state, "But some of you don't like me, I'm sure I don't know why. The only thing I'm guilty of is courage, love and try." (Read full poem.) This pit bull owner is a "classic pit bull advocate" who undoubtedly stated on many occasions: "My dog would only lick you to death."
11/06/09: Child Killed by Babysitter's Pit Bull
New Albany, MS - In a developing story, a 16-month old child was attacked and killed by a pit bull in Union County on Thursday, November 5. Union County Sheriff Tommy Wilhite said a family was babysitting the child and left the child unattended in a room when the dog attacked. The incident happened on County Road 87 about 5:30 p.m. A 19-year old, who was at the home at the time, hit the pit bull and stabbed it several times trying to get it off the toddler.
This death marks the third death of a child by a pit bull mauling in less than two weeks. Each of these instances involved a "babysitter."
Related articles:
10/29/09: 2009 Fatality: Toddler Wanders from Babysitter's Home; Killed by Pit Bull
10/27/09: 2009 Fatality: 17-Month Old Boy Killed by Pit Bull-Mix at Babysitter's Home