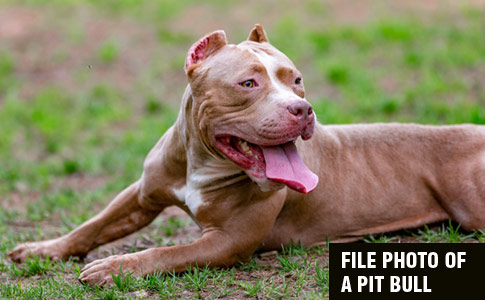 UPDATE 02/11/11: On February 11, the Associated Press published a new article about the AP-Petside.com poll written by Sue Manning. This article did include the founder of DogsBite.org along with a spokesperson from the HSUS. It is unknown if Thomas Mair's letter played a role in its publication or if parts were revised prior to its release and after receiving his letter. The latest piece still utilizes Maul Talk, but is far more balanced than the first.
Journalistic Integrity Questioned
DogsBite.org - On February 3, we received an email from Thomas Mair, a Washington State resident working to gain support for breed-specific laws in his area. Like many others that day, Mair saw the undeniably biased poll, which only interviewed pet owners, designed by the Associated Press and Petside.com. The article was penned by Sue Manning, who has a repertoire of superficial pet stories under her belt,1 and syndicated across U.S. media outlets.
Mair spent the better part of the day tracking down emails and creating a response letter that he sent to persons involved in the article's publication. He later forwarded a copy to us. What Mair did not know is that DogsBite.org had been aware of some aspects of the poll for a few weeks. Manning interviewed the founder, Colleen Lynn, on January 18. A significant portion of this interview focused on her own violent pit bull attack that occurred June 17, 2007.
Not only had Manning interviewed a pit bull mauling victim that suffered serious injury, she opted to cut it from the piece along with any mention of DogsBite.org.2
---
Mair's Response Letter
From: Thomas Mair
Date: Thu, Feb 3, 2011 at 1:00 PM
Subject: Your story of Feb 3, 2011
To: Sue Manning, The Associated Press
Cc: Jennifer Agiesta, Gfk Roper, Deputy Director of Polling
GfK Roper Public Affairs
Shirley Carswell, Washington Post Deputy Mng Editor
Ombudsman, Washington Post
Readers' Representative, Kansas City Star
Editor, Forbes.com
Public Editor, Shawn McIntosh, Atlanta Journal Constitution
Laura Wingard, SD Union Tribune
William Osborne, SD Union Tribune
Readers' Representative, SD Union Tribune
and others
Dear Ms Manning,
This letter is in reference to your article on Pit Bulls (AP-Petside poll: Training, not nature, makes bully; Feb 3, 2011), which was carried in the newspapers listed above, and was reported on many TV outlets as well. The article appears to cover both sides of a contentious issue.
Your article makes extensive use of statistics from the poll referenced in the title, which was conducted by AP-Gfk in October of 2010. The poll was apparently commissioned by Petside.com (a corporation which many would view as a Pit Bull advocacy group) and conducted by a company owned by your employer. Your failure to disclose the relationship between the interest group, your employer, and yourself raises serious questions about the journalistic integrity of this story.
Apart from this, there are other reasons to doubt the accuracy of this article. The poll queried only pet owners (rather than a general sampling of the population). You are clear on this matter, but what isn't clear is that the general public may have different views about the safety of Pit Bulls than pet owners do.
I will mention that I have spent the week reading news stories about Pit Bulls, many of which share several features in common. Most featured pictures of Pit Bulls playing, or in affectionate poses with infants and children. All of them repeat the core phrases of the Pit Bull advocates, and many of them use one in the title (as your article did). The similarities grow even more eerie when the reader realizes that the authors interview only those who are favorably disposed toward Pit Bulls (or are neutral), and never interview people who have been mauled. I would be pleased to send you (or any other recipient of this email) a list of such recent articles.
I mentioned the core phrases of the Pit Bull advocates. Among them are:
There's No Such Thing as a Bad Dog
It's not the dog, it's the owner
Punish the deed, not the breed,
Any dog will bite
Etc, etc, etc
This is not the place to dispute those opinions. I will simply note that your article employs one or another of these phrases on at least four occasions.
The most egregious distortion in your story consists of your interview with Janice Dudley. You devote five paragraphs (nearly 20% of the word count) to a woman who was almost bit by a Pit Bull, and I struggle to make sense of this passage. I would like to bring to your attention the three (and possibly four) human deaths which occurred in January (in the US) from Pit Bulls. In addition there have been numerous non-fatal attacks on humans and uncounted attacks on animals including horses. Pit Bull advocates ignore these attacks and can point to no such horrors from other breeds. You mention none of this.
The internet is flooded with Pit Bull advocacy sites. These well-funded and well-organized advocates go to great lengths to influence journalists, often misrepresenting the facts. Many organizations presenting themselves as impartial "research" organizations are themselves Pit Bull advocacy groups, as are many of the "Canine Experts." The resulting media presents an unrealistic view of reality, and dishonors the victims of these horrific attacks.
Your article, while attempting to demonstrate impartiality, interviews several Pit Bull advocates but apparently you failed to talk with anyone who has had their own pet dismembered before their eyes, or have themselves been attacked. If you are curious enough you can simply check the impartial Google News Alerts occasionally. And I would gladly direct you to other sources on Pit Bull deaths and attacks.
Thomas Mair
Friday Harbor, WA
DogsBite.org greatly thanks Mair for writing this thoughtful letter. Mair's letter provides proof and inspiration for all persons who are working to pass pit bull laws and for those who would like to, but do not know how. It's easy: Start writing emails to critical persons.
1
According to one Manning article, pit bull drool cures sick kittens. In another, blogger Carrie Gravenson slams Manning and categorizes her anthropomorphic "pets listen better than husbands" poll piece under "WTF"?
2
The first 5-10 minutes of the interview were spent talking off the record. Lynn wanted to know if the poll was scientific and why Manning wanted to talk about her 2007 attack. Had Manning stated that the poll "only included pet owners" or that it was not the AP acting alone, but in fact an "AP-Petside.com" combination, Lynn would have stopped the interview. In addition to being misleading, Manning exploited the founder by having her "relive" her attack experience only to cut it from the piece, intentionally or otherwise.
Related articles:
01/05/11: 2010 U.S. Dog Bite Fatality Statistics - DogsBite.org
09/24/10: Maul Talk Manual: A Guide to Understanding the Language of Pit Bull Owners...
09/17/10: Craven Desires: Weekly Frankenmauler Round Up Collection
05/12/09: Survey Conducted: The Preference of Living Next Door to a Pit Bull