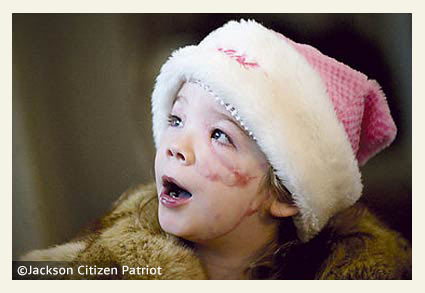 Photos Released
UPDATE 01/03/11: The family of Tyah Norris has released recovery photos of Tyah four months after she was mauled by three pit bulls. Tyah endured hundreds of stitches, multiple surgeries and spent nearly three weeks at C.S. Mott Children's Hospital following the incident. Her visits to the hospital since have shifted from weekly to monthly. Like most pit bull scalp attack victims, Tyah underwent skin grafting and will undergo tissue expansion procedures.
The Mlive.com article adds that Tyah has not returned to her first-grade class since the August attack. Instead, she visits the school twice a week and works alone with a teacher. According to her mother, Joyce Norris, it is unlikely that she will return to class this year, but Norris hopes that the current arrangement will prepare her to begin second grade next year. Norris is concerned, however, that students will tease Tyah when she returns due to her facial scars.
The owners of the pit bulls, Brian Keith Nace and Jasmine Jammina Bailey, continue to face criminal charges stemming from the attack. A hearing is scheduled for Friday before Jackson County Circuit Judge John McBain. After the first hearing, Nace's sister, Rebecca Russell, blamed the mauling on Tyah for "not listening." This blame the victim video of Russell has since been removed from the originating Mlive.com article. Luckily, we transcribed the text.
08/28/10: Pit Bull Owners Face Felony Charges
Blackman Township, MI - On August 24, a 6-year old girl was attacked by three pit bulls while visiting a home on Mantle Avenue. According to her uncle, Tyah Norris required numerous staples and about 500 stitches in her face and head. During extensive surgery, doctors at C.S. Mott Children's Hospital in Ann Arbor were able to repair her eye muscles and tear ducts, and used an artificial material to patch her scalp. The pit bulls ripped out part of her skull.
Three days later, the owners of the pit bulls, Brian Keith Nace and Jasmine Jammina Bailey, were charged with a felony for keeping a dangerous animal that caused serious injury. The crime has a maximum penalty of four years in prison, 500 hours of community service and a $2,000 fine. Nace's sister, Rebecca Russell, was present during the court hearing and tried to defend her brother afterward by placing the blame upon the victim -- a 6-year old child.
Rebecca Russell's Audio

"Brian wasn't even there. Brian was at work. I was upstairs.

My 10-year old daughter told her not to go in the backyard, and she went back there anyway.

Abbie said, "Wait for me to tie up the dogs." She didn't. She went back there anyway...Yes, Tyah went back there after my daughter Abbie asked her not to, okay? Tyah didn't listen.1
--snip--

All these people that want to retaliate, make threats and talk all these things about Brian that don't know Brian, need to shut up because they weren't there. They don't know what happened. Everybody just needs to...

Brian is hurt more than anybody over this. He had to give over his own three dogs. You know what I am saying? Not only did he lose his three dogs, and yeah they were like his kids..."2
Russell, it seems, does not understand that the American public -- specifically residents of Michigan3 -- are growing less and less tolerant of these brutal, life-altering attacks. The climate for a pit bull owner after a serious mauling is becoming rage, and a demand for punishment, not sympathy because Brian Nace had to put his dangerous pit bulls down. Furthermore, as reported on Craven Desires, Nace's rap sheet includes: burlgary, larceny and home invasion.4

Tyah Norris Benefit Fund
Donations can be made at any Citizens Bank location to the "Tyah Norris Benefit Fund." Tyah and her family need your help.
1
Russell's statement that Tyrah "did not listen" (had she

listened

this would not have happened) reminds us of what Dominic Solesky's father said, "This is akin to removing crossing guards from crosswalks near schools because the children have been

informed

how to cross a street and the associated dangers."
2
Russell is upset that people are accusing Nace of "training his dogs to attack." Such accusations are courtesy of the pit bull community who must explain this horrific attack by blaming environmental factors instead of admitting to the breed's genetic traits.
3
The high profile pit bull mauling of Duane VanLanHam has not left the minds of Michigan residents.
4
Home Invasion in the 2nd degree in the State of Michigan is a felony offense punishable by imprisonment for not more than 15 years or a fine of not more than $3,000.00, or both.
Related articles:
05/24/10: Natylee Murphy Update: Eight Months and 10 Surgeries After Pit Bull Attack
04/20/10: Meet 13-Year Old Vincent Marchese, Attacked Walking to Bus Stop
03/20/10: Dog Bite Victim Attorney Responds to "Blame the Victim" Comment
10/08/09: Collection of Pit Bull Scalp Attack Victims - DogsBite.org
12/19/08: Comment: Pit Bull Owners Consistently Blame Victims
Photo: Mlive.com and Jackson Citizen Patriot