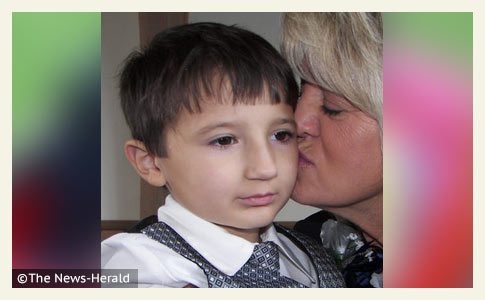 Kyle Holland, 5-years old, was fatally attacked by one or more dogs in Lincoln Park.
Justice for Child Sought archived
Lincoln Park, MI - On July 12, Kyle Holland was found by his mother near his bedroom door horribly mauled and killed by at least one of two dogs owned by his mother's boyfriend. Upon reading the initial news reports, DogsBite.org noted in our blog post (2010 Fatality: Boyfriend's Dogs Suspected in Death of 5-Year Old) that we had no "related articles." Under that subheading we stated: "There aren't any yet. This case is unmatched in its potential 'criminal' nature."
DogsBite.org was not alone. The News-Herald reports that after Tiffany Dailey heard that her cousin had been killed, she was devastated. After learning about the circumstances of his death, she said, "I was shocked, and I fell to my knees screaming and crying." Dailey also shed light on Kyle's handicap; he was born with his legs turned inward, which is why he often wore braces on his legs to help him walk. She said, "I'm afraid Kyle won't get justice." And she took action.
Dailey started a Facebook page titled, Justice 4 Kyle Holland. People use the page to share information about Kyle's case and to support family members. They also post their thoughts to the page about what may have happened the night Kyle was killed. Though the Wayne County Medical Examiner ruled Kyle's death a homicide, no arrests have been made so far. Dailey also began a website called deservedjustice.com, which hopes to help people with unresolved cases.
DeservedJustice.com

This website is to highlight and draw attention to criminal cases, (especially where a life was taken) that have not been prosecuted or even investigated properly or otherwise. So many people are "CRYING OUT FOR JUSTICE!"

This is an effort to have an outlet to reach people that might have the potential to help, example, the media, attorneys, retired or otherwise, law enforcement personnel, former Judges or prosecutors, concerned citizens, or advocacy groups, hopefully this will be a way to link up cases with merit to the right person willing to voluntarily help.
The News-Herald reports that Lincoln Park police continue to investigate the boy's death. Teeth impressions were made from both dogs and DNA from the animals was sent to a lab for testing. Police Chief Thomas Karnes said that they would also be inspecting the dogs' fecal matter for bone particles, which would then be sent to the Wayne County Medical Examiner's Office. Karnes said that Kyle's investigation was coming to a close, "we are nearing the end," he said.
Related articles:
04/23/18: Fatal Wolf-Dog Hybrid Attacks - The Archival Record - DogsBite.org
07/15/10: 2010 Fatality: Boyfriend's Dogs Suspected in Death of 5-Year Old