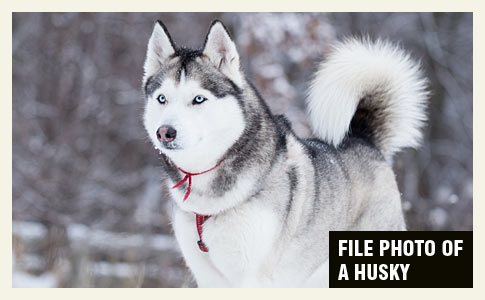 Robert Hocker, 11-days old, was killed by his family's husky dog.
Newborn Killed (Page 2)
Independence, MN - In another instance of a newborn being killed by a family husky dog, it is reported that 11-day old Robert D. Hocker suffered the same horrific fate Thursday. According to West Hennepin Public Safety Director Ray McCoy, "The infant boy was in his car seat on a bed in the bedroom, when he was bitten by the family Siberian husky." Emergency personnel "exhausted all life-saving measures, and the infant was pronounced dead at the scene," McCoy said.
      An Independence family's newborn boy was killed by the family's Siberian husky, which jumped onto a bed where the 11-day-old was in a car seat and bit his head, authorities said Friday.

Robert D. Hocker "died of head injuries suffered in [a] canine attack," according to the Hennepin County Medical Examiner ...

McCoy said emergency crews tried to resuscitate the baby for 40 minutes before pronouncing him dead. He declined to say how many times the dog bit the boy. Although an "active death investigation" continues, he said, the boy's parents haven't been arrested. - Abby Simons, Paul Walsh, Star Tribune, February 19, 2010
In the recent DogsBite.org fatality report (See: Report: U.S. Dog Bite Fatalities January 2006 to December 2008) husky type dogs were responsible for 4 deaths (in comparison to pit bulls with 52), two of which involved infants: Alexis Hennessy, 6-days old (Hopatcong, NJ) and Kylie Daum 3-days old (Warren, OH) and the other involving 11-month old Trey Paeth. In 2009, huskies were involved in two deaths, one involving 3-week old Olivia Rozek, who was survived by her twin.
Related articles:
01/21/09: 2009 Fatality: Olivia Rozek, 3-Weeks Old, Killed by Family Husky
09/28/08: 2008 Fatality: 3-Day Old Infant Killed by Family Dog
09/08/08: 2008 Fatality: Alexis Hennessy, 6-Days Old, Killed By Family Dog