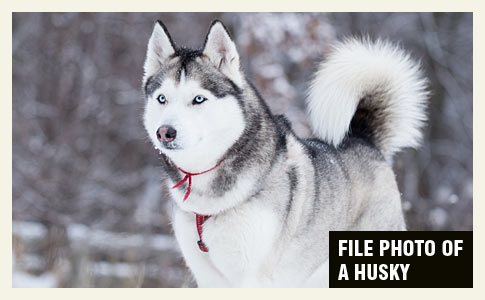 Olivia Rozek, 3-weeks old, was pulled from her bed and killed by a rescued husky.
Officials Probe Death archived
UPDATE 01/21/09: Police officials continue to investigate the death of a 3-week old baby girl. Bourbonnais Police Chief Joe Beard first described the incident as a mauling. The dog dragged Olivia Rozek, who was a twin born the day after Christmas, by her head through a hallway. The mother told police the twins were lying on the bed while she was in the kitchen cooking dinner. She heard the baby cry and saw the dog walking through the hallway with the baby in its mouth.
The family got the 4-year old male husky from a Chicago rescue group in November 2007, Beard said. The dog was taken into custody by Kankakee County Animal Control. The agency's director, Julie Boudreau, said the dog will most certainly be destroyed. The family also has another husky, a female. The department will be looking into whether that dog will remain in the family's home. Beard has not yet spoken to the infant's mother, who remains too distraught to answer questions.
A 3-week-old baby was dragged from a bed Monday afternoon by her family's Siberian Husky into a hallway of their Bourbonnais home and mauled to death by the dog.
The child, Olivia Rozek, was lying on a bed in the master bedroom of the home on the 1600 block of Sun Ridge Drive, in the Sunridge subdivision in Bourbonnais, when she was taken from the bed by the family dog and dragged into a nearby hallway.
The child's mother, hearing her daughter's cries, discovered the baby in the dog's grip, a release from Bourbonnais police said. Police got a 911 call at 5:45 p.m. reporting the attack, the release said. - Chicago Sun-Times, January 20, 2009
01/20/09: Family Husky Kills Infant
Bourbonnais, IL - A 3-week-old child was mauled to death by the family dog in Bourbonnais. The child died late Monday in Chicago after being transported from a Kankakee hospital. The family's names have not been released. The child's mother called 911 about 5:45 p.m. Monday to report that the family's Siberian husky had pulled the infant off of a bed in the master bedroom and dragged the child into a hallway, killing it. The infant suffered multiple bite injuries to the head.
In 2008, husky type dogs killed three young children, two of which were only several days old. Alexis Hennessy, 6-days old, was attacked while lying in her crib by the family dog husky named Shadow in Hopatcong, New Jersey. Kylie Mae Daum, 3-days old, was bitten while lying in a bassinet by the family husky in Warren, Ohio. And Abraham Jonathan Tackett, 2-years old, was killed after wandering next door and being attacked by a chained husky-mix in Fort Yukon, Alaska.
Related articles:
09/25/08: 2008 Fatality: 3-Day Old Infant Killed by Family Dog
09/07/08: 2008 Fatality: Alexis Hennessy, 6-Days Old, Killed By Family Dog
04/30/08: 2008 Fatality: Abraham Jonathan Tackett, Killed by Chained Dog