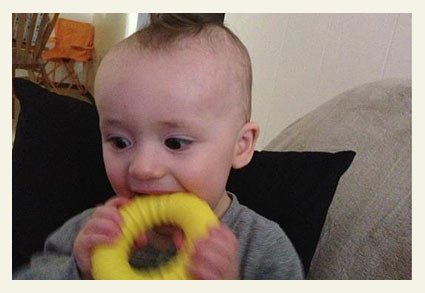 Daxton Borchardt was mauled to death by two pit bulls belonging to his babysitter.
Police Release Details
UPDATE 04/02/13: On Monday, the Walworth County Sheriff's Office released new information about the fatal pit bull mauling of Daxton Borchardt. The reports detail the savage attack upon the 14-month old boy and the dogs' owner, Susan Iwicki, who was babysitting the boy at the time of the fatal mauling. According to reports, the two pit bulls turned from "playful and nippy" into a violent frenzy on March 6 as Iwicki took the two animals outside her home while holding Daxton.
Iwicki then lost hold of Daxton and the boy went sprawling to the ground. The dogs lunged onto Daxton and began a brutal and ultimately fatal attack on him, according to Iwicki's accounts.

Iwicki screamed for help and tried to kick the dogs away as one stood on her back, mauling her. As the dogs stalked in circles around Daxton, she somehow managed to get the pit bulls and Daxton separated. Inside her house, she used baby gates to keep Daxton and the dogs in different rooms while she called 911 and shouted frantic and panicked pleas for help.

By then, Daxton was critically injured and was losing massive amounts of blood, according to reports.

(GazetteXtra.com)
A deputy was first to arrive at what he feared was a murder scene. Blood and fabric were all over the yard where the attack took place, according to reports. The deputy yelled for Iwicki to get the dogs out of the house and away from the scene. The officer discovered Daxton in one of the rooms in Iwicki's home. The toddler was fully naked and lying motionless on his back on the floor in a puddle of blood that was "everywhere," according to reports. The boy was still barely alive.
Daxton's father, Jeffery Borchardt, was helping Iwicki's boyfriend install carpeting at another home when his son was violently attacked. Iwicki called her boyfriend in a panic after the horrific mauling. He left right away and would NOT tell Jeffery why, only that something had happened involving Daxton, according to reports. No criminal charges against Susan Iwicki are pending. Jeffery told deputies after the attack that he never wanted to see Iwicki or her boyfriend again.
Veterinary records included in the reports showed that both dogs -- 3-year old pit bulls, a male and female -- had been spayed and neutered.
03/07/13: Father Shares Grief
As some readers already know, the father of Daxton Borchardt has been speaking out publicly on his Facebook page about the violent pit bull attack that took his son's life on Wednesday. The father's most recent post says: "What do I do now?...I don't know how I'm ever gonna continue on with life...I just want to die...why us?..why this way?" DogsBite.org and all of our readers grieve for this boy's young parents and the unbearable, life-altering loss they are suffering.1

Daxton Borchardt Fund
A memorial fund has been set up at Associated Bank. Donations can be made at any Associated Bank branch to the "Daxton Borchardt Fund."
03/07/13: Friends React to Death
Family friends tell Today's TMJ4 that the child's name is Dax. They gathered to mourn his loss and to support his parents. Dax was at his babysitter's "apartment" (a mere unit of the large home) when Susan Iwicki's two pit bulls berserked, attacking the child and their owner. The news agency is also trying to obtain the 911 call. It is unknown if Susan Iwicki may face criminal charges; she wouldn't be the first babysitter charged under similar circumstances after a child's death.
Separately, the Milwaukee Journal Sentinel is reporting that the boy's death is the first fatal dog attack in Wisconsin in a decade. It was just a few years ago, however, that Taylor Becker, 4-years old, was mauled to death by a chained dog while "visiting" family friends in Hubbard Township.2


03/06/13: Boy Dies After Mauling
Walworth, WI - Another young boy has been savagely killed by a pit bull. Earlier today, we began following this story. 30-year old Susan Iwicki, the owner of the two attacking pit bulls, made the 911 call. She told authorities that she and a 14-month old boy were under attack by her two dogs and had sustained multiple injuries. The boy was transported to Mercy-Walworth Medical Center and Hospital then airlifted to a Milwaukee-area hospital that treats critical injuries.
The county coroner's office confirmed that the boy died of his injuries at 3:32 pm Wednesday. A separate story stated that the attack occurred shortly before noon. WISN learned more details by speaking to the son of the property owners where the attack took place. He believes Susan Iwicki may have been babysitting at the time, and that the child was not hers. Authorities have not released the child's name. Sheriff's deputies continue to investigate the fatal dog attack.
1
Chris Brahm, quoted heavily in the Today's TMJ4 article is a disgraceful Maul Talker -- intentional or otherwise -- spouting off pit bull distortions such as "any dog can do it." Karen Adleman is no better, "it's almost like it's an act of God." The fact that this grief stricken father has to deal with tactless pit bull apologists at this time is an atrocity.
2
The Milwaukee Journal Sentinel updated their article to include Taylor Becker after DogsBite.org sent correspondence.
Related articles:
07/26/13: Beyond the Interview: Essay of a Fatal Pit Bull Mauling - DogsBite.org
02/19/13: 2013 Dog Bite Fatality: 'Nightmare' Pit Bull Kills Uvalde County Boy
01/20/13: 2013 Dog Bite Fatality: Chained Pit Bull Kills Montgomery County Boy
08/27/10: 2010 Dog Bite Fatality: Dog Kills Visiting 4-Year Old Girl in Dodge County
Photo: Facebook.com